Share and Follow
A Chinese
fighter jet
conducted an "unnecessarily aggressive manoeuvre" during an intercept of a US spy plane in international airspace over the
South China Sea
last week, the US military said in a statement today.
The Chinese J-16 fighter cut directly in front of the nose of the US RC-135 Rivet Joint reconnaissance aircraft on May 26, forcing the
US
plane to fly through the wake turbulence of the intercepting aircraft.
In video of the incident released by the US military, the turbulence is evident as it disturbs the US aircraft along its flight path.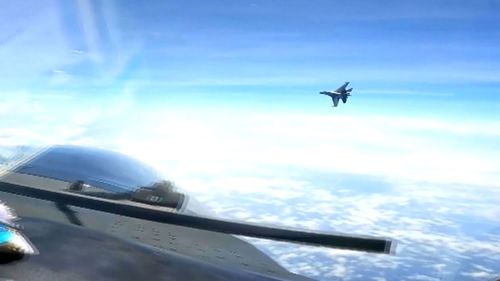 The RC-135 was conducting "safe and routine operations" in international airspace, US Indo-Pacific Command said.
"The United States will continue to fly, sail, and operate – safely and responsibly – wherever international law allows, and the US Indo-Pacific Joint Force will continue to fly in international airspace with due regard for the safety of all vessels and aircraft under international law," said the statement from INDOPACOM.
The US is looking to arrange high-profile visits to China by senior officials to reengage with Beijing on substantive issues but yesterday the Pentagon said China had rejected a proposal for Defence Secretary Lloyd Austin to meet with his Chinese counterpart Li Shangfu at the Shangri-La Dialogue Security Forum in Singapore this week.
The intercept is similar to another encounter between US and Chinese military aircraft in late December.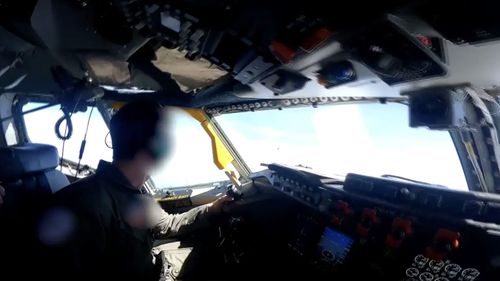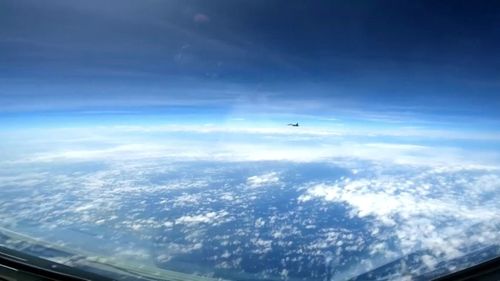 The Chinese fighter came within six metres of the nose of the US spy plane, forcing the larger, heavier US aircraft to take evasive manoeuvres, US Indo-Pacific Command (INDOPACOM) said at the time.
INDOPACOM video of the incident showed the J-11 flying off the nose of the RC-135.
The J-11 appeared to be shifting closer to the US jet before the two aircraft moved apart.
The US has seen an alarming increase in the number of risky aerial intercepts conducted by Chinese aircraft, according to INDOPACOM.
Chinese aircraft have been more aggressive, drawing closer to US and allied aircraft, prompting concern about a potential unsafe incident or miscalculation.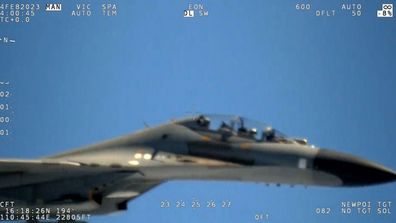 Chinese fighter jet confronts US Navy plane over disputed sea
Over the past several years, the South China Sea has emerged as a major potential flashpoint in the Asia Pacific.
Not only does the strategic waterway hold vast resources of fish, oil and gas, but about a third of global shipping passes through it – worth about $5.2 trillion in 2016, according to the Centre for Strategic and International Studies' China Power Project.
China claims historic jurisdiction over almost the entirety of the vast sea, and since 2014 has built up tiny reefs and sandbars into artificial islands heavily fortified with missiles, runways and weapons systems – sparking outcry from the other claimants.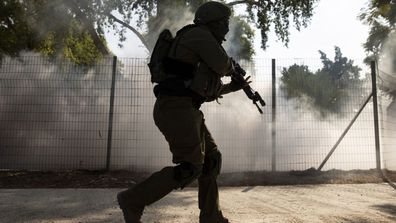 Countries with the highest military expenditure in the world
Sign up here
to receive our daily newsletters and breaking news alerts, sent straight to your inbox.
Share and Follow