Share and Follow
A man has been charged after a woman was killed and another was injured during an alleged hit-run crash in Brisbane.
At about 6.55am today, a Holden Commodore ute collided with a Suzuki Swift at the intersection of Anzac Avenue and Oleander Street in Kippa-Ring in the Moreton Bay region.
The 72-year-old woman driving the Swift was trapped in the car and died at the scene.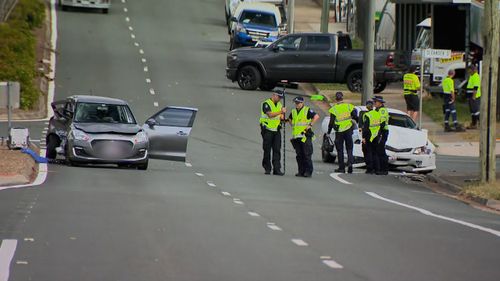 A group of witnesses from a nearby gym heard the collision and ran to help.
They managed to stabilise the adult passenger and provided CPR to the driver for more than 10 minutes.
"We ripped open as much as we could of the door and I was giving her CPR and mouth-to-mouth," David Biddle told 9News.
"Unfortunately, she did pass away and that was somebody's mother and grandmother."
The ute driver allegedly fled on foot.
Police said they later located 27-year-old Andrew Stewart-Smith man four kilometres from the scene in a drain, at about 9am.
Stewart-Smith has been charged with operation of a motor vehicle causing death, dangerous operation of a motor vehicle causing grievous bodily harm, failing to remain at the scene of an incident and rendering assistance, unlawful use of a motor vehicle and stealing.
He is known to police, 9News understands.
Investigators said the ute had been allegedly stolen from a Stafford address on September 18 or September 19.
Anyone who witnessed the crash or has dashcam of the incident is urged to contact police.
Stewart-Smith will appear in Brisbane Magistrates Court on Saturday. 
Share and Follow