Melanie Lynskey thrived following her time on Two and a Half Men. She appeared on several hit shows including Yellowstone, and The Last of Us.
Despite her success on Two and a Half Men, things were different behind the scenes for Melanie Lynskey. We'll take a look back at why the actress wasn't fond of her role as Rose behind the scenes, and a big reason had to do with those in charge behind the scenes.
RELATED – Charlie Sheen's Rejected Idea For His Return To Two And A Half Men Might've Been Better Than Chuck Lorre's Offer
Charlie Sheen added to the speculation, claiming that Chuck Lorre was the man responsible for the negativity behind the scenes.
He was also put the blame on the creator for ruining Lynskey's personal life. We'll reveal what Charlie Sheen had to say, while taking a look at Lynskey's marital status these days, and how she feels about her ex-husband Jimmi Simpson today.
Melanie Lynskey Enjoyed Her Time Alongside Charlie Sheen, But Was Not A Fan Of Her Two And A Half Men Stint
Playing the role of Rose, Melanie Lynskey was a popular character during her stint on Two and a Half Men. She appeared in 63 episodes between 2003 and 2015. Despite her popularity on the show and success playing Rose, Lynskey had a different experience behind the scenes. According to the star, she was barely paid anything – and was discouraged from taking on other roles at the time.
"When the show got picked up, they asked me to be a regular; that was a harder decision. But everyone around me was like, 'Wow, this is great, congratulations.' So I decided to try it on."
"It was literally the least they could possibly pay me, according to SAG," she continued. "I did one season, and I thought, 'Oh, this is not for me.' It felt very hard knowing that most of my year was gonna be this."
RELATED – What Happened Between Charlie Sheen And Jenny McCarthy After Two And A Half Men?
Despite the negative experience, Lynskey praised Charlie Sheen, though the two drifted apart in recent years.
"I haven't actually been in touch with him for a while," she admitted. "I send him my best always and hope that he's doing well. But… he was a very, very generous actor to work with and was always very kind to me," Lynskey revealed with Fox News.
Charlie Sheen Blamed Several Failed Marriages On Chuck Lorre, Including Melanie Lynskey's Divorce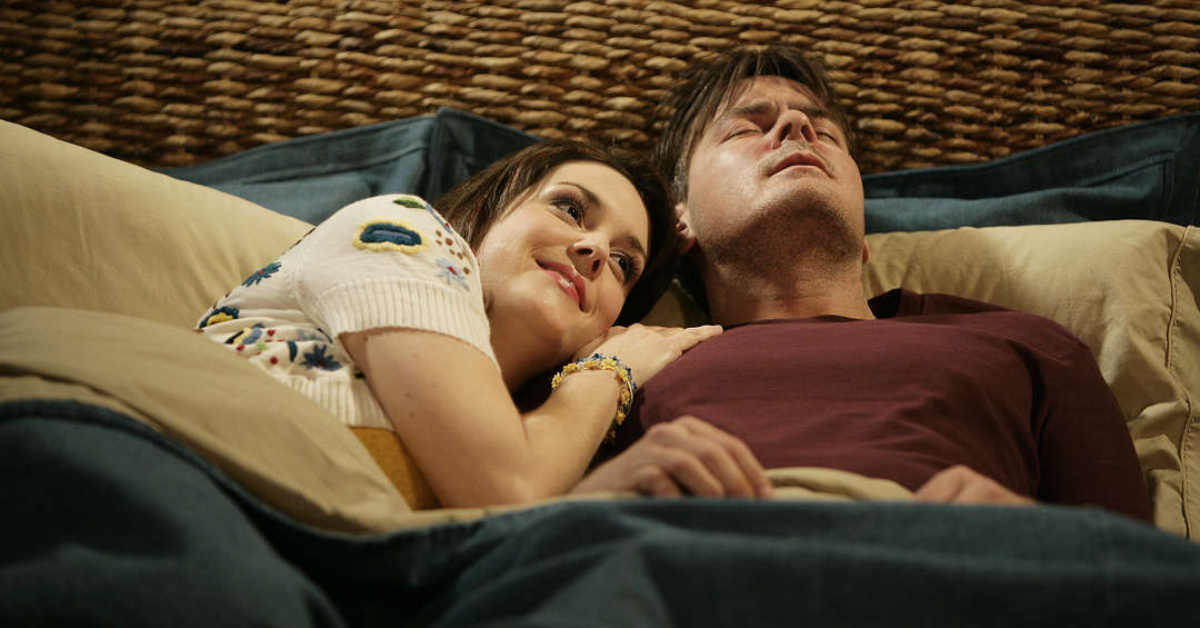 It is common knowledge by now, Charlie Sheen didn't have the best things to say about Chuck Lorre following his exit from Two and Half Men. Among his criticisms, included take a shot at The Big Bang Theory. Sheen ripped into the show's creator, while 'feeling sorry' for the cast during his brief cameo on the show.
Speaking alongside The Guardian, Sheen would make other reveals, stating that Lorre's leadership ruined lives, including Melanie Lynskey's marriage.
"Look what happened to Angus [T Jones], man. Look what happened to me, look what happened to Melanie Lynskey, who's getting divorced. That show devoured like 12 marriages."
RELATED – Chuck Lorre Had To Fight CBS Over Potentially Firing One Of The Main Cast Members On Two And A Half Men
Of course, we all know what happened to Angus T. Jones, as the actor left the show after going on a rant about the series. Thankfully, he would return on amicable terms for the finale. As for Melanie Lynskey, she's thriving these days on The Last of Us, and as for her marriage, it seems like things ended on amicable terms.
Melanie Lynskey Was Able To Keep An Amicable Relationship With Her Ex-Husband Jimmi Simpson
Jimmi Simpson married actor Jimmi Simpson back in 2007. However, seven years later, the two divorced, and it seemed to be on bad terms given that 'irreconcilable differences' was the reason for the divorce.
Lynskey would remarry in 2020, tying the knot with Jason Ritter. However, paying homage to Ray Liotta, it seems like Lynskey kept in good terms with her ex, given how she addressed him in the tweet.
"When I was married to the wonderful @jimmisimpson he did the movie Date Night with Ray Liotta, and I cannot even express how kind Ray was to me, how welcome he made me feel when I visited set, and how lovely he was about my work. A truly warm and generous man. Rest In Peace, sir," she wrote in a recent tweet."
The same holds true for Simpson, who has referred to his ex-wife as a 'dear friend' in other interviews.