Early on in his acting career, Dave Bautista was given valuable advice from fellow sports entertainer, Stone Cold Steve Austin. Steve recommended that Dave stay away from the big, and enticing pay days. Instead, Dave was encouraged to chase great scripts, and that's exactly what he did.
RELATED – Dave Bautista Made A Bold Decision To Turn Down A Franchise Film That Almost Made $1 Billion At The Box Office
Dave is now on top of the Hollywood mountain, however, it took a heck of an effort to get there, especially in terms of confidence. In the following, we'll take a look at some of Dave's struggles behind the scenes, like his battle with social anxiety.
We're also going to reveal the purpose of his glasses, and why they mean so much more to the A-list actor than most fans know.
Dave Bautista Struggled With Social Anxiety Growing Up
Dave Bautista's road to success in acting was not an easy one. He faced multiple struggles behind the scenes, like leaving sports entertainment at his prime, while going completely broke while trying to make it in Hollywood.
Adding to the difficulty, Bautista admitted to suffering from social anxiety growing up. According to his words on the Lilian Garcia Podcast, he wishes there was a little more awareness about the issue back then.
"I wish when I was younger I hadn't been so ashamed. I wish I would've embraced it more because it's okay, and I find out more, all the time, that a lot of actors are the same way. They get anxiety and get self-conscious, and get insecurities about their performances."
"And I think if people hear more from that – from people, especially someone like me who succeed in these entertainment fields – they can see that I am someone who is like that as well. Then, they will just be more accepting and just be okay with it. Because there's more people like that than you would think."
RELATED – Dave Bautista Was Miserable When He Was Wealthy So He Decided To Enter Hollywood Completely Broke
These days, Bautista is putting himself out there, as a major star in Hollywood, and among the most in-demand actors at the moment. However, his anxiety levels haven't changed, he's just better at coping with it.
Dave Bautista Uses His Sunglasses As A 'Security Blanket'
Prior to the start of his interview alongside GQ, Dave Bautista removed his glasses and cap. He wasn't wearing it for style, instead, Bautista claims that they serve as a 'pacifier' for him.
"Like this"—bare-faced, he means—"I feel exposed. But if I put on glasses and a hat, that's my security blanket. I want to cover up and have some protection."
RELATED – Has Manny Pacquiao Responded To Dave Bautista's Criticisms (And Tattoo Cover Up) Of Him?
Bautista would go on to reveal that the fear never left, however, he's able to deal with it a lot better these days.
He tells GQ, "I'm afraid of things," Bautista says. "I'm nervous about things. But I can force myself to do things that make me uncomfortable, because I know I'm not gonna get anywhere if I don't. I may cringe after the fact, but I'm not going to let that fear hold me back."
Despite his fear and social anxiety, Dave is thriving in Hollywood at the moment. Not only that, but he's getting nothing but positive reviews from his co-stars, with some even referring to him as a leader on-set.
Dave Bautista Turned Into A Leader On Hollywood Sets, According To His Co-Stars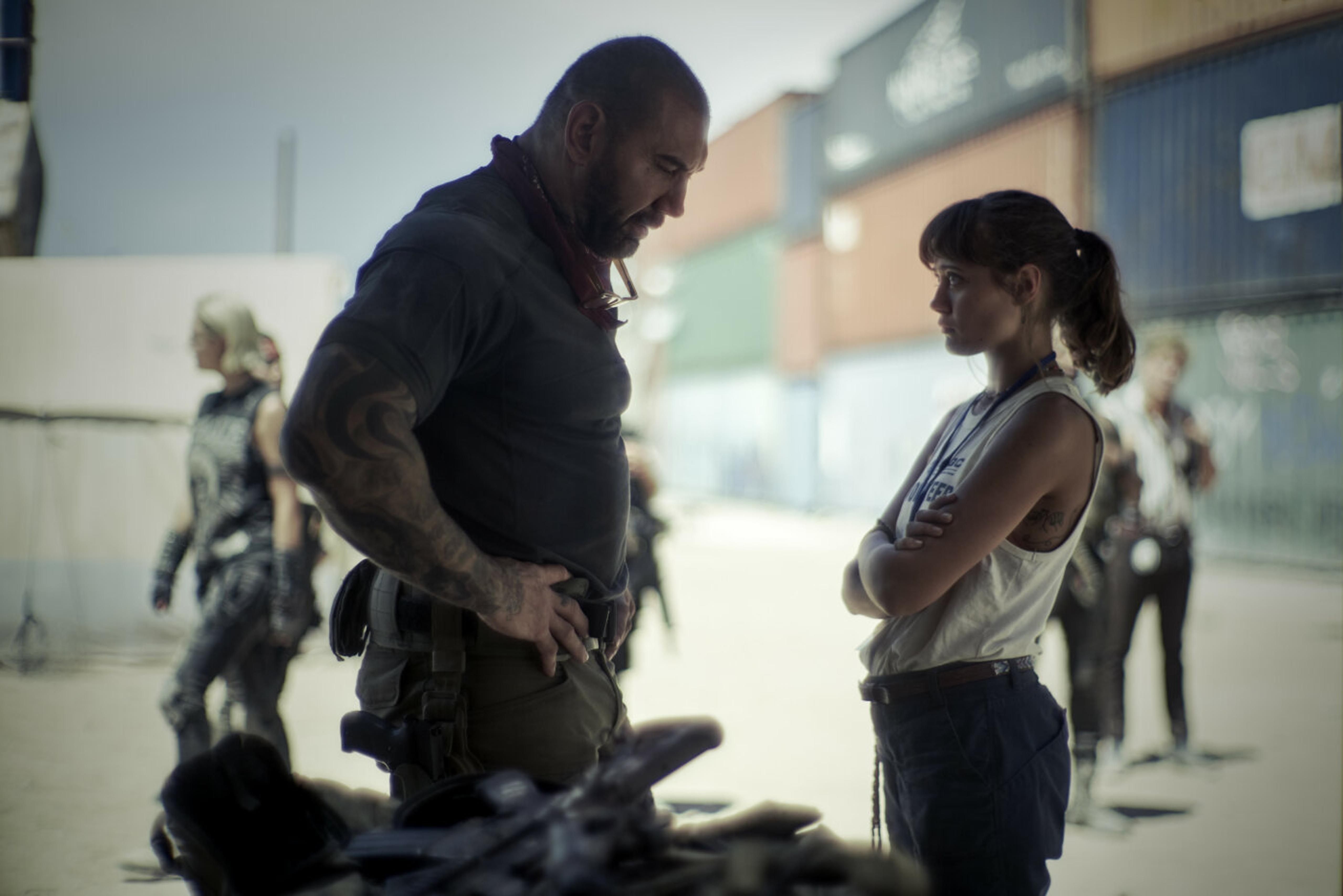 Emma Purnell and Dave Bautista shared undeniable chemistry during Army of the Dead. However, it seems like Dave's contributions were just as key off-camera as well. Purnell called Bautista a leader behind the scenes.
"He's a great team leader, which was perfect for the role, but you know, he really gathered the troops and on days where, it's a big cast, and on days where we were tired, or just energy was down, it was just hot, like a thousand degrees in Albuquerque. Yeah. He would just rally the troops and get us all jazzed."
Timothee Chalamet is another actor that spoke highly of Bautista, given their time together in Dune. Chalamet admitted that Dave set the tone behind the scenes with is positive attitude.
"When you see an actor that's already worked with a director and is more humbled than ever, and is more excited to be there than ever. For me, it just kind of set the bar on these kinds of movies. It was inspiring."
Dave Bautista continues to have a packed schedule, and it is no secret as to why. Not only is he bringing it on-screen, but he's also thriving off-camera as a leader, getting major love from his co-stars.