Ever since the news broke that Tristan Thompson might be the father of Maralee Nichols' baby, speculation ran rampant. At first, people assumed the new mom was seeking attention, and that a paternity test would prove Thompson wasn't the father. The fact that Tristan denied the baby at first didn't help matters. But once the DNA test came back, there was nothing for Tristan to do but publicly acknowledge his son—and apologize to Khloé. Again.
But the drama didn't end there. Tristan's behavior regarding his newborn son didn't impress fans. There was even a rumor that Tristan tried to pay Maralee off for her silence to minimize the fallout. As for Maralee Nichols, critics also had plenty to say about her part in the drama—and her requests for an exorbitant amount of child support for her new baby.
Did Maralee Nichols Plan Her Baby With Tristan Thompson?
One apparent fan of the Kardashian-Jenners (or at least, a fan of their drama) wondered online why Maralee Nichols gets so much hate. From their perspective, it wasn't Maralee's fault that she connected with Tristan, and she shouldn't be blamed for Tristan cheating on Khloé Kardashian.
Other commenters weren't so sure. Some pointed out that Khloé often posted about Tristan on social media—making it clear they were together. Due to the timing of Tristan's connection with Maralee, most assume that their son was conceived on the same night that Khloé threw a birthday party for her then-beau.
Related: Here's What We Know About Tristan Thompson's Parenting Of His Kids With Khloé Kardashian
Still, other commenters argued, it was Tristan's fault, not Maralee's, that he cheated. But morals regarding relationship statuses aside, there are people who think that think Maralee purposely planned to get pregnant by Thompson.
One commenter wrote, "I think a lot of people believe that she orchestrated and planned this baby and this was no shock or mistake on her side for a lifetime of clout and paychecks."
Another person suggested Maralee's "decision to have a child" with Tristan "sus af," agreeing that the whole thing seemed planned rather than an oops.
Something else many deemed "sus"? The fact that Tristan isn't interested in co-parenting with Maralee.
Tristan Refuses To See His Son With Maralee
So far, Tristan Thompson has flat-out refused to see his child with Maralee Nichols. Theo was born in December 2021 and as of December 2022, it was said that Tristan continued to decline opportunities to meet his third child.
Of course, after Theo was born, Tristan later welcomed his second child with Khloé; another son. The fourth Thompson baby's name has been kept under wraps, but he arrived in August 2022.
Related: Surprisingly, Some Of The Kardashian-Jenners' Offbeat Baby Names Have Inspired Trends
Khloé denied being involved with Tristan, but the two continue to parent True and the new baby and are often photographed together with their kids.
The reality TV star also has not publicly commented on Tristan's lack of parenting his fourth child, though she apparently wants the new baby to connect with older brother Prince, who has previously spent time with his little sister True.
Though some rumors swirled that Tristan was planning to meet with Maralee to finally meet his son, that doesn't seem to have happened yet.
Thompson also refused to admit that Theo was his until a paternity test confirmed it, after which he went to court over child support for the baby.
The fact that Tristan is so adamant about not being a father to Theo might have been critics' first hint that the baby wasn't exactly an accident.
How Much Does Tristan Thompson Pay In Child Support?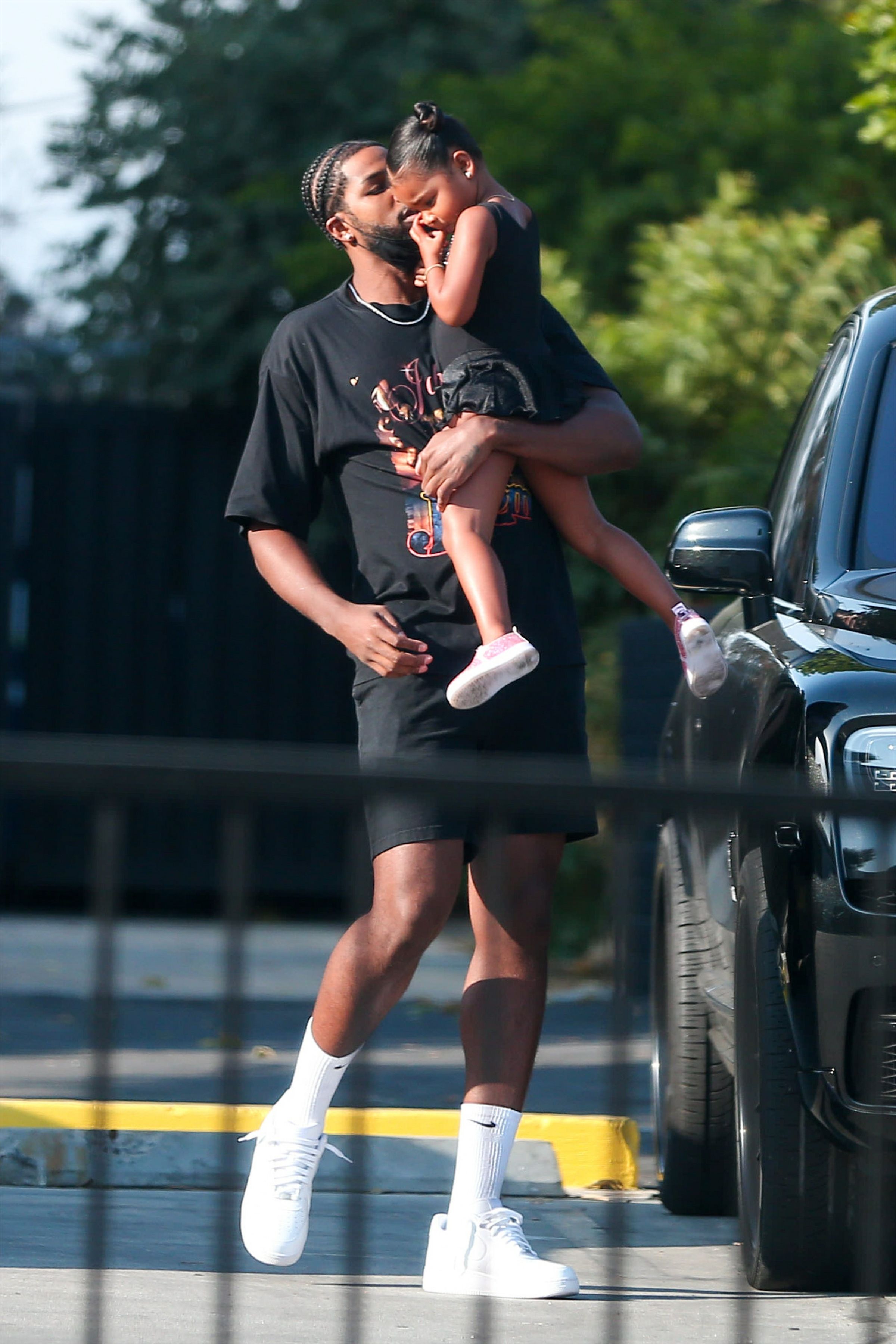 Court documents reportedly proved that Tristan Thompson tried to convince Maralee Nichols to accept a $75,000 payment to cancel her child support request.
Thompson suggested that Maralee would only get 'a few hundred dollars' if she pursued the paternity suit. However, according to records obtained by TMZ, Tristan wound up paying $9,500 per month to Maralee for their infant son's needs.
Nichols, meanwhile, has full custody, though TMZ stated that an "official visitation plan" is forthcoming. The publication also explained that given Tristan's high net worth, fans might assume he would be on the hook for more money.
Related: Here's What Khloe Kardashian Spent Setting Up An Excessive Garage For Her Daughter's Car Toys
But because Tristan isn't currently working (playing on a basketball team), his income is almost nonexistent.
Prior to the child support update, commenters speculated that Maralee was hoping for a far larger payout per month, to the tune of $40K or more. That's because the mother of Tristan's first child received $40,000 per month back in 2019, and Maralee's initial demand was for a slightly higher amount.
It's unclear whether Tristan pays Khloé any child support, or how much, but given her net worth and how much she makes per year, it seems unlikely that Thompson is on the hook for support.
What does seem clear is that Maralee paid attention to how much child support Tristan's oldest son receives (or received) and based her claim on that, which alone caused people to label her intentions "sus."