Quick Links
Does Kourtney Kardashian Get Along With Her Stepson Landon Barker?
Did Landon Barker Take A Swipe At Kim Kardashian?
After Kourtney Kardashian was married to Scott Disick for nearly a decade, the former couple went their separate ways. On top of Kourtney's first marriage, the reality star has been romantically linked to several other people. Then, in 2019 Kourtney got involved with someone that most people never would have predicted, the famous drummer Travis Barker. Best known as the drummer for the band Blink 182, Travis had been married twice before.
During Travis' second marriage to Shanna Moakler, the drummer welcomed his two children into the world, his son Landon and his daughter Alabama. Of course, Kardashian fans will likely know that Kourtney has three of her own kids, Mason, Penelope, and Reign.
When Kourtney and Travis got married in 2022, there was a lot of interest in if their children get along. While that is fascinating, it also is interesting to learn whether Kourtney and her new stepson Landon are close.
Does Kourtney Kardashian Get Along With Her Stepson Landon Barker?
When Travis Barker met and fell in love with Kourtney Kardashian, he was just a man who fell for a woman to paraphrase the movie Notting Hill. However, when someone falls for a member of the Kardashian-Jenner family, things are a lot more complicated than that.
Related: Are Kourtney Kardashian And Travis Barker Getting Their Own Reality Show?
Since the Kardashian-Jenner family is the topic of so much gossip and attention, getting involved with one of them means entering a whirlwind of sorts. Of course, Travis has been famous for many years due to his music career so that wouldn't be an entirely new experience for him.
Since Travis is a father, there is something else he must have considered when he fell for Kourtney.
Even though Travis' relationship with his ex-wife Shanna Moakler was tabloid fodder at times and their kids must have felt some pressure from that, his new relationship took things to a new level. With that in mind, Travis had to wonder how his children would handle that.
On the off chance that Travis didn't worry about how dating and then marrying a Kardashian would affect his kids, observers definitely have wondered about how his kids feel about Kourtney. On top of that, fans wondered how Travis' children felt about the other members of Kourtney's family.
In November 2022, Travis' son Landon Barker gave the world a window into how he feels about his stepmother Kourtney and her family. On Thanksgiving 2022, Landon took to social media to pay tribute to his stepmother and her children.
Over a photo of himself with his dad, Kourtney, and her two youngest children, Landon added a caption expressing his love for them. "@kourtneykardashian I'm so thankful for you and I love you guys!"
Related: Travis Barker's Son Landon Is Now A Fashion Designer
After Travis made his post, Kourtney took a screengrab of it, shared it on her Instagram stories, and responded with her own caption about Landon. "I LOVE YOU and I am so thankful for you every day,"
During an episode of her reality show The Kardashians, Kourtney spoke about how she feels about her blended family with Travis.
"Our family's expanding and growing and we have so much to be thankful for. I love the idea of a blended family. I think that the more kids, the merrier. You have all these siblings and more people to love. It's a beautiful thing."
Landon also spoke highly about their blended family during an episode of the hit reality show.
"I just want to say I love you and I appreciate you guys and I miss you guys every day."
On top of all that, when Landon was interviewed by E! News' Daily Pop in June 2022, he yet again sang his mother-in-law's praises. "She's amazing. I love Kourt so much. I love expanding the family."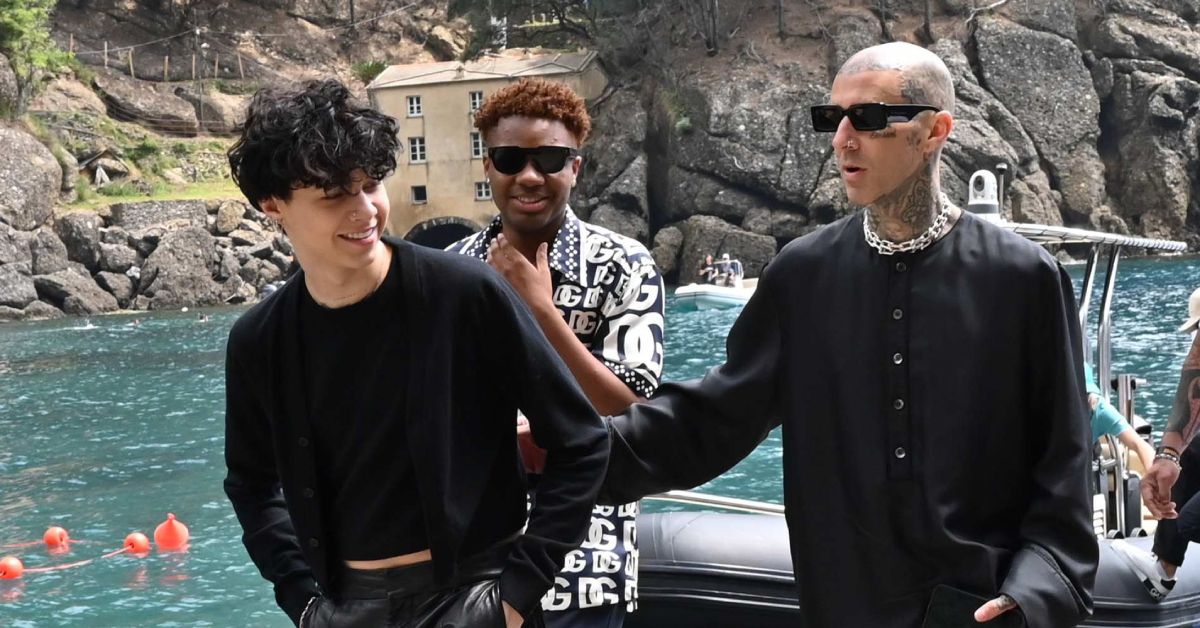 Landon then went on to explain how pleased he was to see that his dad Travis is so happy since he married Kourtney. "It was great to go out there and see my dad super happy with his new wife."
Based on those statements and social media posts like these, it certainly seems like Kourtney and Landon couldn't be happier to be part of each other's lives.
Did Landon Barker Take A Swipe At Kim Kardashian?
As of the time of this writing, Landon Barker is only 19 years old. As anyone who has gone through their teens should already know, people who are in that part of their lives often fail to fully think out the decisions they make.
Related: Landon Barker's Dating History And Other Facts About Travis Barker's Son
When teens did things without thinking them out in decades past, they may have been embarrassed in front of the people in their lives. Thanks to social media, however, it is now possible for teens who make mistakes to be called out in front of the world.
In May 2022, Landon Barker posted a video on TikTok that garnered a lot of attention from Kardashian fans. Once fans watched the video, many of them came away from it thinking that Landon had taken a swipe at his aunt-in-law, Kim Kardashian.
In the aforementioned video, Landon can be seen lip-syncing to the song "Runaway" which was released by Kim's ex-husband, Ye.
Considering that Ye is one of the biggest recording artists of his generation and he has loads of fans, lots of other people have posted similar videos in the past. With that in mind, it is easy to imagine Landon posting the video of himself enjoying "Runaway" without thinking about the implications.
On top of that, it is worth noting that Kim has gone out of her way to try to be on as good of terms as possible with Ye following their divorce. As a result, it seems unlikely that she would demand that the people in her family forever shun Ye's music.
No matter how many reasonable explanations there are for Landon posting the video of him listening to Ye, some observers assumed he had the worst of intentions. At the end of the day, the only person who truly knows what Landon intended when he posted the video is the teenager himself.