Share and Follow
Grammy Award-winning singer-songwriter Ed Sheeran is no stranger to sleeping rough. Before he became a virtuoso at composing irresistible chart-toppers, the A-Team singer embodied all the elements of 'starving artist,' taking small gigs, and crashing on friends' couches just to get by. It was during this turbulent time that Sheeran benefited from the generosity of Academy Award winner Jamie Foxx, who gave the singer six-week respite from couch-surfing when he'd just moved to Los Angeles.
RELATED: Ed Sheeran Wanted To Quit Music Because Of This Person
While Foxx's act of generosity gained much attention, the list of celebrities who have opened their homes to the renowned singer-songwriter doesn't end there. Sheeran's propensity for couch-surfing has forged him numerous connections in Hollywood, some of which have been completely unexpected. Such is the case with acclaimed actress Courteney Cox, with whom Sheeran has maintained a close friendship ever since he had an unforeseen sleepover at her Malibu home. So, just how exactly did Ed Sheeran end up sleeping on the Friends alum's couch?
How Did Ed Sheeran And Courteney Cox Meet?
Aside from chart topping hits like Shape of You and Thinking Out Loud, renowned singer-songwriter Ed Sheeran boasts of a star-studded circle of friends, having maintained close friendships with A-listers like Harry Styles and Taylor Swift for most of his career. Among his many showbiz friends is Courteney Cox, whom Sheeran has considered a close friend for over a decade.
The twosome first ran into each other when Sheeran received fortuitous invitation to a party hosted at Cox's residence from Bill Lawrence and Christa Miller. "I did a gig in LA and Bill Lawrence and Christa Miller [the TV producer and his actress wife] brought their daughter to meet me," Sheeran explained to Daily Mail UK in 2014. "Next day, I happened to be having lunch in the same restaurant, and they said would I like to come to a party that night? It was at Courtney's house."
Though not grappling with homelessness at the time, Sheeran ended up spending the night, as Cox lived "quite far out and the car that had brought [him] had gone back."
RELATED: Here's Why Ed Sheeran Doesn't Have A Smartphone
Following the impromptu sleepover, Sheeran received a standing invitation to crash in Cox's Malibu home. "She loves music; she's jamming all the time," Sheeran revealed during a 2021 appearance on The Late Late Show with James Corden. "She picked up the guitar. But she was like, 'Anytime you want to stay, let me know.'"
Ed Sheeran Sleeps At Courteney Cox's Whenever He's In L.A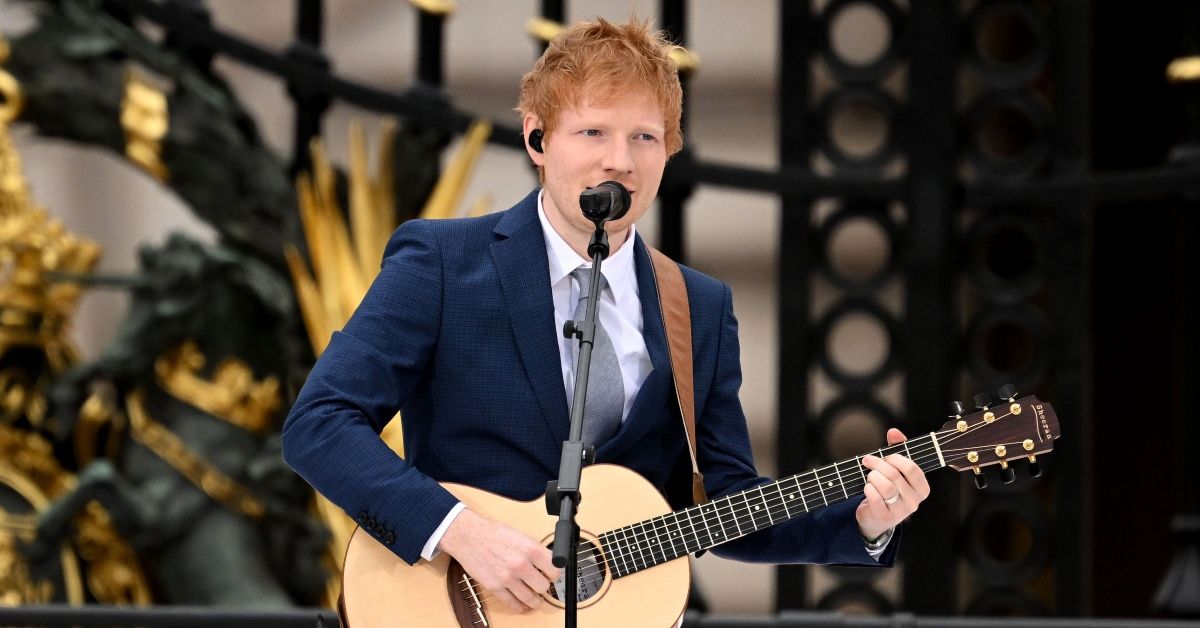 Courteney Cox's stunning Los Angeles home became an unlikely sanctuary for Ed Sheeran yet again when he was recording his 2014 album, x. This second sleepover was such a massive success that Sheeran couldn't stop gushing about the Friends alum's impeccable hosting skills during his 2014 interview with Daily Mail UK.
"With Courteney, you don't really ask," Sheeran said of living with Cox. "She's a Southern girl, pure Alabama, so she's very much the hostess with the mostess. She's very warm and friendly, and wants to give to everyone. She lets people stay, cooks dinner, shows an interest in what they're doing. So, it's not so much forcing yourself, or her asking you, you're just there. Pretty much every time I go to LA now that's where I stay."
Interestingly, being a maestro of hospitality isn't the only thing that endeared the Cougar Town star to Sheeran. As it turns out, Sheeran found himself drawn by one of the many qualities that have beguiled millions around the world; Cox's down to earth demeanor. "I've been ignored for a whole dinner party and then someone says, "Oh, this is Ed, he does this" and suddenly I'm being given all these cards," Sheeran revealed to Daily Mail UK. "Whereas the first time I went to Courtney's I brought my cousin Murray, who isn't a superstar — well, he is in my eyes, but he's not an actor or a musician. But everyone spoke to him and thought he was cool."
RELATED: David Arquette Felt "Inferior" To Courteney Cox During Their Marriage, But She Tells A Different Story
As for how Sheeran repaid Cox's delectable brand of Southern hospitality, the Shape Of You singer confessed to The Sun, "There was no rent but I made the bed and cups of tea and things like that. If you're staying at your friend's house, you should treat it like your own."
How Ed Sheeran Played Matchmaker For Courteney Cox At One Point
Courteney Cox's friendship with Ed Sheeran took an unexpected turn when Sheeran brought his best friend, Johnny McDaid, to one of Cox's star-studded house parties. "I introduced her to my best mate Johnny, who I wrote Shape Of You and Bad Habits with," Sheeran said of Cox and McDaid's first meeting during his 2021 appearance on The Hits Radio Breakfast Show. "She just invited me to her house and I just kept going and then one day I brought Johnny, and he didn't come home."
Unbeknownst to Sheeran, Cox had developed an instant attraction to the Snow Patrol star during the party. "I remember seeing Johnny and going, 'Oh, wow. He's really intense.' He's got the eyes, and he's playing the piano," Cox disclosed during a March 2022 appearance on Howard Stern's SiriusXM radio show. "And I thought 'Oh he's really really handsome.'"
However, it wasn't Sheeran, but Sascha Baron Cohen, one of Cox's closest friends, who ended up playing cupid. "Sascha walks up [to Snow Patrol musicians McDaid and Lightbody] and says, 'Hey! Courteney wants to f— one of you from Snow Patrol. And it's not you, Gary,'" Cox told Howard Stern of her first encounter with McDaid.
The twosome started dating shortly after this first meeting, much to Sheeran's delight. "I've never seen either of them happier," he said of the relationship in 2014. "It's great to see people you love in love."
Share and Follow