Share and Follow
Highlights
Jessica Chastain admitted her friendship with Oscar Isaac changed after filming Scenes From a Marriage, saying their relationship has "never quite been the same."
Chastain and Isaac have been friends for over 20 years and know each other so well that they can make each other laugh or hurt each other strongly.
Jessica Chastain and Oscar Isaac's red carpet behavior at the Venice Film Festival sparked rumors, but Chastain shut them down, stating that they are both married to other people and have been friends for over 20 years.
Jessica Chastain has admitted her relationship with long-term friend Oscar Isaac changed after making Scenes From a Marriage. The Oscar-winning actress starred with Isaac in the 2021 HBO limited series and admitted to Vanity Fair that the project "was very tough."
In Scenes from a Marriage, Chastain and Isaac play Mira and Jonathan, a married couple whose relationship falls apart over several years.The powerful series is an American adaptation of the 1973 Swedish miniseries of the same name.
"And I love Oscar [Isaac], but the reality is, our friendship has never quite been the same," the actress explained. "We're going to be okay," the 46-year-old added. "But after that, I was like, I need a little bit of a breather. There was so much I love you, I hate you in that series."
How Scenes From A Marriage Threatened Jessica Chastain's Friendship With Oscar Isaac
Jessica Chastain and Oscar Isaac have been friends for over 20 years, "Oscar I've known for 20 years. We went to college together," Chastain told People.
"We have the same process. When I got the scripts, I knew immediately it was going to be like a play, because most of it's just him and I talking for an hour, sometimes not calm."
Chastain told Today while promoting Scenes From a Marriage that she and Isaac would get under each other's skin during filming the HBO show because they knew each other so well.
Related: How Close Are Jessica Chastain And Eddie Redmayne After Working On Netflix's The Good Nurse?
"We've been friends for more than half our lives and we know so much about each other," the actress explained in the 2021 interview. "So we know how to make each other laugh without even saying anything. We can almost read each other's minds, but [it] also means we could hurt each other really strongly. In the scenes, we would know how to get to the other one."
"Sometimes before action, I would turn to Oscar, who plays the main caregiver of our child, and be like, 'The house looks really really messy. Why didn't you clean it?' And he was like, 'Grrrr.' We know how to dig in."
Were Jessica Chastain And Oscar Isaac Ever More Than Friends?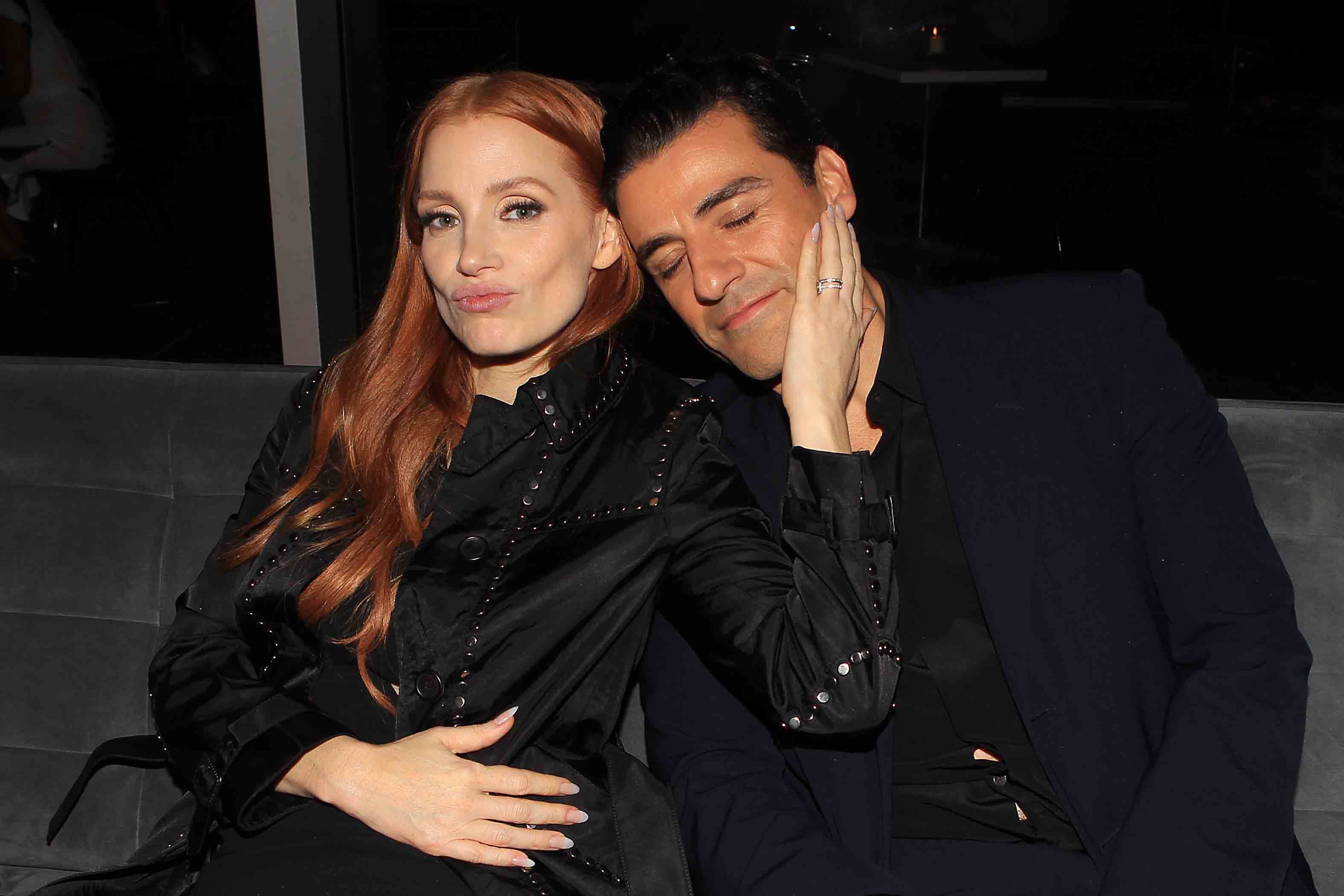 Jessica Chastain and Oscar Isaac sent social media into a frenzy with their red carpet behaviour at the Venice Film Festival in September 2021. In a slow motion clip posted to Getty, Chastain wraps her arms around her co-star's shoulder before he appears to kiss her inner arm.
Their red carpet behavior set tongues wagging about the nature of their relationship. Chastain shut down the rumors whilst appearing on Stephen Colbert's talk show. "We're both married to other people, we've been friends for more than 20 years. If it hasn't happened yet, it's not gonna happen," the Zero Dark Thirty actress shut down. "Sorry to tell everybody, because I know people got very excited by this."
Chastain married fashion executive Gian Luca Passi de Preposulo and Oscar Isaac wed director Elvira Lind in 2017.
Read Related Also: Paris Fury unveils seventh child's unusual name and explains why Tyson missed his birth
Related: What Happened Between Tom Cruise And Jessica Chastain?
Oscar Isaac attempted to clarify their red carpet moment by comparing their relationship to flatworms. The Moon Knight star appeared on SiriusXM's The Jess Cagle Show and explained that flatworms communicate on a cellular level through a type of electricity.
"Maybe we should use more actual human language to talk instead of sniffing an armpit and doing things like that," he joked. "That's kind of what starts to happen and no matter how much we annoy each other, no matter what happens, it's like, when you get us together, it's like, it's just other stuff that's going on that is making us grow two heads."
Chastain explained in an interview with Today that the vital red carpet moment was less sexy in person as Isaac's face ended up in her armpit. She has got two theories as to why everyone went so wild over it. "Let me just say, though, this is a slow-motion video, and everybody is super sexy in slow motion," Chastain said.
She also theorized that because the moment happened around the Covid-19 lockdown. "We have all been locked in our houses for so long. When this video went viral, I was like, people just need to see people touch and hold each other."
The Trick Jessica Chastain Has When Working With Oscar Isaac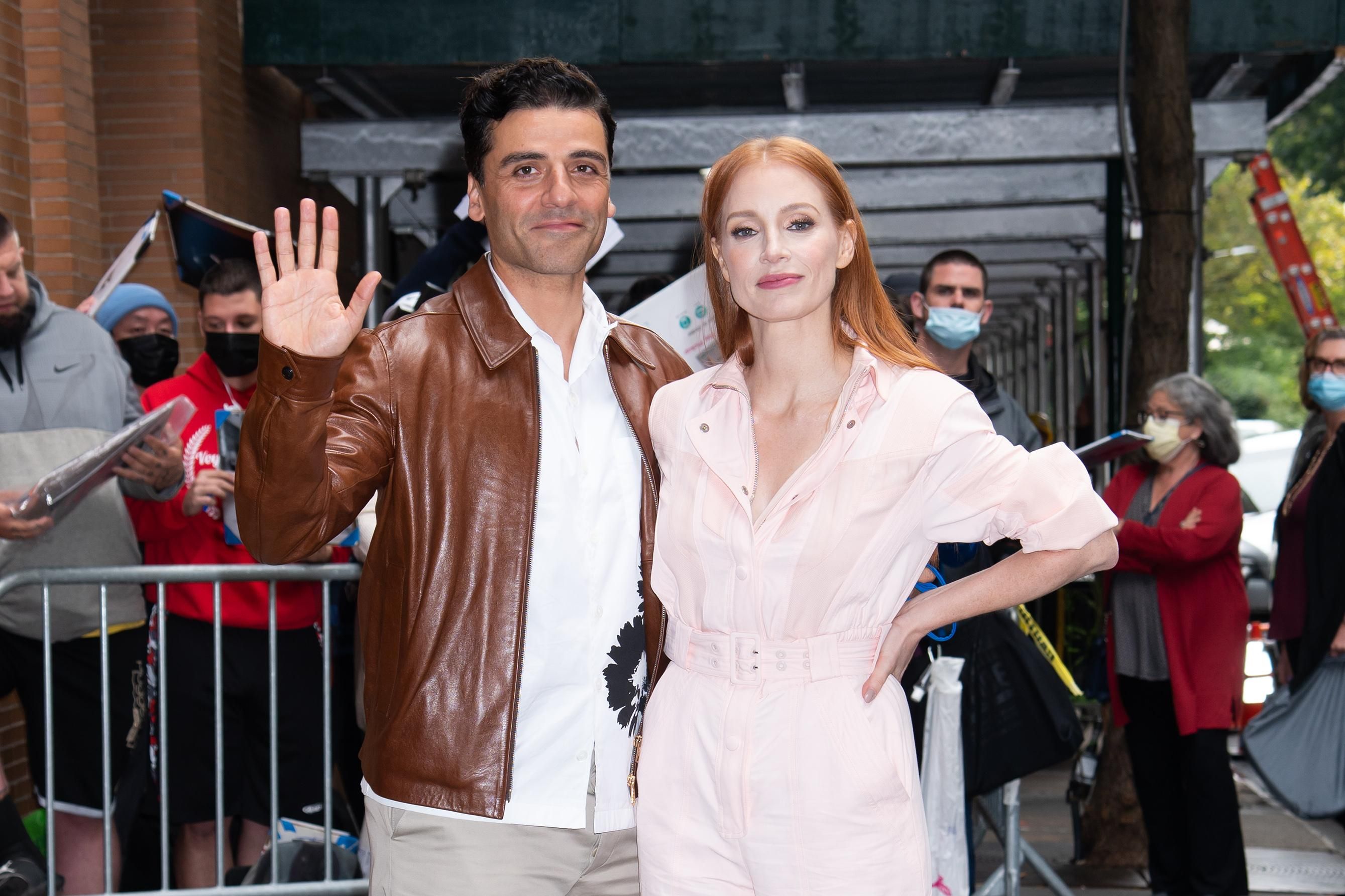 Jessica Chastain previously played Oscar Isaac's wife in 2014's A Most Violent Year. She admitted she had to play a little mind trick, so she could "see Oscar in a different way, which was complicated because these characters are best friends, and they know so much about each other."
"They know everything about each other, so that was easy," The Good Nurse star told People. "But then I was like, 'Okay, how am I going to switch [Oscar] in my mind? Because he's literally not Jonathan at all.' So I had to, I literally changed his name in my phone to Jonathan. I did. Because every time he texted me, I wanted it to say 'Jonathan,' so it could just remind me of the project, you know?" The actress has confirmed she changed his name back to Oscar in her phone contacts.
Chastain and Isaac also used a couple's workbook to get to grips with their characters' dynamic in the 2014 crime movie. "I have this book, it's one of those cheesy books that couples have where there's two partners, and you answer all these questions called 'All About Us.'"
Related: Jessica Chastain's Frighteningly Close Relationship With Oscar Isaac Is Why She Made Scenes From A Marriage
"I think my husband and I got it and we were like, 'We're not doing this,' but I had it and I thought, 'What if Oscar and I do it as the characters so before we start shooting, we have our backstory?'" she explained. In the film, Oscar Isaac plays a fuel supplier who tries to avoid corruption amid the violent world he lives and works in.
"So what we did is, one of the questions was 'Favorite memory of your wedding,' so I wrote 'Jonathan dancing at the wedding,' and he wrote something. I don't remember what it was, but we went through the entire book and did that. And it gave us a shared backstory and a shared secret of this relationship that helped me see him as Jonathan and not as Oscar."
Share and Follow