Jenna Ortega has quickly become a Hollywood "It" girl. When Wednesday premiered on Netflix on November 22, 2022, it debuted as number one on the streaming platform. The show also amassed 341.23 million viewing hours in its first week.
Furthermore, in its first premiere week, Wednesday racked up more than six billion minutes of viewership, making it Netflix's second most popular series. Stranger Things 4 currently holds the number one spot.
Suffice it to say Wednesday was a major hit. After the show's premiere, Ortega skyrocketed into fame. While on her media cycle, she talked in-depth about the show and how happy she was with how it turned out.
However, the star was critical of certain aspects of the show and didn't agree with how parts of her character were written. But, now that the show has been green-lit for a second season and Ortega has been named as an executive producer, she might get to see her character how she always wanted.
What Did Jenna Ortega Not Like About The Wednesday Character?
Wednesday Addams is an iconic and recognizable character. When it was announced that Netflix would be doing a series about the character, fans were excited—throw in the casting of Jenna Ortega, and the show was instantly a success.
But, as much as fans and critics seem to enjoy the show and the way director Tim Burton took the series, Ortega had some critical feelings regarding her character's actions. The Scream VI star wasn't afraid to stand up for her character, even if it meant getting unprofessional.
"I don't think I've ever had to put my foot down on a set in the way that I had to on 'Wednesday,'" Ortega revealed while on the podcast Armchair Expert with Dax Shephard. The actress stated the scariest part of playing Wednesday was not staying true to the character.
It was important to Ortega that the character was grounded in reality, and she would even go as far as to make changes while shooting a scene. "There were times on that set where I even became unprofessional in a sense where I just started changing lines," she says.
Related: Jenna Ortega Revealed Tim Burton Caused A Production Delay While Filming Wednesday For A Very Obscure Reason
"The script supervisor thought I was going with something, and then I would have to sit down with the writers, and they'd be like, 'Wait, what happened to the scene?' And I would have to go through and explain why I couldn't do certain things," Ortega continued.
Ortega further reiterated her qualms with the character: "Everything that she [Wednesday] does, everything that I had to play, did not make sense for her character at all. Her being in a love triangle made no sense. There was a line about this dress that she has to wear for a school dance, and she says, 'Oh my god, I love it! I can't believe I said that. I literally hate myself.' And I had to go, 'No, there's no way.'"
But Ortega says her criticism of Wednesday comes from a good place because she cares so much about the character and the show.
"I grew very, very protective of her, but you can't lead a story and have no emotional arc because then it's boring, and nobody likes you. And Wednesday is a teenager," she said.
Related: Jenna Ortega Wasn't Sure About The One Dance Scene She Choreographed Herself In Wednesday
Ortega continues, "When you're little, and you say morbid, offensive stuff, it's funny and endearing and, 'Aww, you don't know any better.' But then you become a teenager, it's, 'Now you're being nasty, and you know it.' There's less excuse."
With the actress now serving as an executive producer on season two, seeing how the Wednesday character progresses and changes with Ortega at the helm will be interesting.
What Does Tim Burton Have To Say About Jenna Ortega As Wednesday Addams?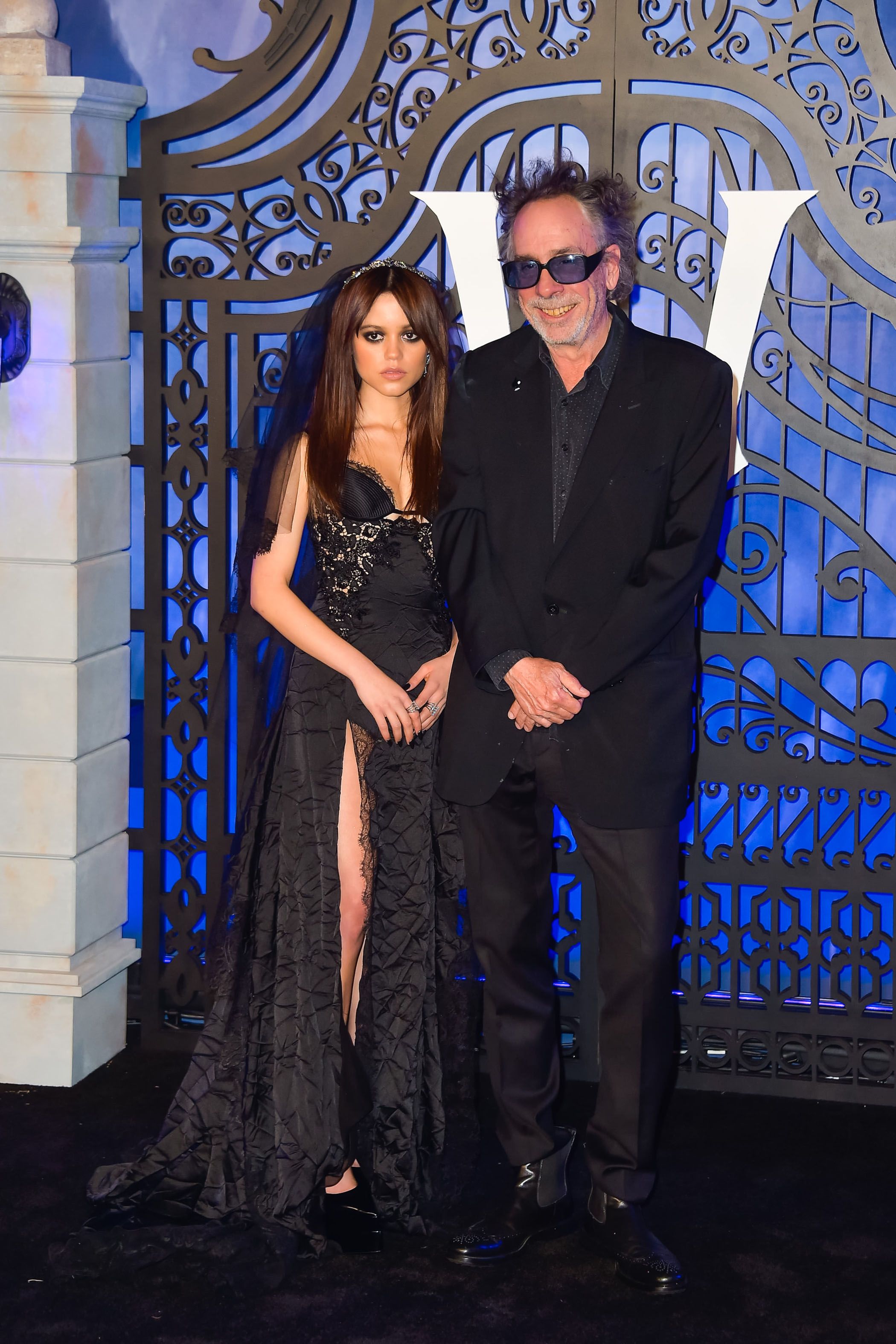 Director and executive producer of Wednesday, Tim Burton, is no stranger to the odd storyline. So, fans were thrilled when it was announced he was in charge of adapting the show. Now, after the release, with the show being a major success and viewers clamoring for season two, it's safe to say Netflix made the right choice in hiring Burton.
Show runner and executive producer Miles Millar said, "it was really important to us that this wasn't a remake or a reboot, that this was a new chapter in Wednesday Addams life."
While speaking about the show and Jenna Ortega behind the scenes, Burton said, "Wednesday is the classic outsider, obviously. She sees things very black and white, mainly black. In the past incarnations, it's been very cartoony. So in this longer form, we just tried to give it a reality, which I loved."
Related: Tim Burton Always Knew Jenna Ortega Was The Perfect Wednesday Addams For Netflix
Burton also praised Ortega, "She's like a silent movie actress in the sense where she's able to convey things without words. And to see the inner life and the subtleties was very exciting, and that's why we're very lucky to have Jenna because I can't imagine any other Wednesday."
How Christina Ricci Felt About Passing The Wednesday Addams Torch
Something this show did was hire a Latina actress to play the Latina character—which hasn't been done before. In the past, Christina Ricci brought the Wednesday character to life, and the series paid homage to that by bringing Ricci on.
Ricci played Marilyn Thornhill, Wednesday's dorm mom and botanical sciences teacher at Nevermore Academy.
While speaking to Elle, Ricci said, "I knew there would be comparison between the old [Addams Family] movies and Wednesday. That's a natural inclination."
The actress is a fan of the show and an even bigger fan of Ortega: "I loved being Wednesday," Ricci says. "I'm very proud of that role. I also think Jenna Ortega is amazing. She is so brave, so cool, and really doing the part justice. Wednesday is her part now."
Wednesday is currently on Netflix.