When Jennifer Aniston and Angelina Jolie met for the first and only time, Aniston pulled Jolie over to greet her. This was while Aniston was still married to Brad Pitt. Sometimes people working together closely begin to develop feelings for each other. There have been several occasions in which actors fell in love during filming. Sometimes those relationships develop into love.
Brad Pitt and Jennifer Aniston were married in 2001. While Pitt was filming Mr. and Mrs. Smith with Angelina Jolie, the two supposedly fell in love.
Rumors of the two falling for each other seemed to be confirmed after Brad Pitt and Jennifer Aniston separated and divorced, claiming other reasons. Before all of this, Aniston said hello to Jolie. Jennifer Aniston pulled Angelina Jolie over to greet her during their one and only meeting.
Jennifer Aniston Greeted Angelina Jolie When They Met
It seems when Jennifer Aniston saw her husband's new co-worker, Angelina Jolie, she wanted to be polite. She decided to greet the Girl, Interrupted actress and wish her well on her new movie with Aniston's husband, Brad Pitt. She didn't realize at the time she wasn't just meeting Pitt's new co-star, she was also meeting, and greeting, her husband's future wife.
In a 2005 interview with Vanity Fair, Aniston discussed meeting Jolie. The two actresses met by chance, once. "It was on the lot of Friends—I pulled over and introduced myself. I said, 'Brad is so excited about working with you. I hope you guys have a really good time.'"
Jennifer Aniston and Brad Pitt announced their separation as "the result of much thoughtful consideration." They claimed also claimed to stay "committed and caring friends with great love and admiration for one another." Aniston told Vanity Fair
Related: Jennifer Aniston Just Revealed The Real Reason She Joined Instagram Three Years Ago
However, when Brad Pitt and Angelina Jolie were making headlines, it seems the Along Came Polly star was hurt. "It was extremely hurtful to Jen that he was seen with another woman so quickly after they were separated." said Andrea Bendewald. Bendewald is a close friend of Aniston's.
Angelina Jolie And Brad Pitt Supposedly Fell In Love While Filming 'Mr. And Mrs. Smith'
When Angelina Jolie first met the Bullet Train actor, she claims she had no intentions of a relationship with her co-star. In an interview with Vogue, Jolie revealed, "It was clear he (Pitt) was with his best friend, someone he loves and respects. And so we were both living, I suppose, very full lives…I think we were the last two people who were looking for a relationship. I certainly wasn't. I was quite content to be a single mom."
Jolie discussed how filming seemed to bring them closer together, especially during certain scenes. "Because of the film, we ended up being brought together to do all these crazy things, and I think we found this strange friendship and partnership that kind of just suddenly happened."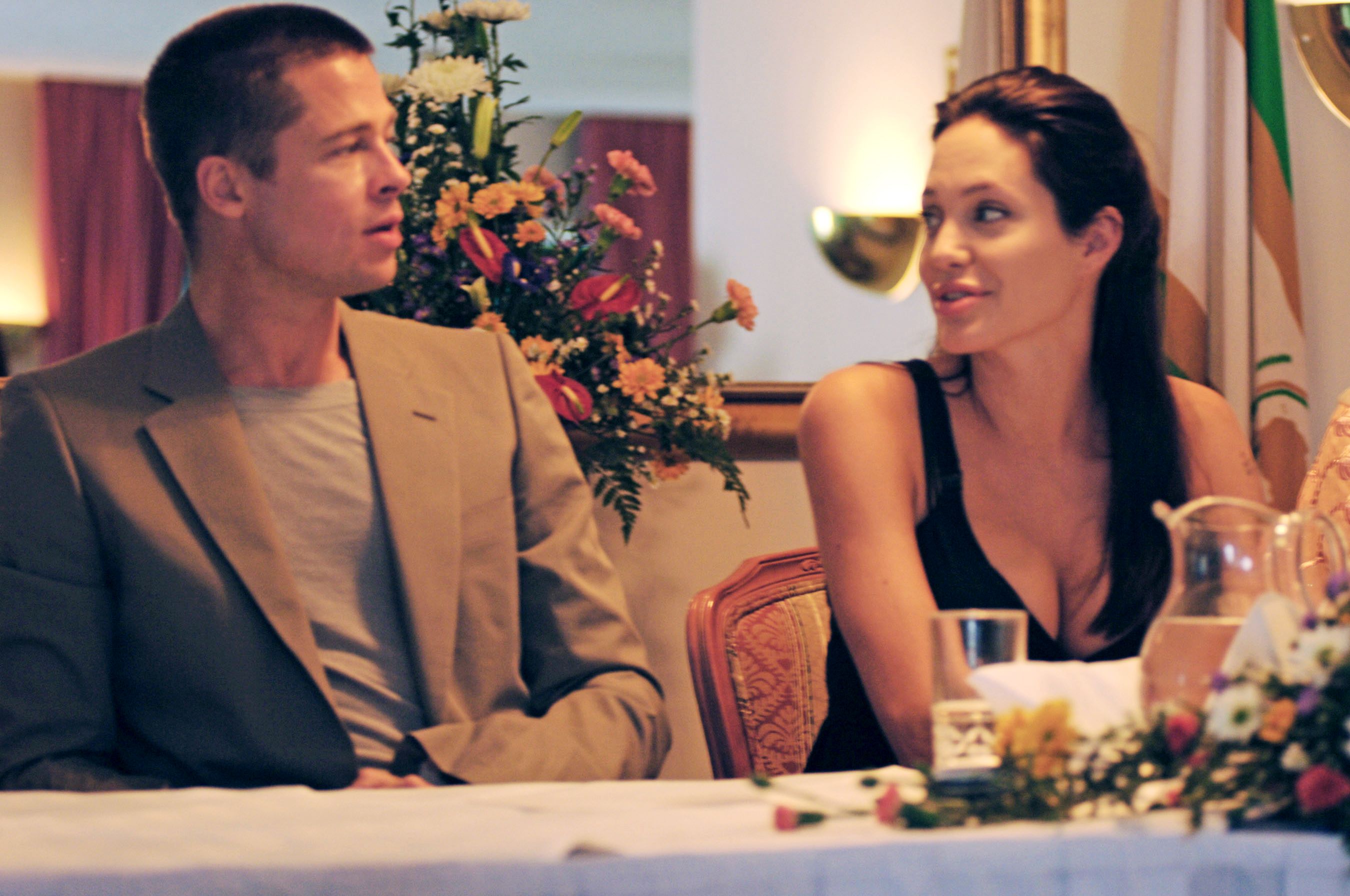 While filming Mr. and Mrs. Smith, the Eternals actress revealed that she soon found herself looking forward to work, and that she and Pitt seemed to truly enjoy each other's company. "I think a few months in I realized, 'God, I can't wait to get to work.'…Anything we had to do with each other, we just found a lot of joy in it together and a lot of real teamwork. We just became kind of a pair."
Related: Angelina Jolie Fired Her Nanny Just Before Her Divorce For Getting 'Too Friendly' With Brad Pitt
Unfortunately, Brad Pitt and Angelina Jolie's happiness didn't last forever, either. The two eventually split up, and their divorce was finalized in 2019. They currently share joint custody of their six children.
Jennifer Aniston Can Clear Up One Rumor About Her Divorce From Brad Pitt
It seems there were several rumors at the time concerning Aniston and Pitt's divorce and what had caused it. After all, the two had seemed incredibly happy. Of course there were some rumors about Brad Pitt and Angelina Jolie possibly getting serious. It appears there was another rumor that Jennifer Aniston wanted to clear up.
Around the time Aniston and Pitt divorced, the Friends star claims one rumor being spread was completely untrue. The rumor was that she and Pitt divorced because she hadn't wanted children.
At the time she told Vanity Fair:
"I've never in my life said I didn't want to have children. I did and I do and I will! The women that inspire me are the ones who have careers and children; why would I want to limit myself? I've always wanted to have children, and I would never give up that experience for a career. I want to have it all."
Related: 8 Revelations Jennifer Aniston Made About Her Fertility
In an interview with Allure, she revealed that there was a "narrative that I was just selfish." She said, "I just cared about my career. And God forbid a woman is successful and doesn't have a child. And the reason my husband left me, why we broke up and ended our marriage, was because I wouldn't give him a kid. It was absolute lies. I don't have anything to hide at this point."
The Morning Show actress also revealed she had tried to have children over the years, going through some rough times. "I was trying to get pregnant. It was a challenging road for me," Aniston told Allure. Aniston said she has "zero regrets."