Share and Follow
Highlights
Jon Hamm's perception of marriage has changed since meeting his wife Anna Osceola, and he now sees it as a source of stability, comfort, and deeper connection.
Despite initially not believing in marriage, Hamm now views it as a signpost and a signifier of the next chapter in life, full of potential and positivity.
Jon Hamm's past experiences and lack of examples of successful marriages in his family influenced his previous reluctance towards marriage and fatherhood, but he has since changed his mind and is open to both.
Jon Hamm has opened up about how his wife Anna Osceola changed his perception on marriage. The Mad Men star has previously admitted that marriage didn't "mean anything," but recently had changed his mind. Hamm and Osceola tied the knot on June 24, 2023, in a star-studded Mad Men-inspired wedding after years of the bachelor life.
When he recently appeared on iHeartPodcast "Table for Two with Bruce Bozzi," just days before his wedding, he praised the idea of marriage. "Ideally, it gives you and your partner a sense of stability and comfort and an identifying capacity that is better, deeper, richer than 'it's my girlfriend' or 'my boyfriend' or what have you," he told Bozzi days before his nuptials.
He went on to refer to marriage as "a signpost and a signifier of the next chapter and phase [of life]." "It's exciting because it's all potential, it's all possibility, and it's all positive," the 52-year-old actor added.
How Jon Hamm Felt Planning His Wedding
Before the pair wed at Big Sur, Jon Hamm admitted there were months of "mind-numbing" wedding planning. Despite the stressful process of planning the lavish outdoor ceremony in California, the actor admitted "a sort of calm settled over [him]" in the days leading up to the ceremony.
"At the end of the day, the important thing is … I'm gonna look out and I'm gonna see this whole group of people … that are all there because they're supporting me and Anna," he said on the podcast before adding "I think the last time that happened to me was high school graduation," Hamm joked.
Whilst the Top Gun: Maverick star acknowledged that marriage can be scary he's looking at the next chapter as "something wonderful."
"It's the reason why I really wanted to do it and really leaned into it and [marriage] is the thing that leads to the next thing of life and that's what I hope — and it's the journey and it's exciting," he explained.
Why Jon Hamm Didn't Believe In Marriage
Before marrying Anna Osceola, the Baby Driver actor dated screenwriter Jennifer Westfeldt for 18 years but the pair never married.
In an interview with PlayBoy in 2012, Jon Hamm categorically stated that he didn't believe in marriage. "My parents got divorced when I was two and never remarried. So, it doesn't mean anything to me," he explained. "I don't mean to say that it shouldn't mean things to other people. I'm not judging it one way or another."
Related Jon Hamm Has No Interest In Being A 'Movie Star' Like Tom Cruise
"It's just my experience. I don't have that paragon of married life to look at and think, 'Oh yeah, that's it! That's what I want!" he told the outlet in 2012.
The star also explained his rationale against getting married to Parade in 2010. At the time, Hamm had been in a relationship with Jennifer Westfeldt for 13 years. "I don't have the marriage chip, and neither of us have the greatest examples of marriages in our families," Hamm shared. "But Jen is the love of my life, and we've already been together four times longer than my parents were married."
What Are Jon Hamm's View Of Fatherhood?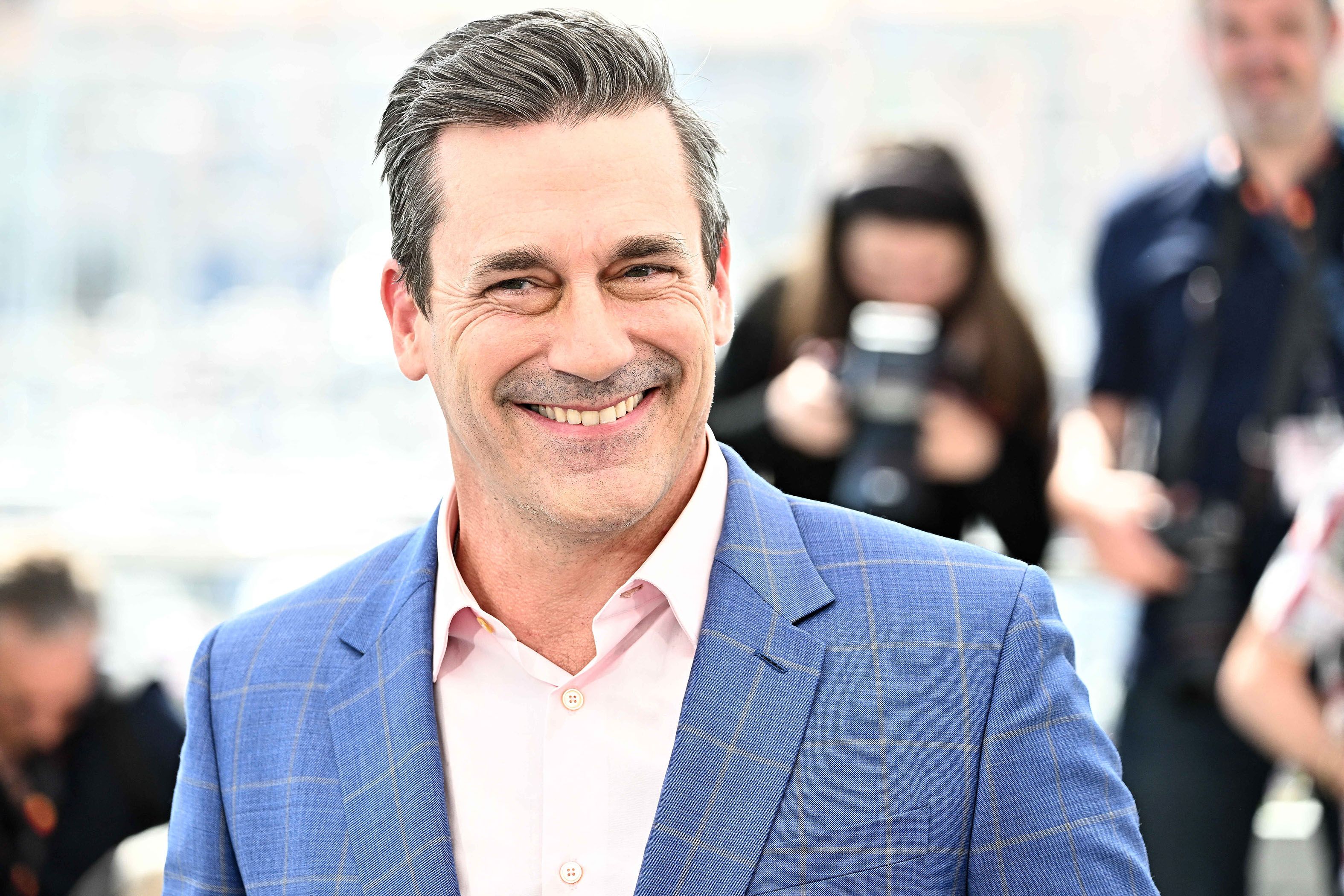 Jon Hamm also added that he has no yearning to be a father as he never had "a particularly defined example of marriage" in his life since his parents divorced. He has changed his mind on both statements since that interview over ten years ago.
Related Jon Hamm Threatened To Fire His Agent If The Top Gun: Maverick Offer Went Away
While he strongly opposed to getting married and has no yearning to become a father, Hamm has always admitted that if the having a baby "ever came up," he's "not ruling it out."
In an Us Weekly interview, he expressed his fondness for children but thinks he would make a "terrible father." "I see my friends who have children and I'm like, 'Dude, how are you even upright, much less here at work at 6 a.m?'" Despite his caution at parenthood, he praised his Mad Men co-star January Jones' son. "Xander's cute as a button!" Hamm admitted.
How Jon Hamm Met Anna Osceola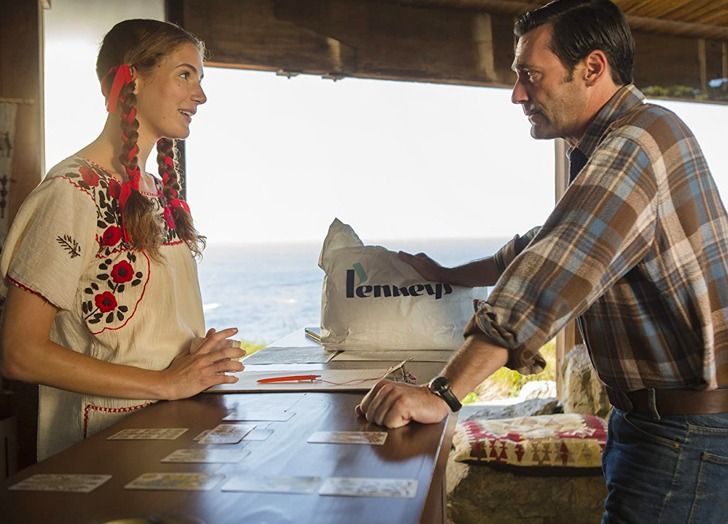 Jon Hamm met Anna Osceola on the set of Mad Men. Anna played the receptionist at Esalen, the California retreat that Jon's character, Don Draper, visits during the show's final episode.
Hamm and Westfeldt announced their split in 2015, releasing a joint statement to People. "With great sadness, we have decided to separate, after 18 years of love and shared history," the former couple wrote.
The bachelor life clearly didn't suit Jon Hamm. "It's hard to be single after being together for a long time. It's really hard. It sucks," he told InStyle in 2017. Luckily that didn't last long.
Anna and Jon were first romantically linked in January 2017 when they stepped out for coffee in Los Feliz. It was confirmed in 2020 they were together but didn't make their red carpet debut until the 2022 Vanity Fair Oscars afterparty. A year later they confirmed their engagement.
Related Here's Why Jon Hamm Gave Up Part Of His Salary To Finish Confess, Fletch
In September last year, the Confess Fletch actor opened up about his love life on the The Howard Stern Show. He admitted that he and Osceola's relationship felt "comfortable," and that "it's a feeling of taking care of someone else and being taken care of."
The actor also explained that he has been working through past trauma with his therapist which has allowed him to become more vulnerable and emotionally available. It is perhaps for this reason he has been more open to marriage in recent years.
He added, "It's only been in the last couple of years of me kind of sitting down and really thinking about all that stuff that's made the relationship that I'm in now, is even more meaningful, and opened up the possibility of being married, having kids, defining a new version of happiness, life, wellness. All that stuff, it sounds hokey and whatever, but it's real."
Share and Follow