Share and Follow
If Miley Cyrus was looking for drama when she dropped 'Flowers,' she has clearly accomplished her goal. Though she's previously claimed to harbor no ill will toward a notable ex, that doesn't seem to be the case, if fans are right about their interpretations of her music.
The song—and its equally dramatic and clue-filled music video—made Miley a trending search term. It's not just her music that fans are freaking out about, though.
There's a surprisingly on-brand trend that followed the freakout over 'Flowers,' and Miley probably doesn't mind one bit.
'Flowers' Sparked Countless Internet Trends And Viral Videos
After Miley released 'Flowers,' fans did a deep dive into everything related to the song. First, it was picking apart the lyrics, not to mention the release date, of the song—including the fact that Liam Hemsworth is rumored to have dedicated 'When I Was Your Man' to Miley in the past.
Many fans even assume that Miley should have credited Bruno Mars for the track since her song sounds like a direct response to every line of his.
Related: Did Liam Hemsworth Really Cheat On Miley Cyrus? Fans Think So
Fans didn't stop there, though. Next came the dissection of every moment of the music video, which TikTokers were clearly delighted to do. Amid all of the trending hashtags and commentary on Miley's long-ago personal life (she has dated numerous people, quite publicly, since divorcing Liam in 2019).
While they were picking apart everything from the filming location to Miley's iconic gold dress, fans noticed something else that Miley was wearing in her music video.
Miley's Poolside Fashion Sparked A Serious Search Trend
In numerous scenes in the music video, Miley dons a look that apparently inspired countless fans: black lingerie. While she paired lyrics labeling her relationship "gold" with scenes where she struts in a gold dress, Miley changed up her outfit for portions of the video.
In fact, she literally sheds the gold dress (at the edge of the lawn of the house she later walks through) to reveal a matching lingerie set while singing the hook of the song. Though the outfit doesn't exactly resemble a swimsuit, Miley dives into the pool wearing it.
A few scenes show her lounging next to the pool in the same underclothes (miraculously dry, of course).
Throughout the video, Miley also exercises in the lacy black set (including some cheeky moves and dance steps) before heading into the house to shower and change once again.
Despite her amazing gold dress and other 'fits shown throughout the video, Miley's fans were only interested in one thing: getting their hands on that black lingerie set.
Everyone Wants To Buy Miley's Black Lingerie Set
Of all the looks Miley flaunted in 'Flowers,' the lingerie set is probably the most affordable for people to buy, so it does make sense that it was highly searched for after her music video premiered.
That gold dress, which happens to be a 1991 Ives Saint Laurent piece, according to Capital FM, might be too expensive for Cyrus' fans to afford. The lingerie set, however, could come in under budget.
And no one seemed to be very interested in the suit that Miley puts on after her racy shower scene; it's a men's suit, which many have suggested is a replica or even the actual suit that Liam wore on one noteworthy red carpet appearance, with Miley on his arm.
Related: How 'Party In The USA' Made Miley Cyrus An Absurd Amount Of Money
But back to the lingerie: the search spike, according to Lounge Underwear, was a staggering 413 percent jump thanks to Miley. The week after 'Flowers' debuted, searches skyrocketed, though Lounge Underwear didn't specify whether they made more sales due to the trend.
The clothing company also didn't specify whether they were the ones who provided Miley's 'fit for the video. As of March 2023, the site didn't appear to include any lingerie that matched Miley's set, but it's possible they do have a similar style.
What Lingerie Does Miley Cyrus Wear In 'Flowers'?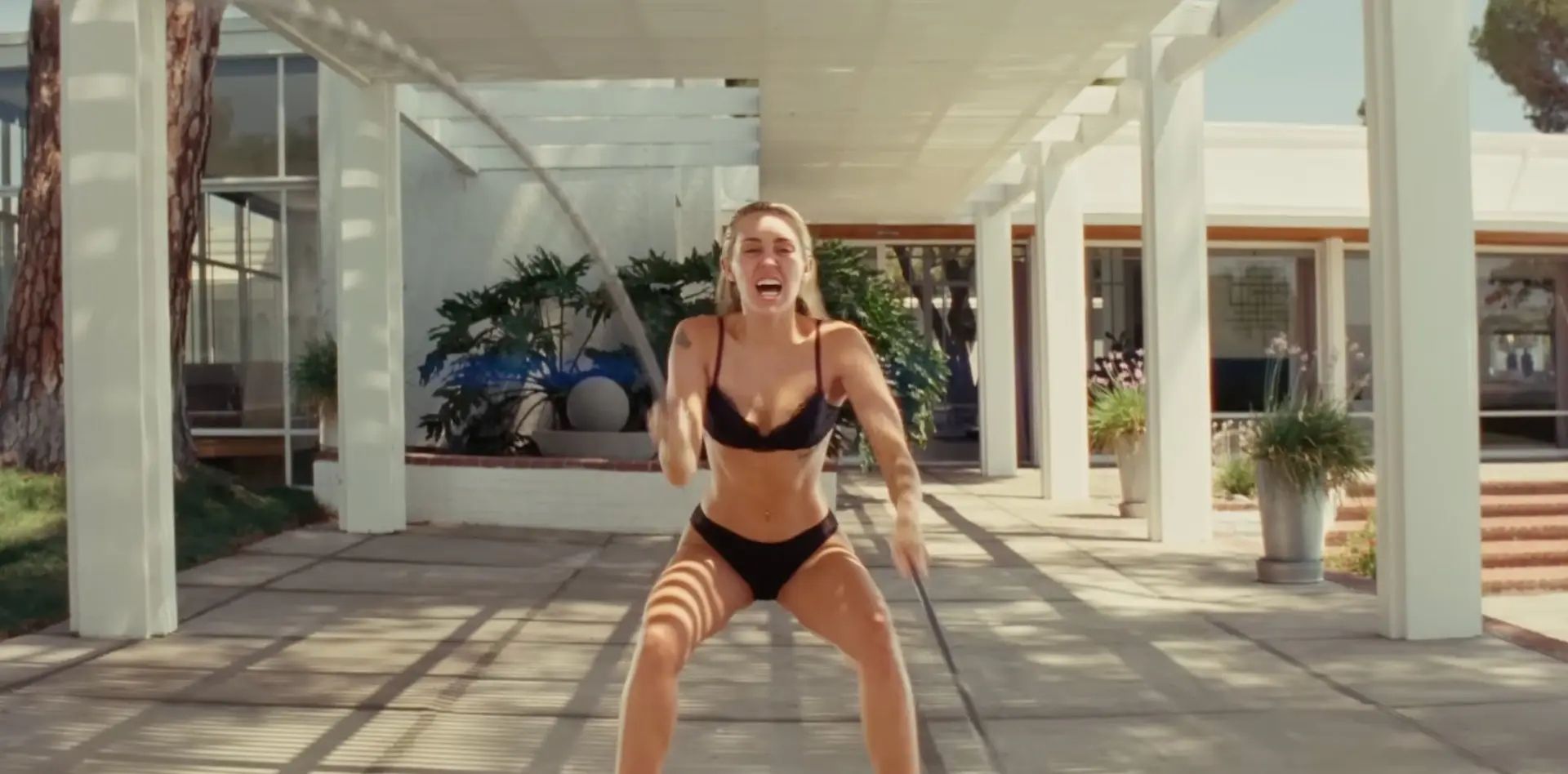 Google searchers didn't have to look too far to find the actual lingerie set Miley wore in her music video; Page Six confirms it's from the celebrity-beloved brand La Perla.
Olivia Wilde and Kourtney Kardashian are just a couple of high-profile celebs who have rocked La Perla before. The brand isn't necessarily exclusive, but it is expensive.
Page Six says the bra alone is $200; it's unclear whether the underwear matches the La Perla Brigitta Bra.
Related: Miley Cyrus Has Been All Over The Place Musically. What Is She Doing Next?
For reference, underwear from the clothing line appears to start around $100 and range up from there (but good luck getting the same custom thong as Kendall Jenner once rocked from La Perla).
Whether fans were able to grab Miley's look from La Perla or not, it's clear she's made an impact not just on search trends but fans' sense of confidence. After all, 'Flowers' is a self-love song—Miley don't need no man (or woman)—and it seems many fans heard her loud and clear.
Share and Follow