There are countless spooky films and holiday movies to get Halloween and Christmas fans into the spirit of the season. But what about the Thanksgiving fans? Thanksgiving is plenty of people's favorite time of the year, but the holiday is often glazed over in the rush toward Christmas. Sadly, there are very few Thanksgiving-themed songs or movies for Turkey Day enthusiasts to enjoy. But don't fret, there are more than enough Thanksgiving TV episodes to keep you entertained.
Thanksgiving offers the perfect opportunity to get characters together and to turn up the heat on simmering interpersonal conflict—making the holiday TV-writing gold. Many of your favorite shows feature an annual Thanksgiving episode, rich with drama and comedy. So, you can spend your extra school or work free hours binging rewatchable Thanksgiving episodes. Keep scrolling to check out 10 great old Thanksgiving episodes from some of your favorite TV shows.
10/10

How I Met Your Mother "Slapsgiving" (S3 E9)

"Slapsgiving" may not be the first Thanksgiving episode of the series, but it might be the most significant. It continues the Marshall (Jason Segel) and Barney (Neil Patrick Harris) slap bet storyline and launches the first of multiple Slapsgivings. In the episode, Lilly (Alyson Hannigan) prepares to host Thanksgiving dinner while Marshall prepares for "Slapsgiving," the day he will dole out his third slap to Barney. It concludes with a group song around the piano to commemorate the slap-happy holiday.
9/10

Master of None "Thanksgiving" (S2 E8)

This season two episode of Master of None is widely considered one of the best Thanksgiving episodes of all time. It follows Denise (Lena Waithe) and Dev (Aziz Ansari) at Denise's family Thanksgiving dinners throughout the years, and chronicles Denise's coming out. Waithe, who co-wrote the episode, told Vulture that she pulled from some of her own experiences to develop this fictional storyline. Thankfully, even none-Master of None-viewers can enjoy this semi-standalone episode.

Related: Netflix Fans Agree This Is The Best Thanksgiving Episode
8/10

The Simpsons "Bart Vs Thanksgiving" (S2 E7)

This early Simpsons Thanksgiving episode comes a bit before what most fans consider the show's golden age, but it is bound to stir up some holiday nostalgia. Bart and Lisa fight over whether the turkey or Lisa's centerpiece should go on the table, and her creation falls into the fire. When he is told to apologize for ruining the holiday, Bart runs away from home. However, he eventually returns and gives his sister a heartfelt apology. "Bart Vs Thanksgiving" features the comedy, family dynamics and heartwarming moments that make people love the show.
7/10

New Girl, "Thanksgiving" (S2 E6)

New Girl's first of many Thanksgiving episodes stands out as one of the best. In the episode, Jesse (Zooey Deschanel) invites her work crush, Paul (Justin Long), to a last-minute Thanksgiving dinner. The guys are annoyed that their mellow "dudesgiving" plans are interrupted, but reluctantly help out. The episode is a classic comedy of errors. Jesse puts the turkey in a dryer to thaw it, resulting in a small fire, and Paul stumbles upon a dead body. It features every element of a perfect Thanksgiving episode.
6/10

Modern Family "Punkin Chunkin" (S3 E9)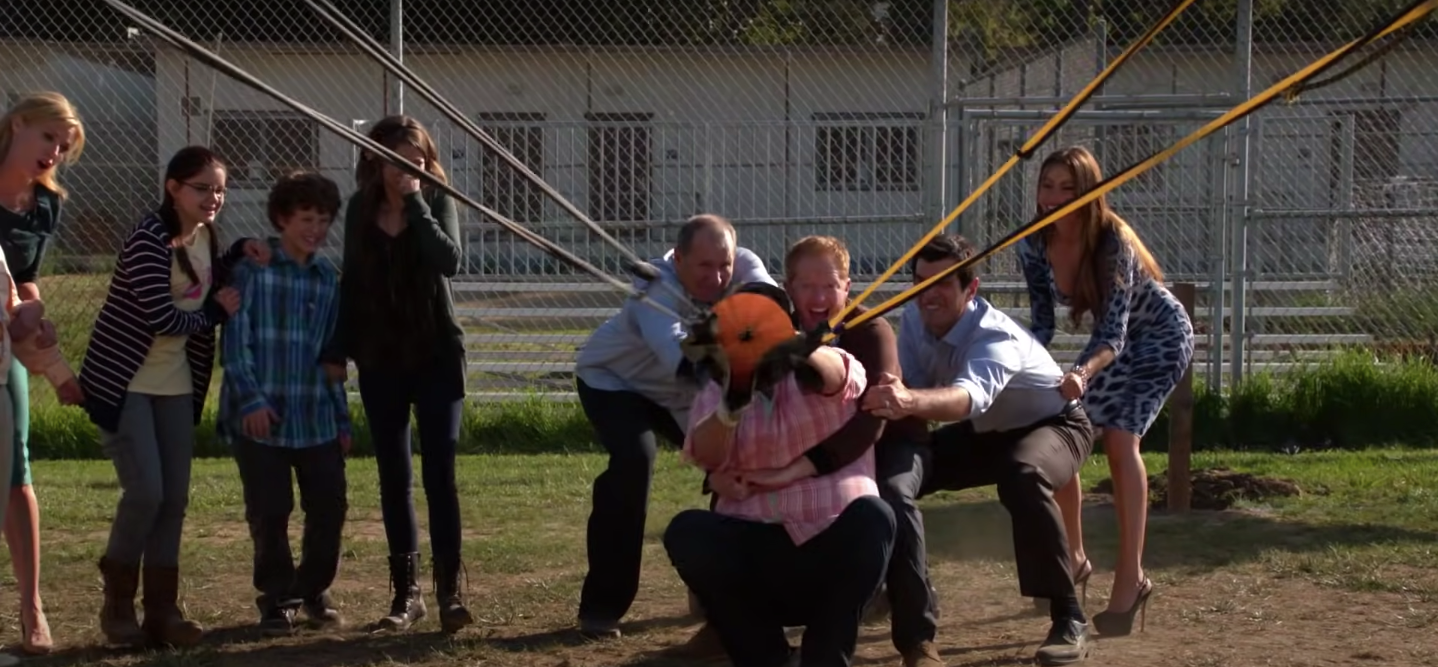 As a show about a large, unconventional family, Modern Family was tailor-made for a Thanksgiving episode. In "Punkin Chunkin," the family disagrees on the accuracy of Cam's (Eric Stonestreet) story about chucking a pumpkin across the length of a football field. Eventually, they abandon Thanksgiving dinner and rush out to a football field to settle the argument once and for all. Much like the show itself, this episode is unexpected but utterly delightful.
5/10

Gilmore Girls "A Deep-Fried Korean Thanksgiving" (S3 E9)

The New England fall atmosphere that Gilmore Girls is known for is on full display in this Thanksgiving episode. "A Deep-Fried Korean Thanksgiving," follows Lorelai (Lauren Graham) and Rory (Alexis Bledel) as they attend four Thanksgiving dinners. The girls chat with many of the lovable side characters on their way to the final dinner at Lorelai's parents' home. Of course, a fight breaks out at the dinner table, because no Thanksgiving episode would be complete without family tension.

Related: Unconventional Thanksgiving Movies That Received Great Reviews
4/10

Gossip Girl "Blair Waldorf Must Pie!" (S1 E9)

The Thanksgiving table is the perfect place for Gossip Girl to turn the heart up on simmering interpersonal tensions. While the season three Thanksgiving episode features the viral scene in which "Whatcha Say" plays as everyone airs their grievances at the table, "Blair Waldorf Must Pie!" remains one the show's best holiday episodes. In this episode, Dan (Penn Badgley) naively invites Serena (Blake Lively) and her family to spend Thanksgiving with him, Blair (Leighton Meester) finds out that her father isn't coming home for Thanksgiving and Nate (Chace Crawford) has a more-than-awkward dinner with his parents.
3/10

Bob's Burgers "An Indecent Thanksgiving Proposal" (S3 E5)

In this unforgettable Thanksgiving episode, Linda (John Roberts) and the kids pretend to be Mr. Fischoeder's (Kevin Kline) family to help him seduce a woman who is only into married men. Linda and the kids get into the improv, but Bob—who is cooking dinner in the kitchen—grows upset when all of his traditions are ruined. The hilarious episode also gave us what some would call the best Thanksgiving song of all time— "Kill the Turkey"
A Thanksgiving TV episode list would not be complete without Friends. Of the show's 10 iconic Thanksgiving episodes, it's hard to beat the nostalgic fall vibes of "The One with the Football." Ross (David Schwimmer) and Monica's (Courteney Cox) sibling rivalry comes out when the gang plays football. The episode, which unfolds almost entirely in the park, ends with Monica and Ross left alone on the field, still fighting over the ball.
Related: 'Friends': The Truth About The Best Thanksgiving Episode
1/10

Friends "The One with All the Thanksgivings" (S5 E8)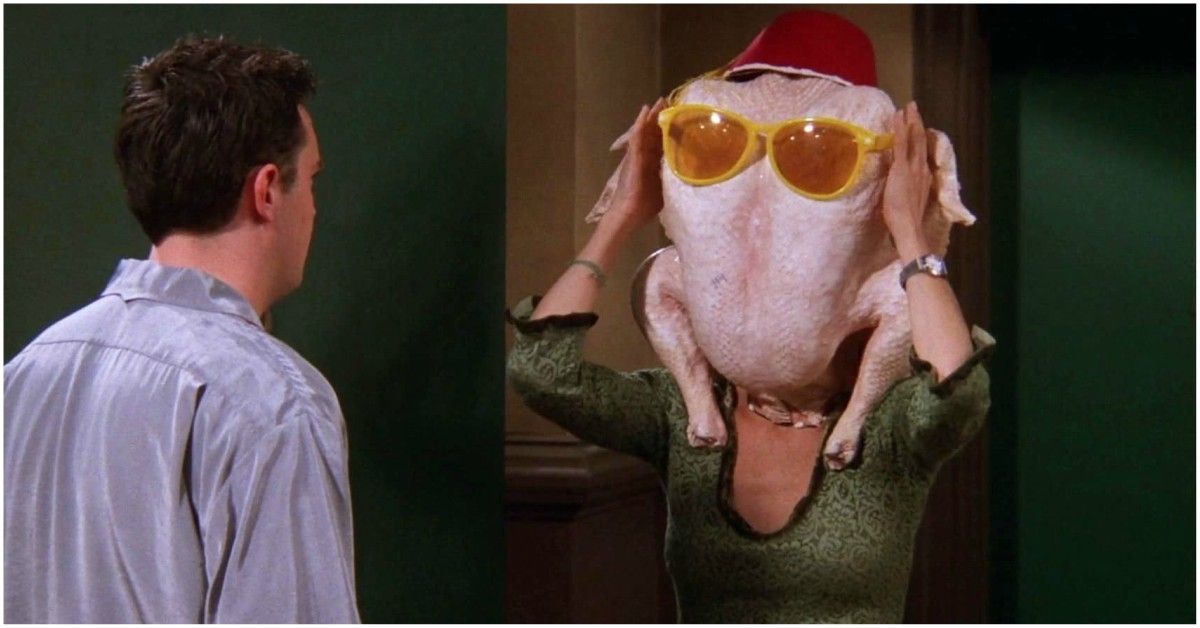 Yes, Friends gets two entries. While other episodes feature some unforgettable moments, many fans consider "The One with All the Thanksgivings" to be the best Thanksgiving episode. In this episode, the gang tells stories of Thanksgivings-past and tensions rise when Chandler (Matthew Perry) learns what led Monica to accidentally cut his toe off one year. This episode has many great moments, including the famous turkey-on-the-head shot, which Courteney Cox once tried to recreate.
Next: 15 Interesting Things You Didn't Know About 'National Lampoon's Christmas Vacation'