Share and Follow
It has been evident over the years, Tom Cruise is the total package on-screen. The man performs his own stunts after all these years, and heck, he even has a good singing voice if asked.
However, surprisingly, an actor did turn down Tom in the past, and very recently for Mission: Impossible. In the following, we're going to take a closer look at why the actor had to turn down the role, and who stepped in instead.
We'll also reveal another major name that didn't have the best experience alongside Tom Cruise. This wasn't a theme throughout Cruise's career, as the younger generation has raved about working alongside Cruise.
That included his Mission: Impossible co-star Vanessa Kirby. We'll reveal what the actress had to say about working with Tom, and the way he handled some of the more dangerous stunts.
Certain A-List Actors Felt 'Indifferent' About Working With Tom Cruise, Including Brad Pitt
Working alongside Tom Cruise is a dream for many actors. That has especially been the case in recent years, with so many of his co-stars praising his abilities, especially during Top Gun: Maverick.
However, back in the '90s, Cruise did receive some heat. Brad Pitt recalled his time with the A-lister in, Interview with the Vampire. Pitt suggested that the two didn't really hit it off, and it seemed as though there was competition between the young actors at the time.
"You gotta understand, Tom and I are… we walk in different directions. He's North Pole. I'm South. He's coming at you with a handshake [Pitt mimicked Cruise's hyper-aggressive hello] where I may bump into you, I may not, you know," Pitt revealed.
RELATED – Tom Cruise's Take On Hollywood Seems To Be The Reason Mark Wahlberg Won't Work With Him
In fairness to Tom, Brad had a tough time on-set, especially given the ambiance of the film when it would shoot in London.
It also seems like the beef was a thing of the past, as the two came very close to reuniting for Ford V Ferrari, even reading for the parts. However, plans were ultimately nixed due to the budget concerns.
Nicholas Hoult Was Forced To Turn Down Tom Cruise's Offer For Mission: Impossible 7, Despite Getting A Personal Phone Call From Tom
In fairness to Nicholas Hoult, he tried his very best to work alongside Tom Cruise in the past. Hoult auditioned for a role in Top Gun: Maverick, but ultimately fell short.
The actor revealed, "Screen-tested for 'Top Gun,' didn't get it. Then I got the call from Tom Cruise: 'Hey, how about "Mission Impossible?"
RELATED – Tom Cruise Didn't Get Nominated For Best Actor At The Oscars And Jennifer Connelly Doesn't Seem To Agree
Appearing in Top Gun: Maverick could've been a huge moment for the actor but given the cast, there's no doubt that the right decisions were made.
After Hoult got the phone call to appear in Mission: Impossible from the man himself, he had initially agreed. However, things ended up changing once he was linked to another project.
Hoult tells Fox News, "Then I had to drop out because I was already attached to do some more of [Hulu series] 'The Great,'" he explained.
RELATED – Matt Lauer Brought Up His Controversial Interview With Tom Cruise On The Today Show With Katie Holmes, But The Actress Had The Perfect Response To It
Without a doubt, it must've been a tough moment for Hoult to turn down such an opportunity, but given the demanding schedule for a Tom Cruise film, the actor had no other choice but to decline the offer. It was a total blessing for Esai Morales, who took Hoult's place in the Mission: Impossible project.
Vanessa Kirby Was Blown Away By Tom Cruise's Stunt Process During The Filming Of Mission: Impossible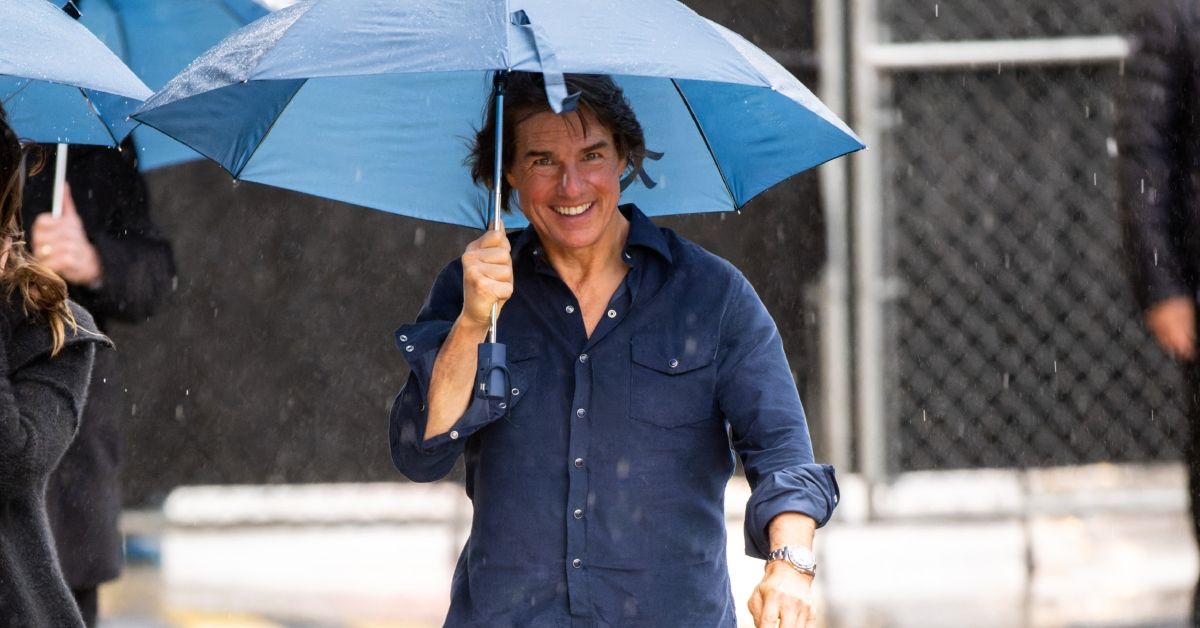 Hoult doesn't need to be reminded, but he missed out on a major experience alongside the A-list actor. This was further evidenced by Mission: Impossible star Vanessa Kirby, who detailed her experience alongside the actor in the film.
Kirby was particularly impressed by Tom's process while completing his own stunts. It is said that the actor was extremely calm, despite the dangers involved.
"He did it consecutively … and repeatedly so he could capture all the different angles and sides of it. He was just so calm," Vanessa Kirby tells Cinema Blend about Cruise in Mission: Impossible.
"He had no fear. He just found it exhilarating. That kind of belief in cinema and what one could achieve and his passion for it is so inspiring. He kind of believes he can do the impossible and then he does…I love being a part of the franchise. I'm really excited to come back."
Mission: Impossible – Dead Reckoning Part One has fans excited with a release date on July 12th, 2023. Alongside Cruise in the film includes a talented cast with Rebecca Ferguson, Hayley Atwell, and the previously mentioned Vanessa Kirby and Esai Morales as Gabriel.
It appears as though Tom Cruise has another major project that will make millions at the box office, and likely, even surpass the billion-dollar mark once again.
Share and Follow