Share and Follow
Elton John is a musical legend who has been in the entertainment industry for many decades. He has no doubt met a lot of people over the years thanks to his position.
So when the Rocket Man chose Mother Monster to be the godmother to his son Zachary after knowing her for less than a year, the public was confused. Lady Gaga is no doubt a big star and musical talent in her own right. But what caused the two artists to grow so close so quickly?
All these years later, theirs is surely a friendship that is still going strong.
Lady Gaga Becomes The Godmother To Elton's Children
Gaga first appeared with John during her opening performance at the 2010 Grammy Awards. The two performed a mashup of Gaga's song "Speechless" with John's "Your Song." The performance was well-received and the start of a special friendship.
The two first collaborated on an original song when John executive produced the soundtrack for the film Gnomeo & Juliet. John and Gaga sang a duet called "Hello, Hello" which only appeared in the film. The version that appears on the soundtrack only features John. His duet with Gaga was nominated in the Best Original Song category at the 2012 Golden Globe Awards.
On Christmas Day 2010, John and his husband David Furnish welcomed their first child, Zachary Jackson Levon Furnish-John. What made the news even more special is that the couple chose Gaga as the child's godmother. John confirmed this during his opening monologue when hosting Saturday Night Live.
"For those of you concerned that we are unusual parents, do not worry," he said. "It's not like we are the only two people involved in the child's life. His godmother is Lady Gaga. That's true, that's not a joke… which is ironic because I've always said Mars ain't the kind of place to raise your kids. And Gaga loves Mars. She says Mars had good schools and great discos."
Related: Elton John Ran Into Madonna After Bad-Mouthing Her In The Press And He Had Quite The Reaction Nobody Expected
Furnish later explained their decision when speaking to Barbara Walters.
"Zachary's going to inherit an incredible musical legacy from his father one day, and she will be a good person to guide him through the ins and outs of the music business, 'cause she sure knows everything about the business now," Furnish said.
Gaga became godmother again in January 2013 when John's son Elijah Joseph Daniel Furnish-John was born. In 2022, Gaga walked the red carpet with the boys and Furnish at the Elton John AIDS Foundation's 30th Annual Academy Awards Viewing Party.
Elton John Praises Lady Gaga's 'Born This Way'
In February 2011, Gaga released the title track from her upcoming album "Born This Way." The song featured a strong anti-bullying message and pro-LGBTQ stance in its lyrics. The song was performed by Gaga at the 2011 Grammy Awards, a year after her opening duet with John.
John spoke to Entertainment Weekly during this time and shared his thoughts on the song.
"She and I come from exactly the same place," John said. "She's kind of like the bastard daughter of Elton John. I love her, and I love her ability to write. There's a chance I might do one track with her, but she's so busy and I'm so busy, we can never get together! But her record – it's f****** amazing. 'Born This Way', which is the title song, will completely get rid of Gloria Gaynor's 'I Will Survive.' This is the new 'I Will Survive.' That was the gay anthem. This is the new gay anthem. Actually, it's not a gay anthem – it can apply to anybody."
The song would become a huge hit for Gaga and even become one of her signature tunes. Gaga took the song's message even further and founded the Born This Way Foundation with her mother Cynthia that same year. The foundation is focused on youth empowerment and mental health.
Related: How Elton John's 'Tough Love' Inspired Charlie Puth's New Album
"I think she's a great role model, she's young, I admire everything about her, she's been a great godmother so far to Zachary," John told Extra in 2013. "We're all bonkers in this business, but we are human beings at the same time."
Gaga And Elton Duet On A Track From Her 'Chromatica' Album
Gaga's sixth studio album "Chromatica" was released in 2020. The album included "Sour Candy," a collaboration with Blackpink that delighted K-Pop fans everywhere. It also featured a duet with Ariana Grande titled "Rain On Me," which would become one of the biggest hits of the year.
The album included a duet with John as well. Titled "Sine From Above," the song featured their powerful voices alongside equally powerful dance production. When speaking to Apple Music's Zane Lowe leading up to the album's release, Gaga spoke about her relationship with John.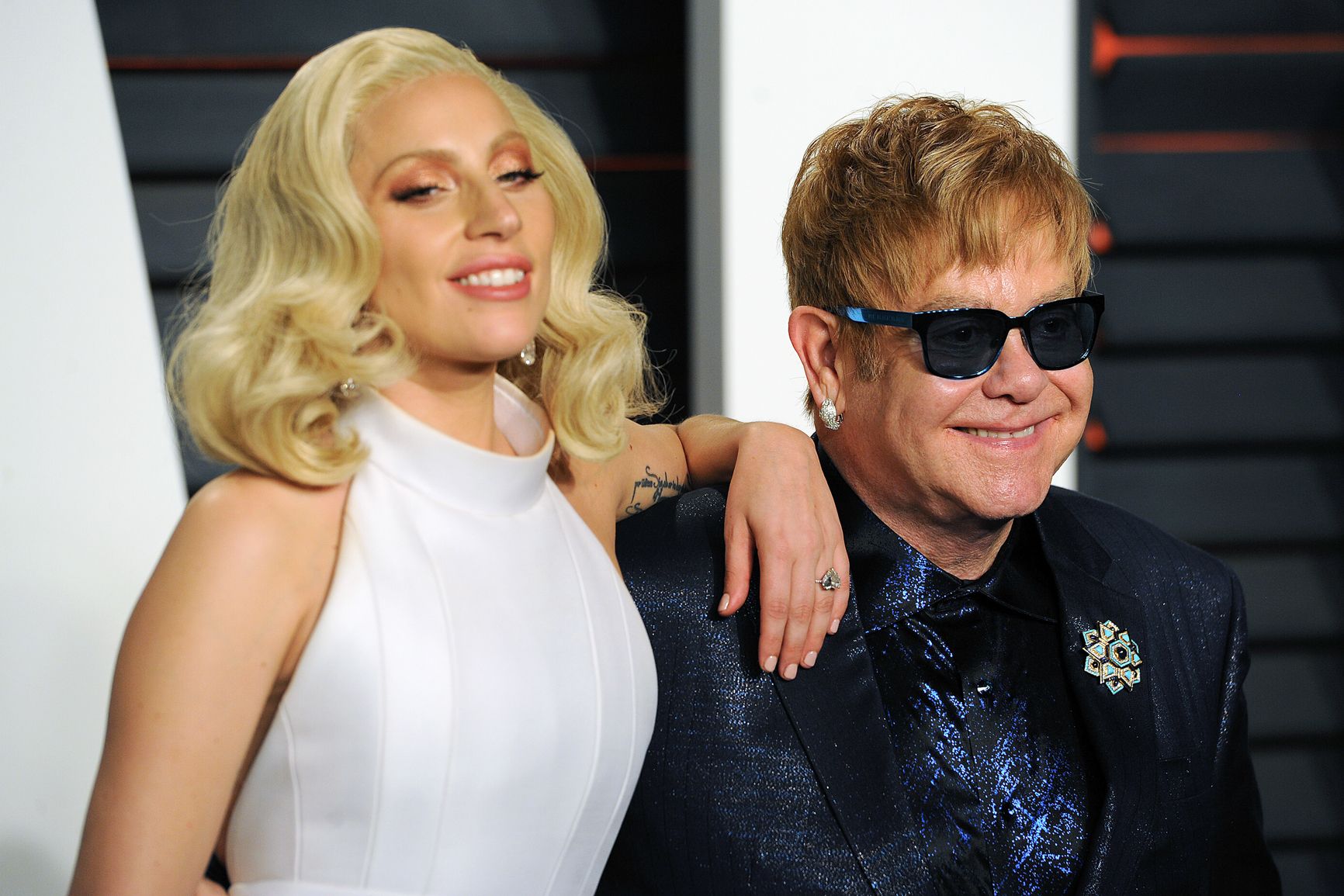 "He's been my mentor for a long time," she said. "I mean, he's always challenged me to keep my head above water and it's something that I always appreciate is that he knows when I'm down. He just does. And he knows because I hide, because I never want anyone to see me when I'm like that."
Related: Lady Gaga Wasn't Happy With David Letterman's Questions And Shocked The Host With Her Reaction
Gaga further explained that John has helped her take care of her physical and mental health.
"Elton's always really challenged me to take care of my artistry and to really take care of myself," Gaga said. "And I really, really honor that about him. He is so, so uniquely special. And I cannot tell you how instrumental in my life he's been to showing me that you can go all the way in life and… be authentic and be you and do good things in the world and take care of yourself and be there. He's such an inspiration."
Share and Follow