Chrisean Rock and Blueface have their respective fan bases (which probably cross over in places, too), but it seems that TikTok propelled them even more into the spotlight than their hip-hop careers have. The duo has gone viral on TikTok (and elsewhere) for a relationship that doesn't appear entirely healthy, and with rumors that Chrisean is having a baby with Blueface, tons of fans are now concerned about the rapper's safety.
While other artists are promoting their music on TikTok or exposing reality star relationship tea, Chrisean and Blueface seem to be using social media to air their dirty laundry. But who is Chrisean Rock, why is she famous, and how did she get tied up in a messy relationship with Blueface?
What Is Chrisean Rock Famous For?
Chrisean Rock—real name Chrisean Malone—is a hip-hop artist and social media darling. It seems her start came from modeling, though she might be better categorized as a social media influencer.
She appears to have been active on YouTube via vlogging for years and has released music (available on Spotify) periodically, though she hasn't put out a full album to date.
Currently, Chrisean appears to have paid partnership arrangements with brands she posts on social media. However, Chrisean is mostly "famous" for being connected to Blueface.
Arguably the more "famous" half of the off-on couple, Blueface—real name Johnathan Jamall Porter—is "legit" enough to have a designated Wikipedia page that lists at least one studio album and a handful of highlights like a boxing win over TikToker Kane Trujillo.
Related: TikTok Might Be To Blame For Chris Brown's Resurgence Despite Being "Canceled"
Blueface's biography isn't all positive, though; it's littered with references to arrests and violence, though it also mentions that the rapper has two children.
In 2019, an article calling him "the next big thing" recapped Blueface's high school football career, the NSFW album art that he inadvertently dropped on social media, and Blueface's first child, Javaughn J. Porter, who was born that year.
Blueface reportedly welcomed a second child with Alexis Jaidyn in August 2022; their daughter's name is Journey. The two appear to have split multiple times, breaking up for good sometime in 2022.
Blueface began dating Chrisean very publicly around 2020. Alexis Jaidyn went viral on social media that same year for vandalizing Blueface's car and property, according to Sportskeeda. That's not the only reason it's suspected that Malone and Porter have an unhealthy relationship, though.
How Did Blueface Meet Chrisean Rock?
The way Johnathan Porter and Chrisean Malone met isn't exactly a meet-cute story. They met in 2020 when Blueface started a reality show on OnlyFans. Seemingly inspired by reality dating shows like Flavor of Love, the show was a competition that Chrisean ultimately won.
It was during the "competition" that Chrisean apparently had a fight with Alexis Jaidyn, and that was how Rock lost her front tooth.
Complex recapped a string of altercations involving Chrisean and Blueface afterward, too, including one incident where Chrisean was arrested for trespassing and possibly assault as well. Video footage apparently shows Chrisean's absentee father throwing punches at Blueface; the rapper then knocks him out.
Related: How Did We Get Here? A Look Back At The Trendiest TikTok Trends of 2022
Both rappers posted on social media about various incidents and relationship drama, but most of the tweets were later deleted, noted Complex. A few times, one or the other would post that they had broken up, only to resurface in photos and videos together later.
By January 2023, things seemed to be going a bit better, with the two collaborating on music and releasing a music video in which they appear to be getting married. Though the wedding seemed to be part of the video's storyline and not a legally binding ceremony, things took another turn after Chrisean shared that she was expecting.
Chrisean And Blueface Are Reportedly Having A Baby
Around the time Chrisean announced she was pregnant on social media, she and Blueface were releasing their new song ("Lit"). But immediately after Rock shared the pregnancy news, Blueface started claiming he wasn't the father and stated he would require a paternity test.
With all the barbs being thrown back and forth on social media, it seems unclear whether the two will reconcile and welcome the baby together, or whether a paternity test is the only way to get Blueface to acknowledge that he's becoming a dad for the third time.
As of March, Blueface and Chrisean had apparently blocked one another, per a tweet from Chrisean, and were communicating solely through public tweets.
Why Are Fans Worried About Chrisean Rock?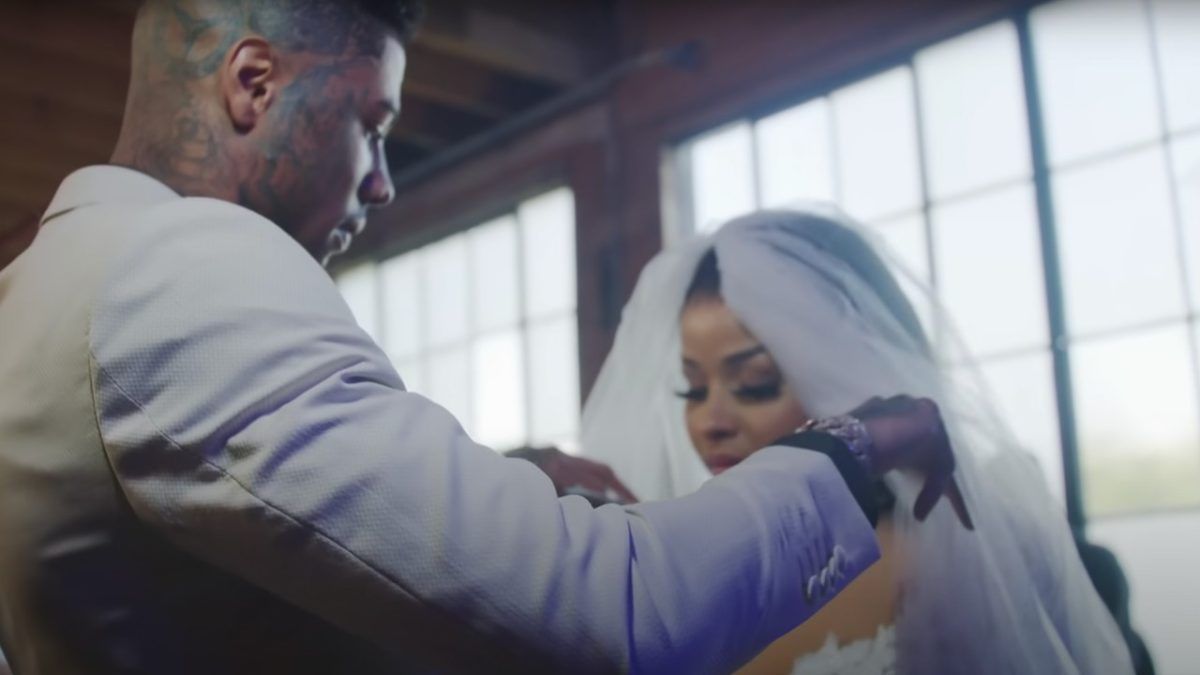 If the recap of all the drama to date isn't enough, fans have other reasons to worry about Chrisean Rock. Social media commenters are often split between supporting the couple and calling out their toxic behavior, which everyone seems confident is fully mutual.
As much as Blueface drags Chrisean on social media and suggests that she's 'crazy,' commenters point out that the rapper doesn't treat her well in public, so they can only assume he's the same or worse in private.
Related: Mia Khalifa Might Have TikTok To Thank For Her New Career Path
Amid the pregnancy announcement, fans were even more worried about the pair and their future child, commenting things like "This is Harley Quinn and the Joker" and "These be the relationships that y'all look up to then wonder why yours never work."
While Chrisean's TikTok has 1.1M followers and nearly five million likes (as of March 2023), her videos seem to focus solely on her relationship and the accompanying drama (like getting a fake tooth with Blueface's actual face printed on it).
In fans' opinions, things can't possibly end well, especially with a baby in the mix, but Chrisean maintains she's in love, leaving fans to continue to wonder what will happen next.