It's possible that Nicolas Cage values animals more than cash.
Without a doubt, Nic Cage exhibits a fair amount of eccentric behavior. The actor has always had a reputation for his eccentricities, and his collection of exotic animals is no exception. Nicolas Cage has owned a wide variety of exotic pets over the years, including rare snakes, crows, and even an octopus.
Stories about Cage spending a lot of money on random things like a dinosaur's head that's 67 million years old and the first-ever copy of a Superman comic. Whatever else Cage may have purchased on these splurges, rare wild animals have been a consistent splurge throughout his career.
Related: Nicolas Cage Once Out Bid Leo DiCaprio On A Stolen Dinosaur Skull… Here's Where It Is Now
See Nic Cage's unusual pet collection and learn about his passion for animal care.
Nic Cage Had A Two-Headed Snake Named Harvey
Because of a dream that he had the night before about a two-headed eagle, Cage couldn't say no the next day when he was offered a two-headed snake named Harvey for the bargain price of $80,000.
He bought the animal, only to learn that feeding it involved putting a spatula between its two heads so they wouldn't fight over the food.
After much deliberation, Cage donated the animal to the Audubon Zoo, where it recently passed away at the age of 14 years old. Audubon had posted the sad news on Instagram that Harvey had passed away due to "health issues related to old age."
"Both heads were fully functional and capable of swallowing," says Robert Mendyk, the herpetology curator at the New Orleans Audubon Zoo.
The snake was born with bicephaly, a rare condition caused by the failure of the two embryonic heads to separate properly. Smithsonian magazine reports that many snakes with this condition don't develop normally and die before hatching, and even fewer make it to adulthood.
Nic Cage Has A Talking Crow With A Potty Mouth
Cage's crow resides in the actor's Las Vegas home, inside a geodesic dome. This avian superstar is not your average bird—it not only talks but also has a tuft of white feathers up front.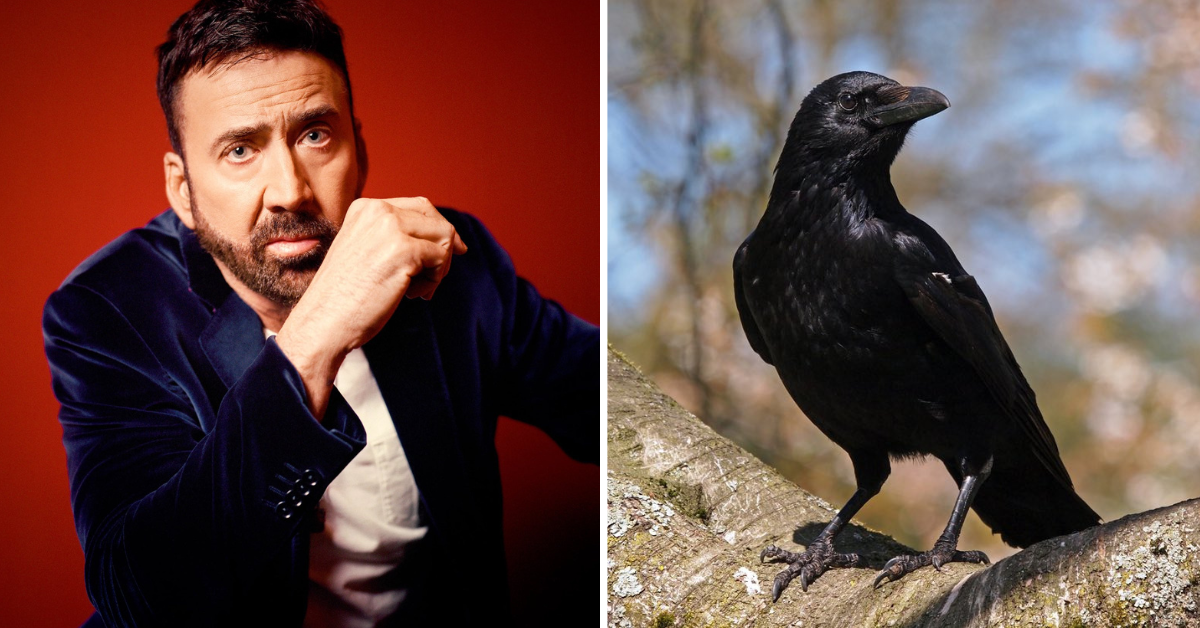 While Cage was initially intrigued by the crow because of the Edgar Allan Poe associations it had, he now seems to find amusement in the fact that Hoogin mocks him.
According to an interview he gave to the LA Times, "When I leave the room, he'll go 'Bye and then go, 'Ass.'"
Nicholas Cage Has King Cobras, Moby And Sheba
Cage appeared on "Late Night with David Letterman" and told Letterman about his king cobras, a female he named Sheba and a male he named Moby who was born without a pigmentation gene.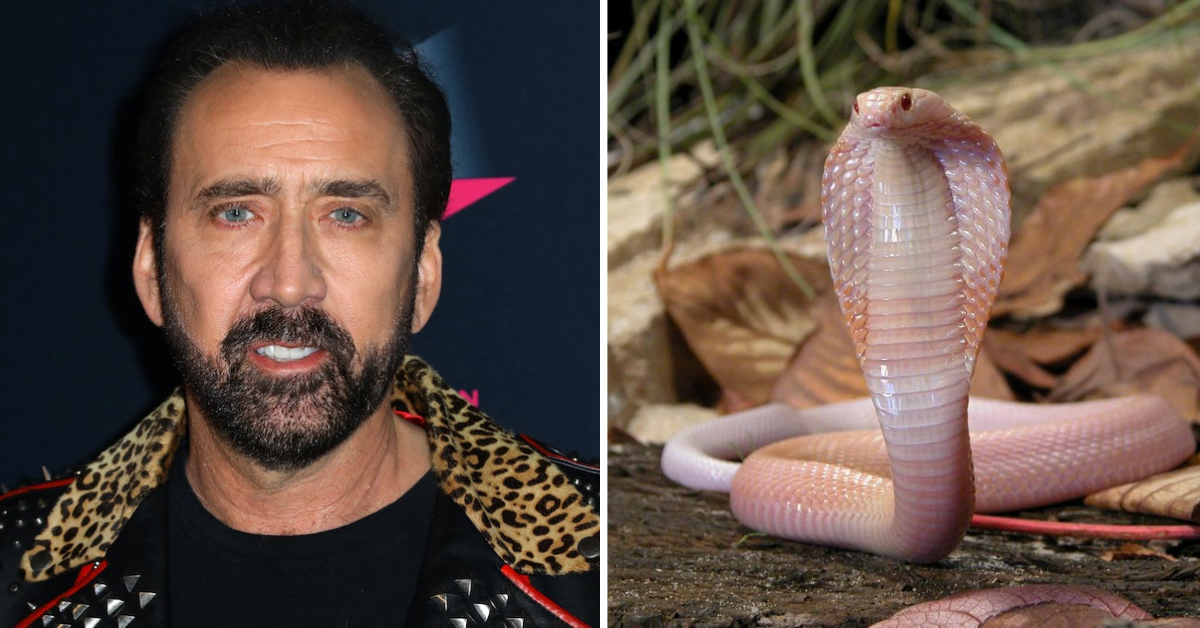 "I have them behind two computer-locked doors with bullet-proof glass," he said. "I like to go in there in my red leather chair and drink wine and watch them as they watch me."
He also mentioned that one of the snakes (now in a zoo) would regularly try to hypnotize him before darting at him. He then instructed his snakes to "go upstairs, lie down, and think about what just happened," as he told Letterman.
Famous for both their lethal venom and exorbitant cost ($276,000), king cobras are a sight to behold. It was said that Cage always had the antivenom on hand. Since he filed for bankruptcy, he had to give up his expensive snakes, and they were given to a good home.
Nic Cage Lived With An Octopus In A Hollywood Apartment
Reportedly, Nicolas Cage spent a hefty $150,000 on an octopus that boosted his acting career. The octopus was also given the name "Cool" by him.
Related: Here Are Some Of Nicolas Cage's Worst Financial Mistakes
At first, the National Treasure actor kept his octopus as a pet in an aquarium at his apartment in Hollywood. At first, the two had a good rapport, but that would soon change.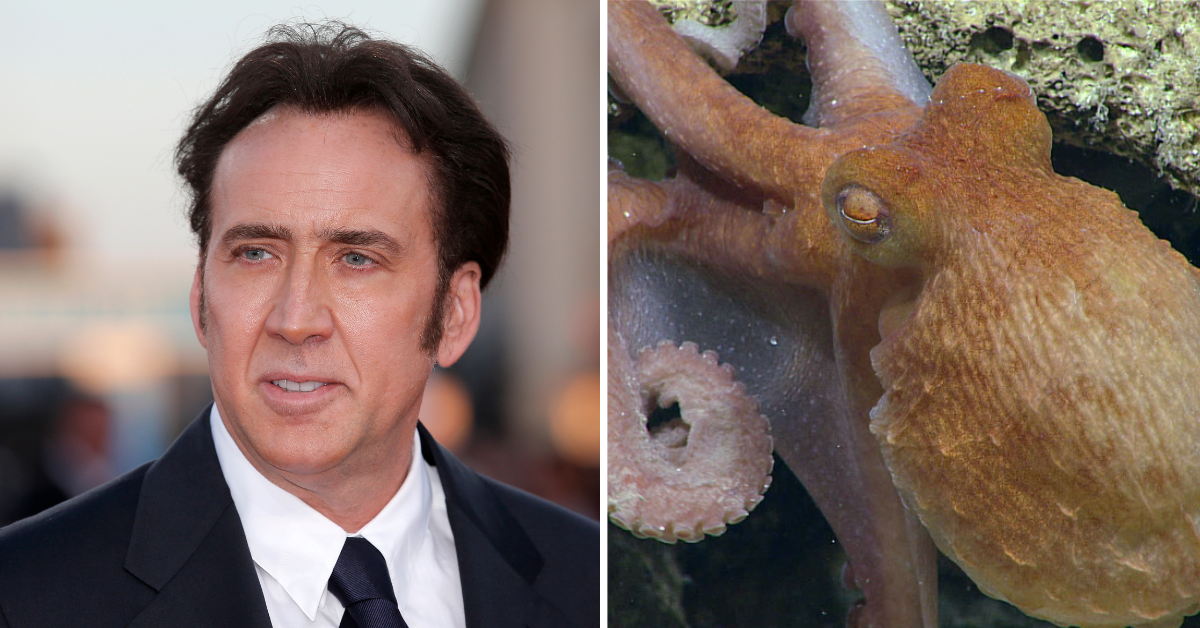 Cage wanted to show off the octopus to his firm and had to coax it out from behind a rock. The octopus, however, wasn't too keen on the plan, and it squirted ink on the actor's hand.
"What a pity," Cage puts it in jest. "Just when we were beginning to get along, this happened."
Why Is Nic Cage So Fascinated With Exotic Animals?
Exotic animals have influenced Cage's career more than we know. He acknowledged that animals have occasionally influenced his performance, saying, "The cobras, undoubtedly, have inspired me. In my film Ghost Rider: Spirit of Vengeance, my character hypnotizes you by moving from side to side before he attacks.
He added, "Animals are fun places to get inspiration. Actually, I thought Heath Ledger was doing some reptilian stuff as the Joker, with the tongue darting out all the time."
He also expressed his appreciation for his talking crow Huggin, who Cage said he fell in love with the moment he laid eyes on.
The actor spent an absolute fortune on bizarre purchases, including albino king cobras, an octopus that reportedly cost him $150,000, a shark, and a crocodile. Why? He simply loves animals.
But, Nicolas recently added more critters to his collection after the proprietor of his "favorite pet store" passed away. He feels it is his responsibility to care for the pets, which include fish and turtles.
Related: Nicolas Cage Did This Messed Up Thing With His Cat And Fans Aren't Happy
He explained, 'My job is to care for them, make sure they're happy and safe. Eventually, I'll have to donate him, like I donated my two-headed snake to the Audubon Zoo.'
In the drama-mystery Pig, starring Cage in 2021, a truffle hunter who lives alone in the Oregon forest is forced to travel back to Portland to find his pet foraging pig after she is abducted.
About the inspiration that exotic animals have provided for his acting profession, Cage has lovely things to say about Pig.
"You don't really have a closeness in the way that we would like to think with reptiles. That doesn't happen. They really want to be largely left alone. But my cat, Merlin, a Maine coon I have, and also my German Shepherd, Walker, who's no longer with us—these are profound relationships that transcend relationships with people. I drew heavily on those relationships."
According to GQ, Cage has an intensely palpable level of unconditional affection for his pets as well as all animals.
"I love working with animals. Magical things happen when you have a scene with a dog or a cat. Any animal, really."