Share and Follow
Who is Stone Phillips?
Stone Stockton Phillips was born on 2 December 1954, in Texas City, Texas USA, of Scottish ancestry, so is currently aged 64. He is a journalist, television reporter and correspondent, probably best recognized for serving in the position of the co-anchor of the TV newsmagazine "Dateline NBC".
Would you like to know more about Stone Phillips' professional career and family life? What happened to him? How rich is he, as of now? If you are interested, stay tuned and find out.
[embedded content]
Stone Phillips Net Worth
His career started in 1978, and he has been an active member of the news industry ever since, primarily known as a journalist, reporter and television news anchor. So, if you ever wondered how rich Stone Phillips is, it has been estimated that the total size of his net worth is over $15 million, accumulated through his successful career. If he continues to expand his career further, his net worth will certainly increase in the coming years.
Early Life and Family and Education
Concerning his early life, Stone spent his childhood in the Claymont section of Ballwin, Missouri, where he was raised alongside his brother, Victor III, and sister Minta by their father, Victor Phillips, a WWII veteran, and mother, Grace, who worked as a school teacher and chemical engineer at Monsanto. He attended as an acolyte St. Martin's Episcopal Church in Ellisville, Missouri, where his parents were the founding members of its congregation.
Speaking of his education, Stone went to Parkway West High School, where he began playing football for the school's team as a quarterback. Upon matriculation in 1973, he enrolled into Yale University, where he continued to play football in the position of a starting quarterback for the Yale Bulldogs, leading them to win the 1976 Ivy League football championship. Moreover, he was also a member of "Scroll and Key", the college's secret society. He graduated with honors, earning his BA degree in Philosophy in 1977, and also won the F. Gordon Brown Award for amazing skills in academic and athletic leadership.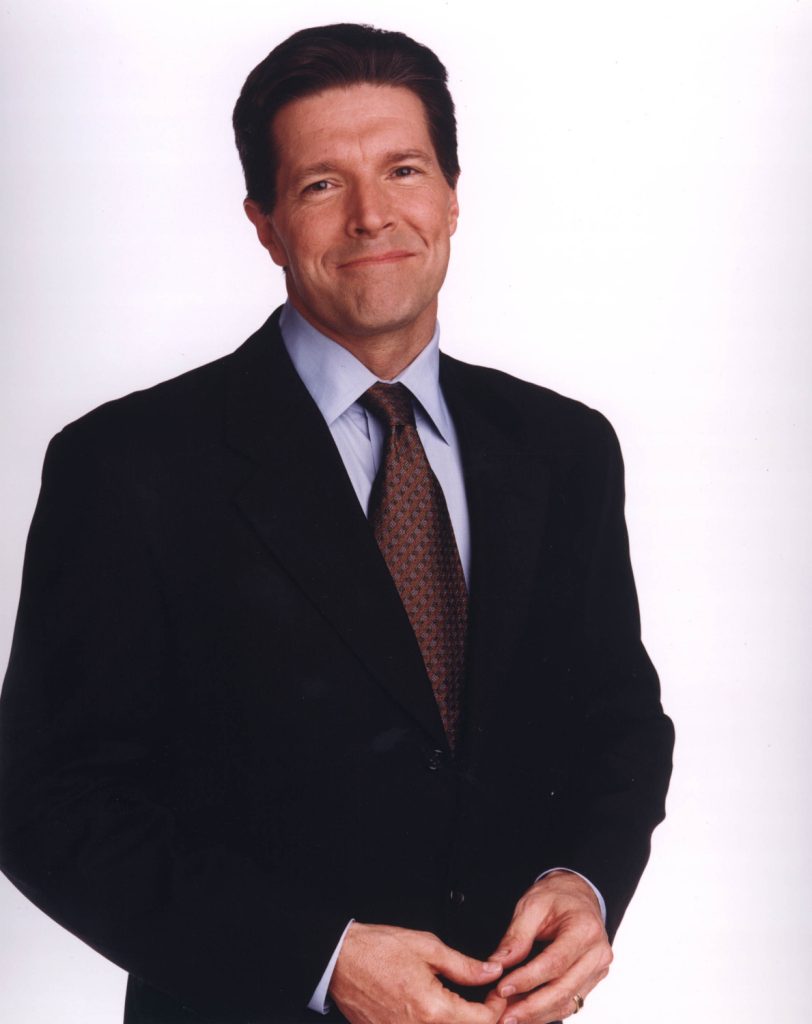 Career Beginnings
Prior to becoming a professional journalist, Stone moved to Atlanta, Georgia, where he initially worked as a math and remedial reading teacher at the Fulton County Juvenile Detention Center, as well as a waiter. He became involved in the field of journalism right after he obtained his degree, as he started working in the position of a reporter for WXIA-TV, an NBC-affiliated television station, in 1978. He worked there for the next two years, gaining knowledge and experience, which marked the establishment of his net worth.
ABC News
In 1980, Stone got an offer to join ABC News in the position of an assignment editor for the news bureau in Washington D.C.; undoubtedly his outstanding academic performance helped him to climb the ladder of success so quickly. During the next two years there, he distinguished himself as a professional and ambitious journalist, so he was promoted to the position of an on-air correspondent in 1982, as he covered such stories as the Lebanon war, Rajiv Gandhi's election campaign after the assassination of his mother Indira, and the exodus of Vietnamese boat people. Stone came to prominence in 1986, when he was chosen to appear regularly in the ABC newsmagazine show, entitled "20/20". Side by side, he also began working as a sports anchor for "World News Sunday", and substitute host for "Good Morning America", serving in the position until 1992.
w/ [email protected] View. had him sign his new bk, he thanked me for "buying it" & wrote"To Stone, One of my heroes." FUNNY! pic.twitter.com/Dkm8PK0C

— Stone Phillips (@stonephillips) January 31, 2012
Rise to Fame and NBC News
In 1992, Stone decided to leave ABC News to join NBC News, where he had an opportunity to work in the position of a co-anchor for the weekly newsmagazine "Dateline NBC", adding a considerable amount to his net worth. During his stint there, he interviewed some of the most disreputable assassins, including Bernhard Goetz and Jeffrey Dahmer, and Russian President Boris Yeltsin, which increased enormously his popularity and led him to win an Emmy Award for Outstanding Interview.
What happened to Stone?
In 2007, the NBC News network did not renew Stone's contract worth $7 million, so he left the job there and focused on other projects. Since 2012, he has been working as a reporting contributor for the daily evening television news program "PBS NewsHour" on the Public Broadcasting Service (PBS), while in May of the following year he served as a producer and host of the PBS documentary "Moving With Grace", increasing further his net worth.
Awards and Recognitions
Apart from winning an Emmy Award for Outstanding Interview, Stone Phillips has also won a number of other significant awards, including the Society of Professional Journalists' Sigma Delta Chi Award for Public Service, the Robert F. Kennedy Journalism Award, the Investigative Reporters and Editors' Gold Medal, etc. He has also won several times a National Headliner Award.
Personal Life and Appearance
To talk about his personal life, Stone Phillips has been married to Debra Del Toro-Phillips since 1985. She is now involved in the fashion industry, but it's known that she earned her MA degree in Social Work. Debra gave birth to their son named Streeter in 1988 and they also welcomed their second child, a daughter, in 1995; however, she passed away on the day she was born.
Speaking about his appearance and physical statistics, Stone stands at a height of 6ft 2ins (1.88m), while his weight has not been revealed to the public. He has dark brown hair and green colored eyes. Although he is in his 60s, Stone has a well-maintained body shape, which could be described as regular.
Social Media Presence
In addition to his career, Stone is an active member on the social media scene, as he runs his official Twitter account, on which he has more than 1,300 followers and which he uses mostly to promote his upcoming projects with his fans. He also has his own website, on which you can find more information about his career.
Source: Affair Post
Share and Follow