A New Jersey law student and mother of two who took to social media to express outrage over a "perverse" poster created by an elementary school student has filed a federal lawsuit alleging that district officials, law enforcement, and officials with the U.S. military conspired to falsely accuse her of being a right-wing extremist. Angela Reading called the lawsuit "a critical step towards seeking justice for the irreversible damage inflicted upon my personal life, professional reputation, and capacity to meaningfully contribute and serve my community."
The mom's lawsuit stemmed from the fallout over what she called "a simple Facebook post" that objected to "sexual content" on display as part of a celebration of diverse family backgrounds.
Reading attended "Math Night" at her daughter's elementary school in November 2022 in Northern Burlington County, New Jersey, when she observed posters with the words "polysexual," "pansexual," and "genderqueer" that had been created by students as part of the district's "Week of Respect," which highlighted various ethnic backgrounds, different languages, and LGBTQ identities.
Reading, who was a member of the local school board at the time, says that when her daughter asked what "polysexual" meant, she was "shocked" and "livid." Reading says she first contacted multiple school district officials, then took to Facebook to voice her concerns. Reading's post, a portion of which is shown below, said that it was "perverse and should be illegal" to expose children to "sexual content."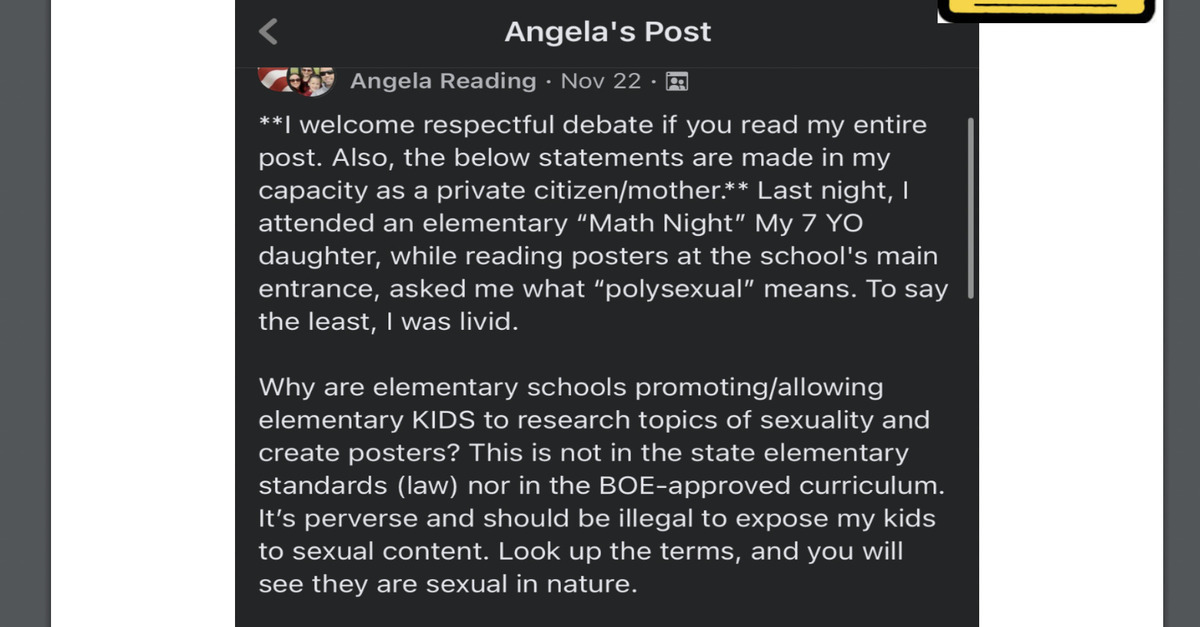 Reading's post circulated widely online, drawing comments and outrage from many in the community. In her complaint, Reading asserts that the government's reaction to her Facebook post was harsh and illegal. Not only, she says, did Facebook take down the post as a result of police pressure to do so, but Reading claims she herself also became the subject of multiple law enforcement investigations.
Moreover, the former school board member alleges that after she was falsely characterized as a "right wing extremist," and security threat, attendees at board meetings were forced to pass through metal detectors and bag searches while police lined the walls of the meeting room. Reading says that law enforcement and military personnel coordinated to stifle her religiously-motivated speech and silence her.
Per the complaint, law enforcement even coordinated to "get additional posts" removed from social media platforms.
Reading also points to a letter sent to parents by district Superintendent Helen Payne, which explained that the creation of the posters had been "voluntary and open-ended and has been offered to students for the past three years" with "no instruction associated with" the activity. In the letter, Payne referred to social media posts about the posters, and said these posts "caused safety and security concerns for many families."
The Week of Respect posters were not the first district activities to draw Reading's public ire. In 2022, Reading vocally opposed the district's No Place for Hate anti-bullying and anti-discrimination initiatives.
After Reading called the student-created poster "perverse," local parent and U.S. military official Lt. Col. Christopher Schilling posted from his own social media account, "The current situation involving Mrs Reading's actions has caused safety concerns for many families." Schilling also shared a link to a petition calling for Reading's resignation from the school board.
Reading claims that the social media attention caused her to live "in fear of her own physical safety" due to the "community outrage" that surrounded her posts. In her lawsuit, Reading says she had "little choice" but to "courageously [take] to the airwaves of the Fox News network to expose the unjust actions of the Joint Base Actors against her, including unwarranted surveillance and censorship."
Prior to filing her lawsuit, Reading posted on social media about her appearances on multiple conservative media outlets including Tucker Carlson. Reading named as defendants Robert Duff, the North Hanover Township police chief, Superintendent Payne, Joint Base Commander Colonel Wes Adams, and several individual military service members,
In her lawsuit filed in federal court in New Jersey, Reading alleges that local police, state agencies, the U.S. Armed Forces, the New Jersey Office of Homeland Security and Preparedness, the Burlington County Prosecutor's Office of Counter-Terrorism, and the New Jersey State Police Regional Operations Intelligence Center coordinated a "conspiracy" in order to "suppress and chill" her free speech rights. Reading says she was falsely deemed a safety and security threat when in actuality, "the only individuals who have faced any credible danger have been Mrs. Reading and her family."
Reading says that after being "ostracized" in the community, she suffered "extreme emotional distress and anxiety," she and her husband were forced to resign from the school board, she was forced to remove her children from the public schools, and she missed her law school exams. Reading brings claims for multiple violations of First Amendment rights, violation of the Religious Freedom Restoration Act, and deprivation of state and federal civil rights. She seeks unspecified damages.
Reading is represented by the conservative advocacy group Thomas More Society, which also challenged COVID-19 vaccination policies and regulations requiring disclosure of so-called "dark money" groups.
Law&Crime spoke with attorney Christopher Ferrara, who represents Reading in the lawsuit. Ferrara said the case fits the probe of the "weaponization of government" currently being undertaken by congressional Republicans:
The core of this case is that a local police chief, acting at the request of military personnel at the Joint Base, obtained the removal of Mrs. Reading's Facebook post, and then attempted to have other posts removed, after which Joint Base personnel engaged in a coordinated referral of Mrs. Reading to various law enforcement and security agencies as detailed in the complaint. This was accompanied by a campaign to portray Mrs. Reading as a security threat such that, as Defendant Schilling put it, "I think we need to keep the pressure on until her [Mrs. Reading's] disruptive and dangerous actions cease…"—meaning, her fully protected speech with which the Defendants disagreed. This case exemplifies the weaponization of government against conservative parents now the subject of Congressional investigation.
The defendants in the lawsuit did not immediately return Law&Crime's request for comment on the claims.
You can read the lawsuit here.
Have a tip we should know? [email protected]