Share and Follow
For the first time, Detroit prosecutors revealed murder charges against the ex-boyfriend accused of carjacking Patrice Wilson after her hospital shift ended on Mother's Day weekend and shooting the 29-year-old nurse and mom who tried to break up with him.
Wayne County Prosecutor Kym Worthy addressed reporters on Thursday about the latest update in the case against 36-year-old Jamere Miller.
"Simply said, the most dangerous time in any kind of domestic violence case is when, what usually is, the woman is trying to leave the relationship. It's absolutely the most dangerous, heinous time," Worthy said. "Patrice Wilson by all accounts was a hardworking woman, a great mother, a great family person and well-respected in her job as a nurse at the Detroit Medical Center."
"She was simply trying to live her life, work hard, and break off a relationship she knew was not good for her," the top prosecutor said.
Alleging that Miller "would not leave [Wilson] alone" and "would not respond to her wishes to leave her alone," Worthy charged him with "numerous" crimes, namely: first-degree premeditated murder, felony murder, carjacking, armed robbery, felon in possession of a firearm and five counts of felony firearm.
The Detroit Police Department previously said Wilson had finished an overnight nursing shift early Saturday, May 13 and was entering her car when an armed Miller — "seen wearing a blonde wig" — abducted her.
Roslind Livingston, Wilson's mother, had voiced hope that Wilson would be saved in time for Mother's Day with her son.
"It's Mother's Day, and she is not here to be with her son," Livingston said. "Her son cannot hold her and say 'Happy Mother's Day' today. That bothers me."
Instead, Wilson was found in her trunk shot to death.
"People were outraged when they heard about this particular case, of someone who was taken forcibly from their job at the end of their shift," Worthy said. "But unfortunately this is what we see all the time in domestic violence cases, especially those that turn into homicides."
Worthy said that Miller's arraignment was scheduled for 1:30 p.m. on Thursday.
Detroit Police Chief James White took the podium after Worthy, and called this a "very, very sad case."
"Hopefully this brings some degree of closure to the family and certainly justice to this family, calling it a senseless act of violence that should not happen," he said.
White thanked the homicide detectives and prosecutors behind the charges, and said that the relationship between the Wayne County Prosecutor's Office and DPD has never been better than it is now.
Back at the podium, Worthy explained why there was a delay between Miller's May 14 arrest and murder charges.
"We did not feel rushed" since he was already in custody, Worthy explained. She emphasized the need to "get it right," and said the case was worked on almost 24/7.
A Law&Crime search of Wayne County Jail records reflects that Miller was in custody on drug charges as the murder investigation continued.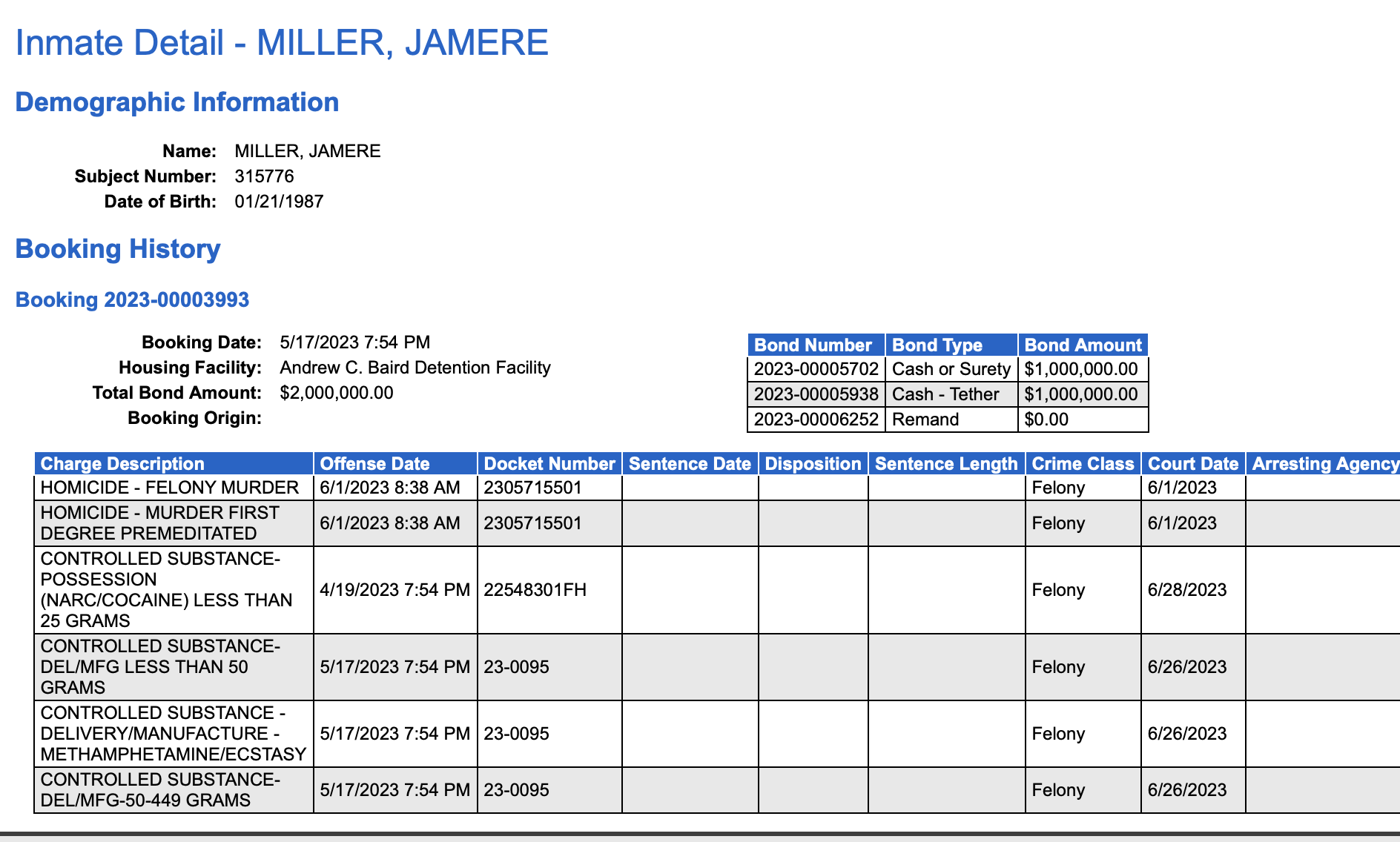 A GoFundMe campaign started by Nicole Rice, a co-worker for the "legendary" Patrice Wilson, had raised nearly $25,000 as of Thursday afternoon. Rice wrote the money would go to Wilson's mother Roslind Livingston for funeral services and to set up a college fund for Wilson's son:
As our colleague & friend, Patrice Wilson may be gone from this Earth, but her legendary memory will forever live on – in our minds & in our hearts.

Patrice was driven & dedicated – as a nurse, as a friend, & as a mom. Her smile & laugh were contagious. Her kind & loving spirit will never be forgotten. Her love for her son was to be admired- we all knew her little Stank in the office from their sweet FaceTime chats, as she never missed a goodnight call from his cute little self.

We are proud to be accepting donations in her honor – first to assist in lifting the financial burden of any memorial costs her family will accrue. The remaining will be set up into a college fund account for her son.

Rest in Peace, our sweet Patrice- forever & always in our hearts, while you're dancing in the sky.
As of Thursday afternoon, jail records said Miller's bond was at $2,000,000.
After Miller was initially arrested, news resurfaced about another missing person case. Bianca Chanel Green, the mother of Miller's child, vanished from Romulus, Michigan, in March 2011 while she was pregnant. Green was studying to be a nurse.
Miller spoke at a Crime Stoppers presser pleading for Green's safe return while holding the son they shared.
"It's hard being a single father, and it's hard for me to tell him what's going on with her," he said.
Then his son spoke, with the help of Bianca's mother Lisa Green, who also begged the nation for help.
"Mommy, we miss you. And we want you to come home. And we want God to bring you home," the boy said, repeating his grandmother's words.
Bianca Green has not been seen since.
Alberto Luperon contributed to this report.
Have a tip we should know? [email protected]
Share and Follow