Gunsmoke was on television for so long that it was likely one of those shows that felt like a rite of passage for rising stars. After all, with 20 seasons of television, there are plenty of opportunities for actors looking for a big break to snag a guest appearance on the popular Western TV show. Buck Taylor did a lot more than just that. The actor joined star James Arness for roughly half the iconic series' run. Here's the wild road that eventually led him to Gunsmoke.
Buck Taylor is best known for his work on TV's 'Gunsmoke'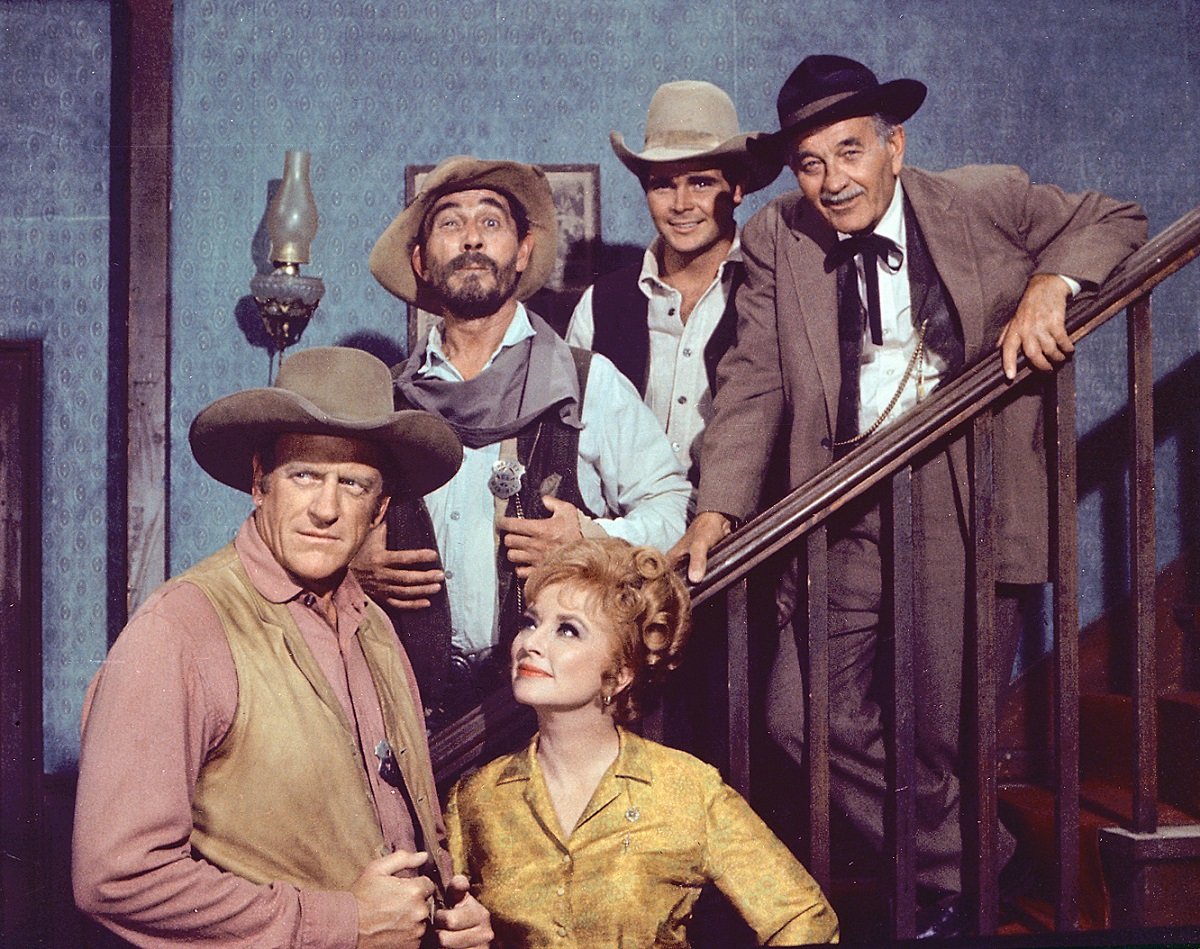 Taylor joined Gunsmoke in 1967 as Newly O'Brien, acting deputy working alongside Arness' U.S. Marshal Matt Dillon. At the time, a number of characters hoped to fill that role on a regular basis, including Burt Reynolds' Quint Asper and Roger Ewing's Thad Greenwood. But Taylor ended up becoming a long-term player, sticking around until the show's cancellation in 1975.
Newly O'Brien served multiple functions on the show, as both backup deputy and a doctor-in-training under his uncle and later Doc Adams (Milburn Stone). For Taylor, Gunsmoke marked the turning point in a professional life that had already endured several major changes.
Buck Taylor's life took some twists and turns before 'Gunsmoke'
In an interview with David Morris, Taylor details the story behind his casting on Gunsmoke. From 1950 to 1960, the actor served in the U.S. Navy, and when he got out, he pursued stunt work. Following an injury that ended his initial pursuit of gymnastics, Taylor focused on acting.
"For eight years, I was an actor. I was under contract with Universal Studios. I was on a TV show called The Monroes. I guest-starred on over 100 TV shows before I ever went on to Gunsmoke. I did a Gunsmoke, and they killed me off. And I was, 'Well, that's it.' I worked on Gunsmoke. I watched it growing up. They killed me off, and I'll never get another one. But man, that was great."
Of course, that wasn't the end of the story. A mere six months later, Gunsmoke was looking to test a handful of actors for the new role of Newly O'Brien. Much to Taylor's surprise, he landed the part and essentially never left the show until its conclusion.
Buck Taylor returned to the Western TV genre in 2018
Following Gunsmoke, Taylor remained a regular presence in Western movies and TV shows. These include films such as 1993's Tombstone, 2011's Cowboys & Aliens, and 2016's Hell or High Water as well as TV miniseries like 1987's The Alamo: 13 Days to Glory and 1997's Rough Riders. Taylor even returned as Newly O'Brien in the Gunsmoke: Return to Dodge TV movie.
But today's audiences might know Taylor from his most recent role. From 2018 to 2022, the actor played Emmett Walsh on the Paramount Network hit Yellowstone. Throughout the show's first five seasons, Taylor appeared in eight episodes. And though his role was far from that of a main cast member, his association with Western storytelling remains indelible, thanks to Gunsmoke.