Glass Onion: A Knives Out Mystery has been on Netflix for merely a matter of weeks, but it is far and away one of the most popular films on the streaming platform. The comedy/mystery features an impressive cast full of stars and an immersive storyline, along with plenty of wit and humor.
Helmed by Rian Johnson, Glass Onion has plenty of self-referential jokes and clever Easter eggs that even eagle-eyed viewers will have to strain to catch. What fans of the franchise might not realize is that not only was Glass Onion named after a specific Beatles song but there are several Beatles references throughout the course of the film as well. 
[Spoiler Alert: This article contains spoilers from Glass Onion.]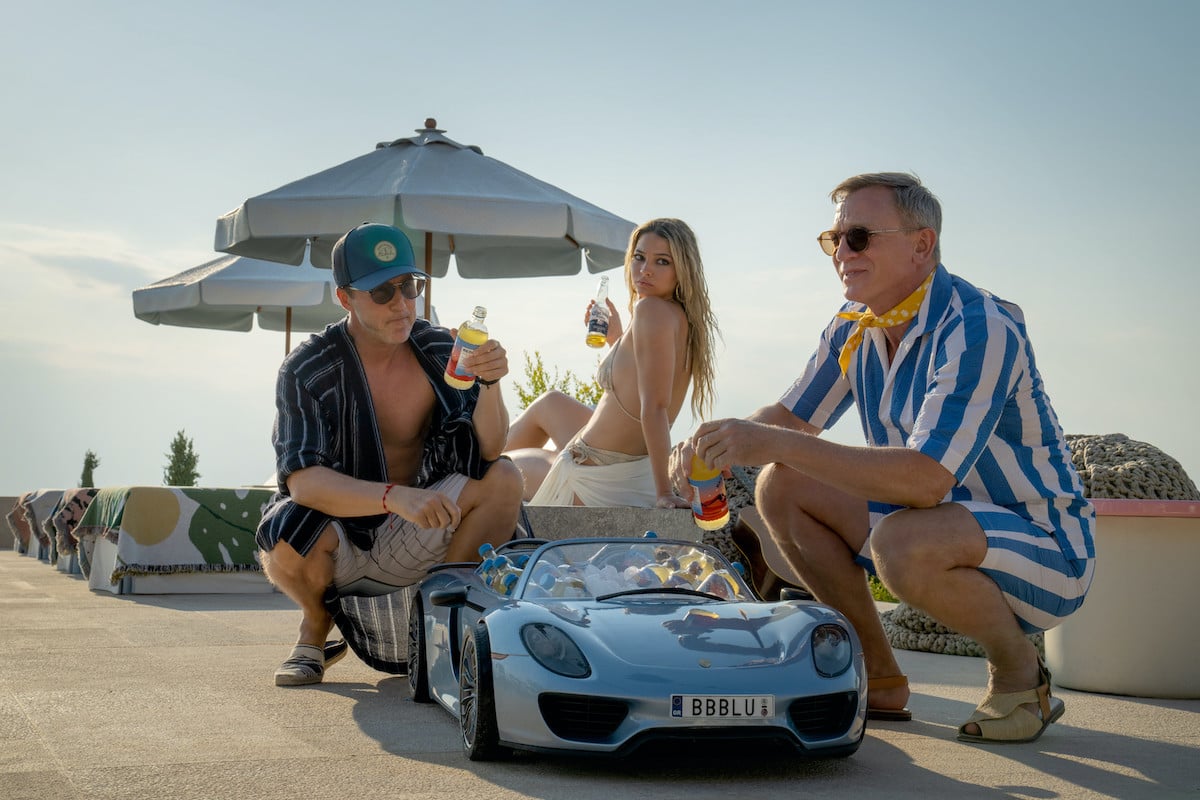 Rian Johnson based the title of 'Glass Onion' on a Beatles song
The most obvious Beatles reference in the film is the title itself. In a recent interview with Deadline, director Johnson explained that he was struggling to find the perfect title for his latest mystery until he came across one of the more obscure Beatles tracks in his song library. "I'd gotten to a point where I had the idea of a central metaphor that Blanc could latch onto and beat like a dead horse," he said.
The director went on to describe the process of coming up with the title, noting:
"Something that was made of glass. Something that was layered, but the center was in plain sight, and so on. And I thought, OK, well, the billionaire is going to have an island, and maybe he has some structure on it that's made of glass, so … is it a glass castle? Is it a glass palace?"
In a moment of pure serendipity, Johnson said, "I literally opened the music app on my phone and just searched the word 'glass,' and 'Glass Onion' popped up."
There are many Beatles references in 'Glass Onion'
In the same interview, Johnson said that he was surprised at how few people realized that the title was from a Beatles song. Still, as a major devotee of the band, Johnson made sure that there were several more references to the iconic group throughout Glass Onion.
In the film's climax, viewers are treated to the sight of Miles Bron's many intricate and impeccably-displayed glass sculptures. One by one, the guests take the sculptures and throw them to the ground, relishing in the shattering sounds that they make. According to Entertainment Weekly, the sculptures themselves are Easter eggs, mostly references to Beatles lyrics – including the strawberry, a clear reference to the song "Strawberry Fields Forever."
A Twitter user found another Beatles Easter egg in Glass Onion, taking to Twitter to write, according to Uproxx, "One lovely touch in Glass Onion is that when we meet Miles Bron, he's playing Blackbird on 'the guitar Paul wrote it on.' But he's playing right-handed, while Macca is perhaps the most famous left-handed musician of all time."
Rian Johnson is working on a third 'Knives Out' film
Fans and critics alike have responded well to Glass Onion, praising Johnson's creative skills and clamoring for a third. The good news is that the writer/director is currently working on a third film in his Knives Out franchise – and while not much is known about the upcoming third film yet, it seems likely that Daniel Craig will be reprising his role as the charming and sharp-witted Benoit Blanc.