Katie Maloney from Vanderpump Rules revealed that her friendship with Tom Schwartz is currently on pause and didn't hold back when it came to dragging him for his behavior on Watch What Happens Live with Andy Cohen. Maloney also revealed Tom Sandoval's real age.
Like professional athletes reviewing game footage, fans, and Vanderpump Rules cast members are scanning previous interviews and footage, searching for clues of an affair between Tom Sandoval and Raquel Leviss. Some fans believe that Schwartz's reactions on WWHL during Vanderpump Rules premiere night were telling and that he possibly knew of the affair and covered for Sandoval.
Maloney said the way Schwartz squirmed and looked to Sandoval before answering questions was embarrassing, especially for a man who is his and Sandoval's age.
Tom Schwartz from 'Vanderpump Rules' was 'pitiful' on 'WWHL,' Katie says
WWHL host Andy Cohen wondered how Maloney felt about Schwartz and Sandoval on Vanderpump Rules premiere night. "And it seems like Schwartz was kind of checking with Sandoval every time I asked him a question," Cohen said on the WWHL After Show.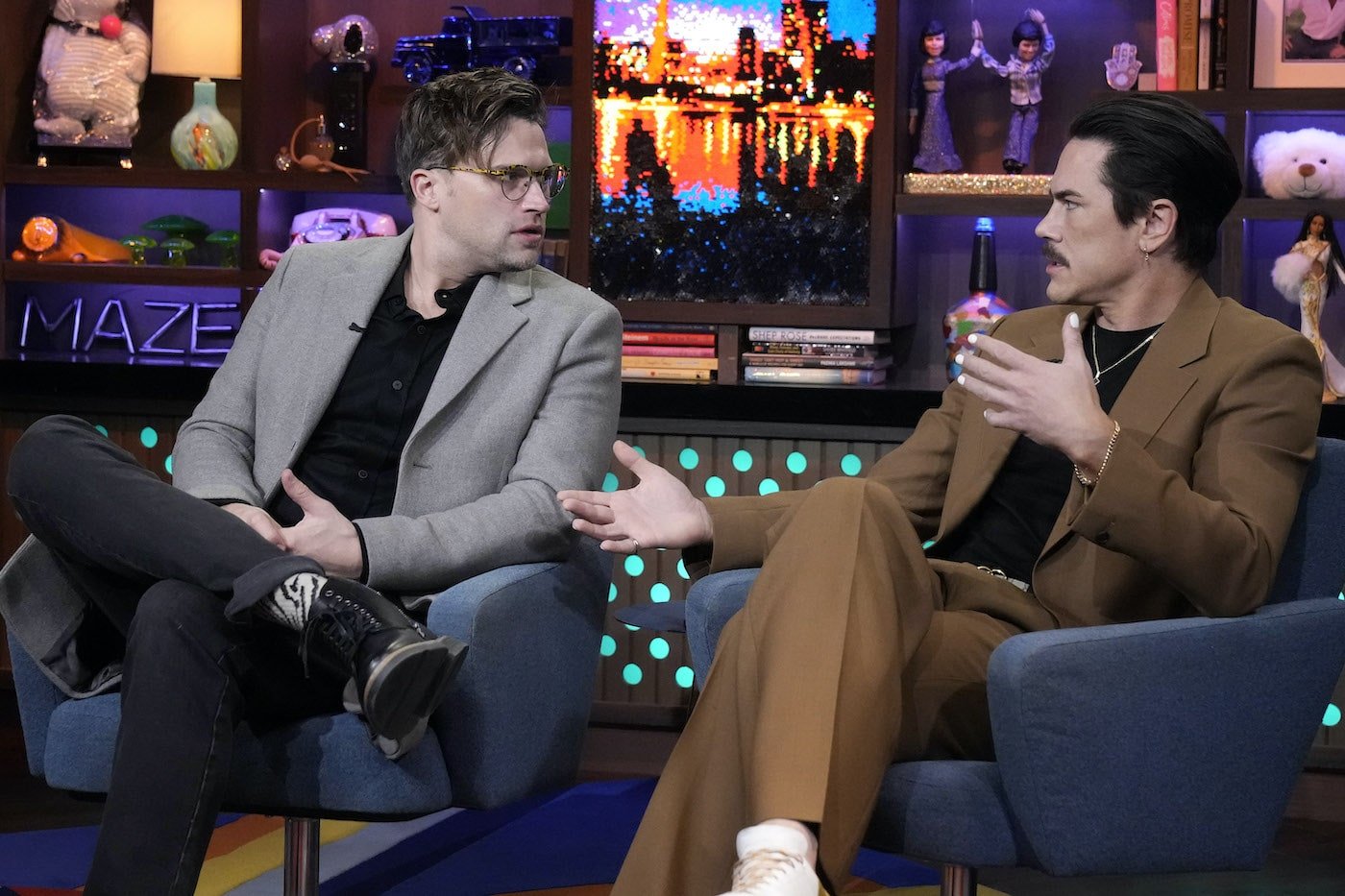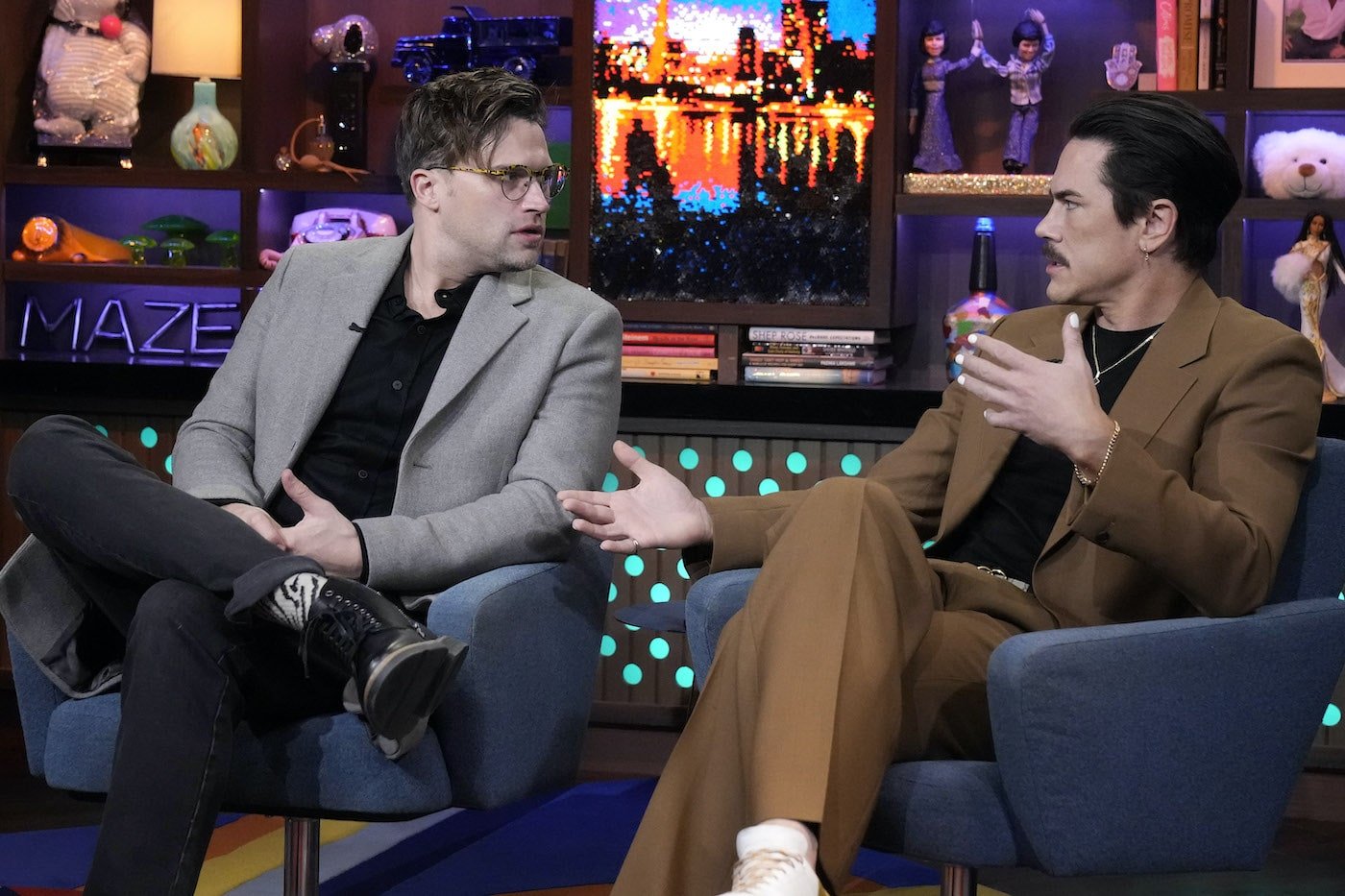 "It was pitiful," Maloney replied. "I texted him as well, 'You were embarrassing.' Like you couldn't keep your fingers out of your mouth. I feel like you were babysitting," Maloney said to Cohen.
"Like, he's 40," she added. "He's 40 years old everybody. That ain't cute."
Tom Sandoval is 40 years old, Katie says
Co-guest, podcast host Danny Pellegrino noted that there's been some confusion with Schwartz and Sandoval's ages. "How old is Sandoval?" Pellegrino asked.
"40," Malone replied. Pellegrino confirmed that Sandoval will be 41 years old this year. "Yes," Maloney said.
"They'll both be 41 this year," she added.
Cohen noted, "Schwartz we celebrated his 40th birthday at the Tom Sandoval concert that I mentioned at BravoCon. That was his 40th birthday." Sandoval presented Schwartz with a cake during his performance at BravoCon.
Wanting to dig more tea out of Maloney, Pellegrino asked if Schwartz was filming Winter House. Cohen said nothing, but Maloney shared, "I think there are pictures of him filming."
What does Google say Tom Sandoval's age is?
While Maloney knows the truth, confusion over Sandoval's age came to light when people slammed him for having an affair with a much younger cast member. According to Google, Sandoval is still 39 years old and was born in 1983.
And while there may be some dispute over Sandoval's age, Schwartz embraced hitting a new decade. During an interview with Showbiz Cheat Sheet shortly after BravoCon, he joked about middle age.
"Man, it feels weird to say that," Schwartz said about turning 40. "I don't feel 40. I feel young. Spritely." Sandoval, who was also in the interview, agreed.
Sandoval also agreed that just because Schwartz turned a year older the party continues. "Yes, it does! It never stops!"
At the time of the interview, some Bravo fans hoped that Schwartz might make a connection with the newly single Taylor Ann Green from Southern Charm. But Schwartz said they were just friends.
Schwartz also teased the upcoming season, "Our pain is your pleasure," Schwartz said.