Gilmore Girls was an hour long drama, but with such witty dialogue it was equal parts comedy. That is, it was comedy for the audience. The actors still had to play it as straight drama, because it was their lives. Even the best of us break from time to time. Third time was the charm for Gilmore Girls guest star Rusty Schwimmer, after two other auditions for the show. Once she filmed, Schwimmer said there was one co-star who could make her break on the show.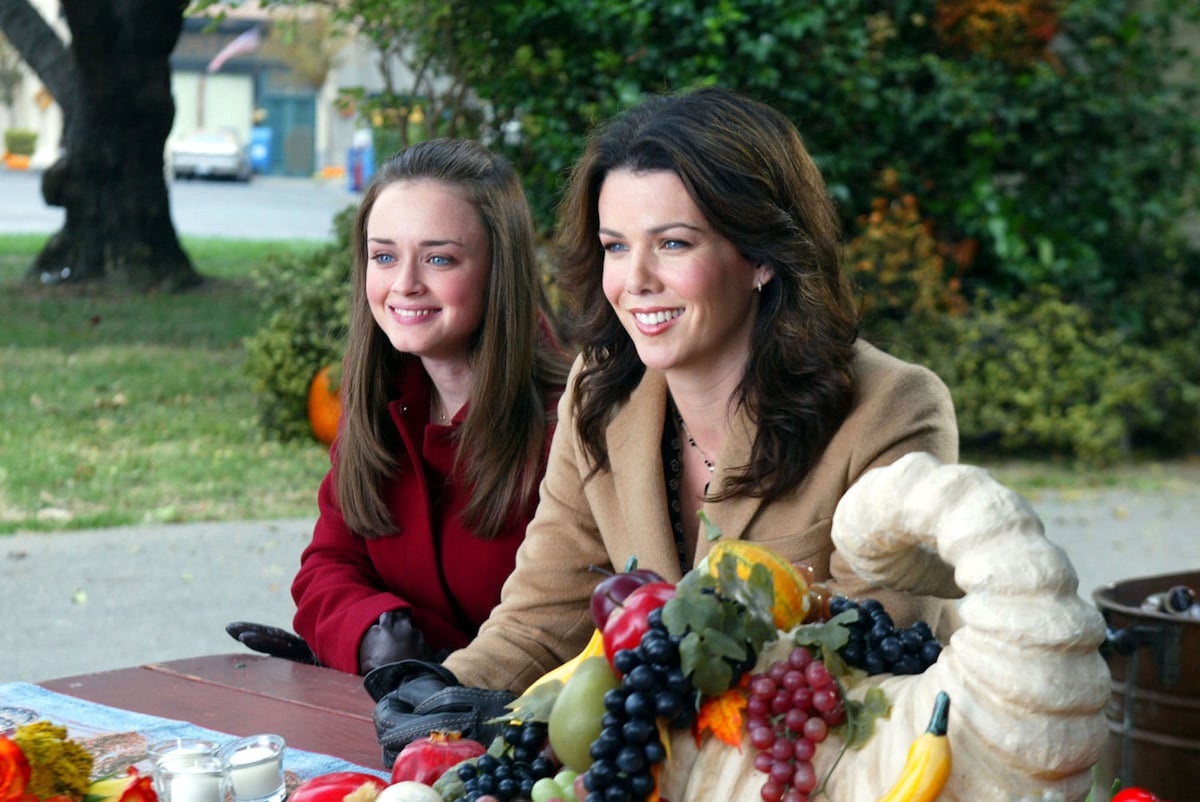 Schwimmer was a guest on Scott Patterson's I Am All In podcast on Dec. 14 to discuss her episodes of Gilmore Girls. Schwimmer played Bruce, the midwife in two episodes when Sookie (Melissa McCarthy) had her baby. There was one person in the Gilmore Girls cast who made Schwimmer ruin takes by laughing.
Nick Offerman was Rusty Schwimmer's kryptonite on 'Gilmore Girls'
Before he was Ron Swanson on Parks and Recreation, Nick Offerman was on two episodes of Gilmore Girls. Offerman played Beau Belleville, Jackson's brother. His first episode was in season 4, which was Bruce's first appearance. 
"The only time, to be honest, that I had a hard time keeping a straight face was when I had to look into Nick's eyes," Schwimmer said on I Am All In. "I said, 'Don't make me laugh right now. Don't do it.'"
Other than Nick Offerman, nobody could make Rusty Schwimmer break character
Bruce was memorable for her laser focus on midwifing. On a breezy show like Gilmore Girls, being ultra serious was quite a contrast. Schwimmer said that helped her stay in character, Offerman notwithstanding. You could hear when she spoke naturally with Patterson she is not Bruce in real life. 
"But, for some reason, once I was in Bruce, for the most part I kind of had that mindset that this was a very serious situation," Schwimmer said. "Very serious, right?"
Before 'Gilmore Girls,' Rusty Schwimmer had practice staying in character
Schwimmer is the sort of actor you see in lots of movies and recognize her, even if you don't remember her name. Among memorable roles, she played a local whom one of the doomed sailors flirts with in The Perfect Storm, and Helen Hunt's mother in Twister. Schwimmer played a cop in the original Candyman too. She's been acting on screen since the '80s, but even longer than that privately. By the time film and television hired Schwimmer, she was already a pro.
"Also, it helps that when my sisters and I used to play when we were younger, we always talked about how we couldn't break," Schwimmer said. "We could not break. So I had some experience with that."
Schwimmer certainly channeled her acting games with her sisters when she played Bruce on Gilmore Girls, and her other dramatic roles. However, Schwimmer has done comedy herself on episodes of The Fresh Prince of Bel-Air and The Guardians of the Galaxy Holiday Special among others.