Share and Follow
Nothing brings people together like good food and drinks. So it's no surprise that restaurants play an integral role in the development of some of the most beloved television and movie plots.
The Grease gang spent hours sipping on milkshakes at Frosty Palace. The Seinfeld crew had many memorable moments in Monk's Cafe. And what would an evening on How I Met Your Mother look like without a visit to McLaren's Pub?
While many of the eateries showcased in pop culture are, in fact, fictional, plenty of them actually exist to this day. Looking to relive some of your favorite movie scenes? Craving a meal you saw on the silver screen? Here are seven iconic restaurants featured in some of the most cherished films.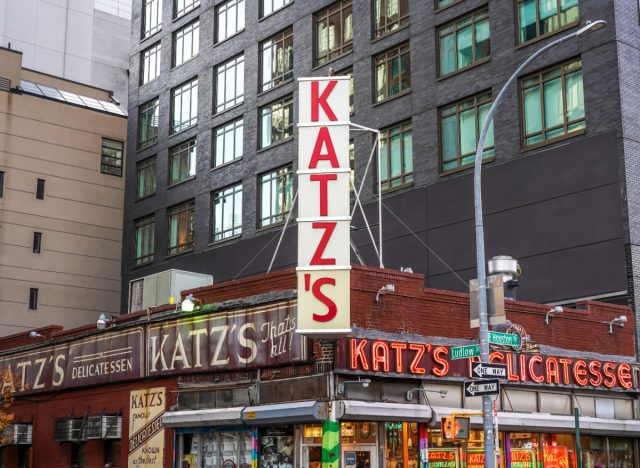 This Lower East Side mainstay is known for more than just its pastrami on rye. The 135-year-old Jewish deli gained widespread recognition after being used as the backdrop of Meg Ryan's iconic fake orgasm scene in the 1989 romantic comedy When Harry Met Sally. Paying tribute to Estelle Reiner's unforgettable line, "I'll have what she's having," Katz's Deli even has a sign hanging over the table where the scene was filmed. It reads, "Where Harry met Sally…Hope you have what she had!"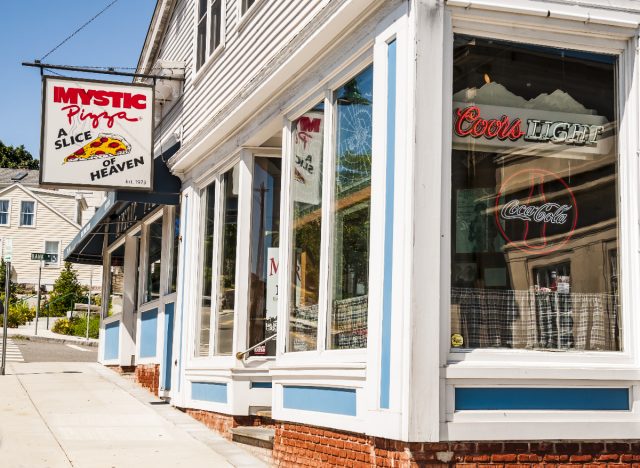 First established in 1973, Mystic, Connecticut's Mystic Pizza gained heightened attention after being spotlighted in the 1988 coming-of-age film named after the pizza shop itself. While the real Mystic Pizza wasn't shown in the movie because the space was too small for filming, the restaurant was ultimately remodeled after the movie's release to look like the one shown on the big screen, according to travel blog Seenic Sites.
As highlighted on the pizza parlor's website, since the movie came out, Mystic Pizza opened a second location in North Stonington, Conn., and launched a line of frozen pizza to match the restaurant's recipe.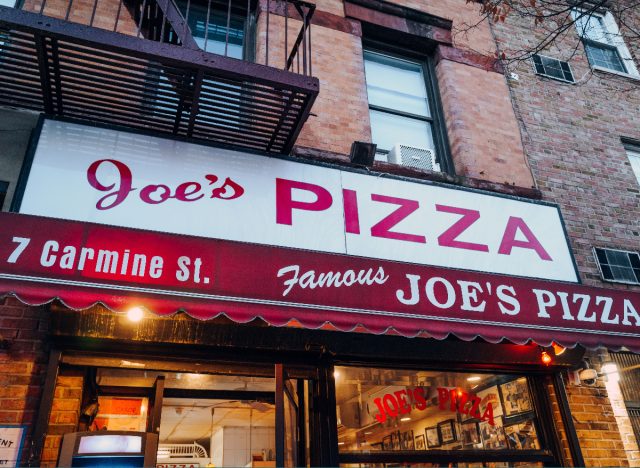 Mystic Pizza isn't the only pizzeria to score a major role in a film. Manhattan's Famous Joe's Pizza—aka Joe's Pizza—became well-known as Peter Parker's temporary workplace in Spiderman 2, which was released in 2004. While Parker was ultimately fired from the joint after failing to deliver pizzas on time, Joe's Pizza lives on, consistently ranking as one of New York City's top pizza places.
Aside from its original location in Greenwich Village, Joe's has six other pizzerias in the United States, four of which are in New York.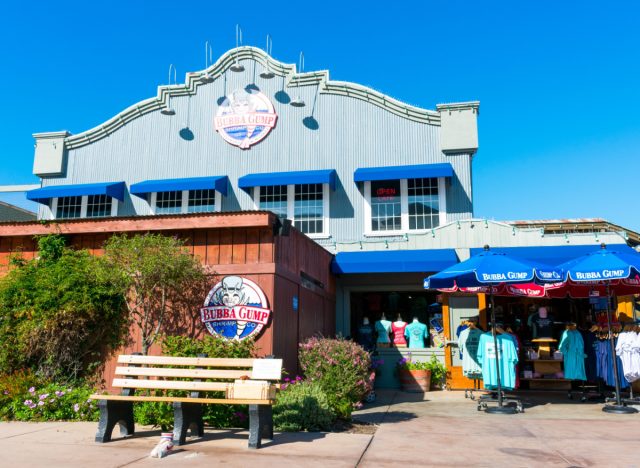 Inspired by the fictional shrimp company from the 1994 Academy Award-winning film Forrest Gump, Bubba Gump Shrimp Co. opened the doors of its first location in Monterey Calif., back in 1996. Currently standing as the only casual restaurant chain based on a motion picture, Bubba Gump Shrimp Co. has expanded into a globally-recognized brand with 16 international locations and 22 United States restaurants.
As stated on its website, the restaurant chain serves up "scratch-made, southern-style comfort dishes plucked straight off the silver screen." Examples of dishes include sautéed shrimp, fried shrimp, coconut shrimp, shrimp scampi, and so on.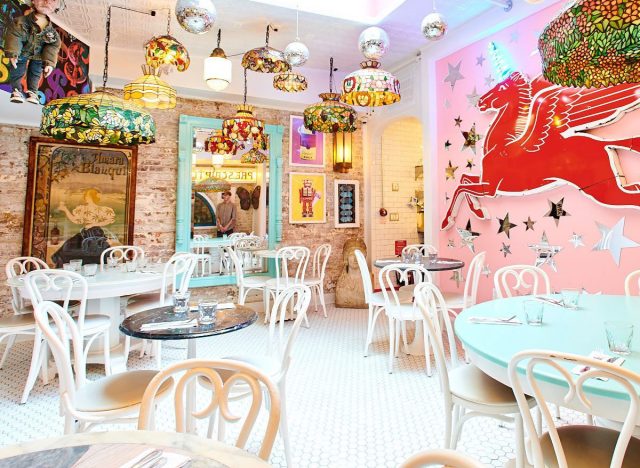 Known for its world-famous Frrrozen Hot Chocolate, New York City's Serendipity 3 has made multiple film appearances, most notably in the 2001 romantic comedy Serendipity. After meeting by chance at Bloomingdale's, John Cusack and Kate Beckinsale's characters decide to share an evening together, connecting over, you guessed it, frozen hot chocolate. The table where they sit in the film is now known as the "Star Table."
While recognized for its extravagant desserts, Serendipity 3 also boasts a selection of savory items on its menu, including burgers, mac and cheese, and foot-long hotdogs.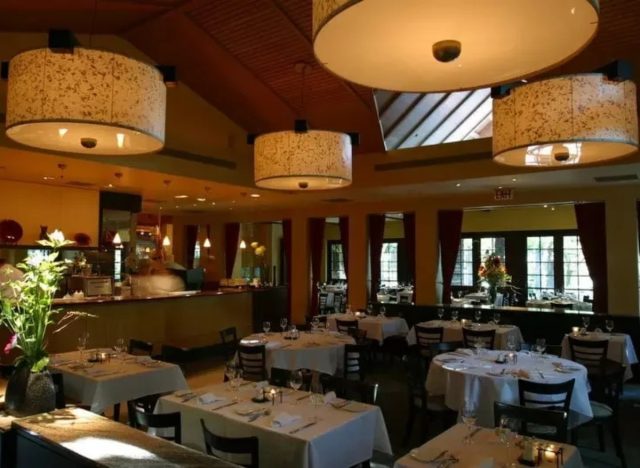 The hilarious scene where Robin Williams changes in and out of his Mrs. Doubtfire costume to attend two separate dinners took place at this Danville, Calif. restaurant. According to the restaurant's website, after the release of the 1993 motion picture, "Bridges Restaurant and Bar received nationwide acclaim." The restaurant serves brunch, lunch, and dinner, with dishes featuring "imaginative California cuisine with European and Asian influences."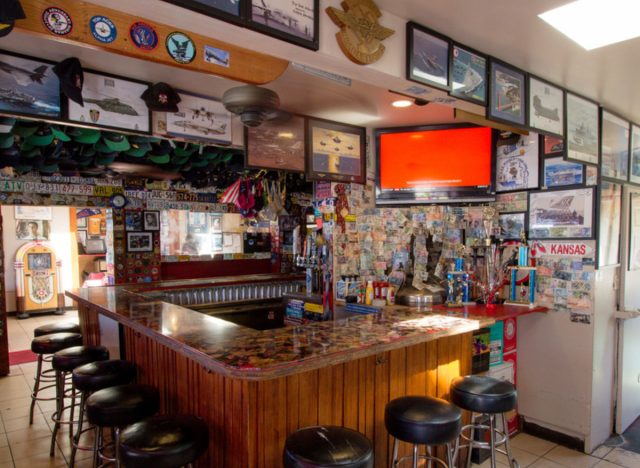 Nicknamed the "Top Gun Bar," San Diego's Kansas City Barbeque was the filming location of the bar scenes in the 1986 action movie Top Gun. In addition to displaying the piano Anythony Edwards' character, Goose, plays during the "Great Balls of Fire" scene, the restaurant is decked out in movie memorabilia. 6254a4d1642c605c54bf1cab17d50f1e
Beyond being a tourist attraction, Kansas City Barbeque is home to a selection of barbecue staples, including ribs, brisket, pulled pork, as well as all the fixings.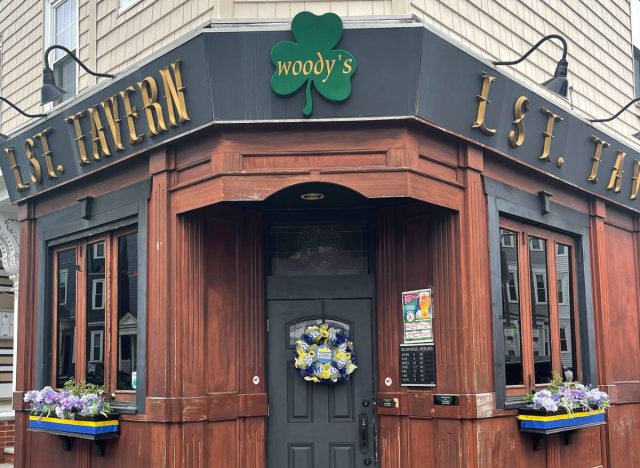 "Good Times. Good Friends. Good Will," reads the website of this South Boston Irish bar made famous by the Academy Award-winning film Good Will Hunting. To celebrate the local watering hole where Will Hunting (Matt Damon) and his friends hang out in the movie, L Street Tavern—also known as Woody's L Street Tavern—has a table covered in photos and quotes from the film. How 'bout them apples?
Share and Follow