Share and Follow
Saucy, messy, crunchy, and often spicy—chicken wings are the ultimate appetizer and game-day food. While health isn't the reason most of us indulge in a plate of chicken wings, some are better for you than others, and it might make sense to skip over the ones that won't help us meet our health goals. If you're grabbing this crave-able food at a nearby fast-food restaurant, keep in mind that some wing orders could pack more than a day's worth of sodium, saturated fat, and even calories.
While virtually all fast food chicken wings are deep-fried, adding up in calories and fat, many are seasoned or slathered in high-sodium sauces. The American Heart Association recommends we limit our sodium intake to less than 2,300 milligrams per day. For people with high blood pressure, kidney disease, or heart disease,1,500 milligrams per day may be an even healthier goal.
Saturated fat and added sugars can also be found lurking in the sauce your wings are dipped in. One particular sauce could add hundreds of calories, thousands of milligrams of sodium, and several grams of added sugars or saturated fats to your chicken wings, shifting them from a balanced option to unhealthy.
Before you make your next wing order, take a look below at the nine unhealthiest fast-food chicken wings you could buy, according to dietitians. Also, for more healthy eating advice to help you indulge in your crispy chicken cravings without totally abandoning your health and wellness goals, check out 5 Fast-Food Chicken Sandwiches With the Highest Quality Ingredients.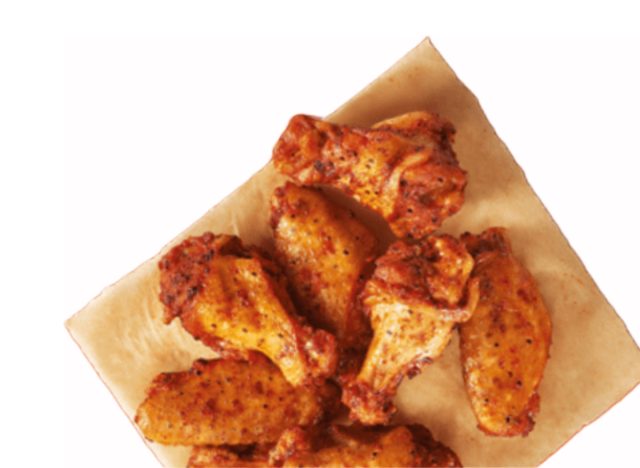 PER SERVING (8 wings): 670  calories, 51 g fat (13 g saturated fat), 2,510 mg sodium, 5 g carbs (0 g fiber, 0 g sugar), 49 g protein
"Known for their convenience and affordability, Little Caesars' chicken wings are not a healthy wing choice due to their nutrition profile," says Jessie Hulsey RD, LD, an Atlanta-based registered dietitian. "Despite being oven roasted, the Garlic Parmesan 8-piece wings contain a staggering 670 calories, 51 grams of fat, and a substantial 2,510 milligrams of sodium."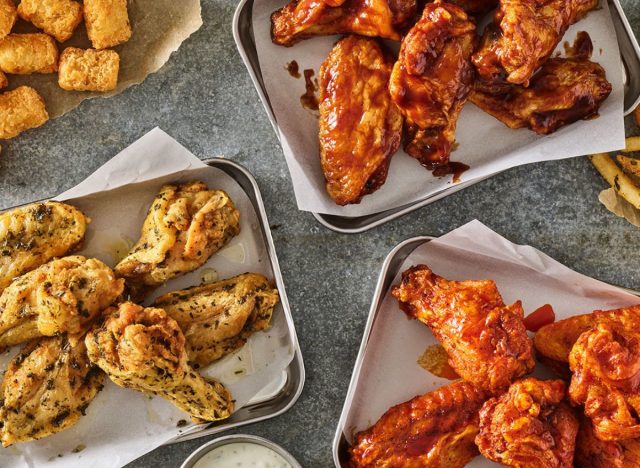 PER SERVING (6 wings): 580 calories, 54 g fat (9 g saturated fat), 460 mg sodium, 18 g carbs ( 0g fiber, 15 g sugar), 57 g protein
The Smashburger BBQ wings are one of the better options if you're concerned about sodium, since six wings have only 460 milligrams of sodium—or 21% of the recommended daily value. What makes these wings a less-than-ideal choice is the 15 grams of added sugar from the BBQ sauce. The Dietary Guidelines for American's 2020–2025 recommends getting less than 10% of your daily calories from added sugars, or less than 50 grams on a 2,000-calorie diet.
PER SERVING (4 wings): 310 calories, 20 g fat (5 g saturated fat), 790 mg sodium, 21 g carbs (0 g fiber, 10 g sugar), 15 g protein
Just four Domino's Sweet Mango Habanero Wings have 790 milligrams of sodium, or 34% of the recommended limit.6254a4d1642c605c54bf1cab17d50f1e
"High levels of sodium can lead to high blood pressure and an increased risk of cardiovascular disease," says Wan Na Chun, MPH, RD.  
PER SERVING (6 wings): 440 calories, 28 g fat (10 g saturated fat), 1,430 mg sodium, 17 g carbs (2 g fiber, 1 g sugar), 29 g protein
Just six of Sonic's Buffalo Boneless Wings has 10 grams of saturated fat, which is 76% of the recommended limit or 13 grams per day by the American Heart Association.
"High saturated fat intake is associated with an increased risk of heart disease and elevated levels of LDL cholesterol, commonly known as 'bad' cholesterol," explains Hulsey.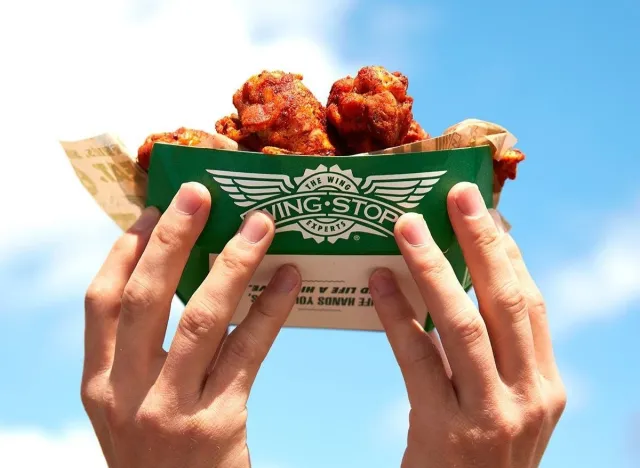 PER SERVING (10 wings): 900 calories, 50 g fat (15 g saturated fat), 3,100 mg sodium, 0 g carbs (0g fiber, 0 g sugar), 50 g protein
"While Wingstop is known for its wide array of flavorful chicken wings, the wings are typically deep-fried and coated in a variety of sauces and seasonings, which can significantly increase their calorie, fat, and sodium content," says Hulsey.
Ten wings has 3,100 milligrams of sodium, or 135% of the recommended limit in one day, along with 15 grams of saturated fat, which is 115% of the recommended daily limit.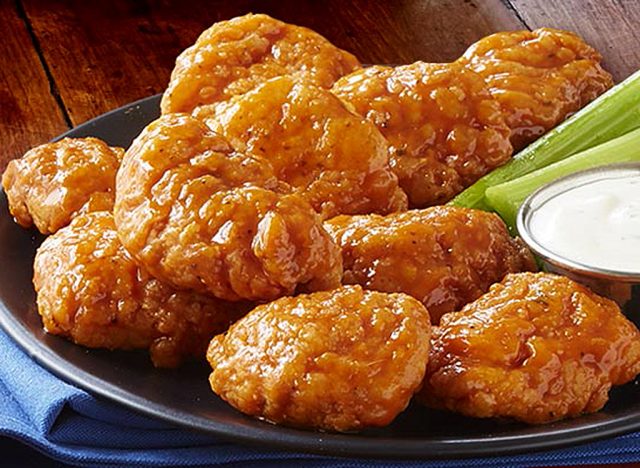 PER SERVING (5 wings): 450  calories, 30 g fat (5 g saturated fat), 2,000 mg sodium, 25 g carbs (0 g fiber, 0 g sugar), 25 g protein
The Buffalo Garlic Blaze Boneless Wings at Zaxby's are one of the better options for fast food wings when looking at saturated fat and calories. Five wings has only 5 grams of saturated fat and 450 calories, but because of the high sodium content of 2,000 milligrams for just five wings, you may want to choose a different, lower sodium sauce.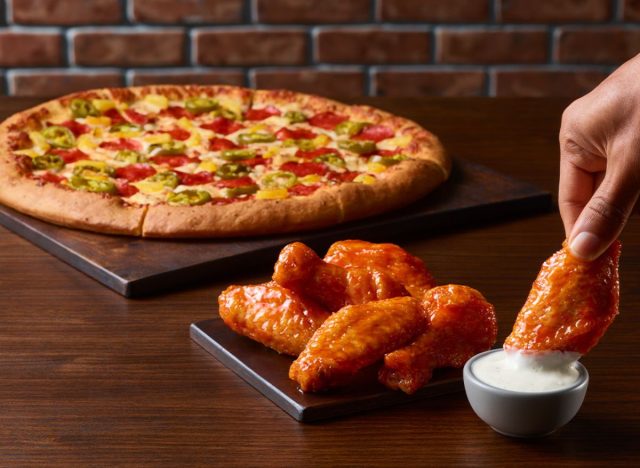 PER SERVING (6 wings): 710 calories, 47 g fat (11 g saturated fat),1,950 mg sodium, 17 g carbs (1 g fiber, 3 g sugar), 55 g protein
The Spicy Garlic Bone-In Wings at Pizza Hut are high in saturated fat and sodium, but not quite over the daily limit in each serving. Six wings have 11 grams, or 85% of the daily limit, of saturated fat, and 1,950 milligrams of sodium, 85% of the daily limit.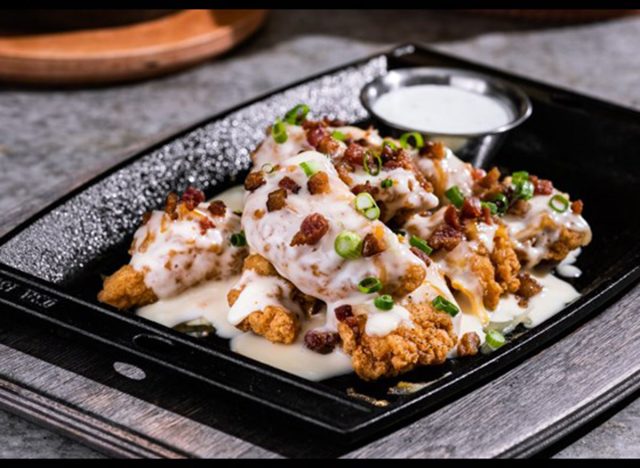 PER SERVING (11 wings): 1,060 calories, 71 g fat (12 g saturated fat), 3,810  mg sodium, 57 g carbs (4 g fiber, 2 g sugar), 49 g protein
Although Chili's is technically considered to be a "casual dining" spot, its swift and easy Chili's fast, easy, to-go curbside pickup option makes this chain's food more accessible than ever. That said, if you're a part of one and also trying to watch your sodium intake, you may want to opt for something else on their vast menu besides their Boneless Buffalo Wings.
"Boneless Buffalo Wings from Chili's have 3,810 milli of sodium, so if you eat these as your entree, you will have consumed close to double the recommended sodium intake for an entire day," says Bethany Keith MS, RDN, LD, CNSC. 
They also have 1,060 calories per serving. Sharing these wings as an appetizer is a much better option than eating all 11 as an entree.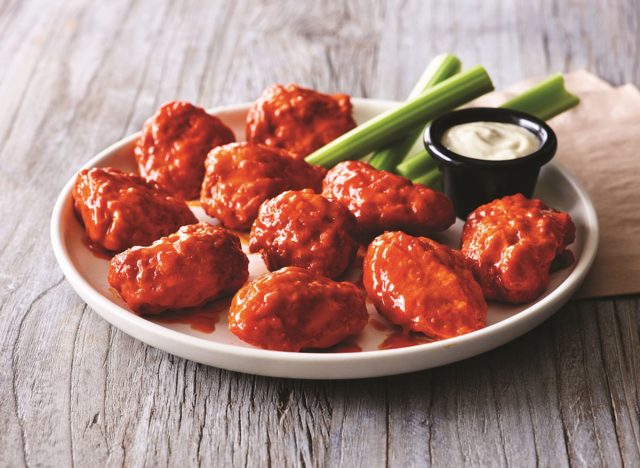 PER SERVING (10 wings): 840 calories, 53 g fat (14 g saturated fat), 4,250  mg sodium, 53 g carbs (4 g fiber, 0 g sugar), 40 g protein
Similar to Chili's, Applebees is another fast-casual chain offering a convenient curbside pickup option to diners across America. Although getting takeout grub from this chain is a convenient way to grab a meal on the go, the Boneless Hot Buffalo Wings aren't exactly the healthiest menu pick, especially if your plan is to eat them yourself as your main meal. Eating all 10 wings as an entree will give you almost double the amount of sodium you should have in a day, with 4,250 milligrams in each serving.  Because of the amount of breading used, they're also high in carbohydrates, with 53 grams per serving. An order of Applebees Boneless Hot Buffalo Wings has 10 wings, which could be split as an appetizer—and doing so would them slightly better for you.
Share and Follow