Share and Follow
When you go out for a meal, you might opt for fried chicken or be in the mood for pizza. On the other hand, you might be craving something that's grilled to perfection and slathered in BBQ sauce. If the thought of the latter already has your mouth watering, you might be the kind of person who appreciates a delicious BBQ sandwich. Of course, if you're also concerned about how the food you consume affects your body, then you might want to know—and perhaps stay away from—the unhealthiest sandwich at various BBQ restaurants.
"BBQ sandwiches are a popular and flavorful option in many restaurants, offering a combination of smoky, savory, and often sweet flavors," Registered Dietitian Mary Sabat, MS, RDN, LD tells Eat This, Not That! "They typically consist of slow-cooked and smoked meats, accompanied by various sauces and toppings, all sandwiched between bread." When it comes to the "appeal of BBQ sandwiches," Sabat points out that it "lies in the rich taste and textures that they offer."
However, Sabat notes that although these may be rather tasty sandwiches, "their healthiness can vary greatly depending on the ingredients, portion sizes, and preparation methods used." For instance, you need to check out the following sandwiches that tend to go overboard when it comes to calories, sodium, fat, and so much more. Read on, and for more, don't miss The #1 Unhealthiest Burger at 13 Major Restaurant Chains.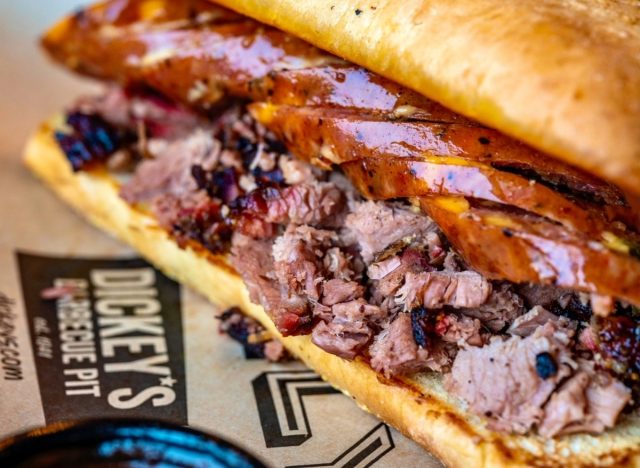 Per sandwich: 951 calories, 63 g fat (23 g saturated fat), 1,911 mg sodium, 53 g carbs (1 g fiber, 7 g sugar), 38 g protein
"The Westerner Sandwich might be considered unhealthy due to its combination of pulled pork, jalapeno cheddar [Kielbasa] sausage, and barbecue sauce," says Sabat. On top of that, any diner who dares to order this sandwich will also find themselves eating cheese and beef sausage on a toasted bun. Although it might be both savory and satisfying, Sabat explains that "these ingredients can contribute to high levels of sodium, saturated fats, and calories."
Per sandwich: 880 calories, 55 g fat (21 g saturated fat, 1 g trans fat), 970 mg sodium, 54 g carbs (2 g fiber, 42 g sugar), 11 g protein
City Barbecue's More Cowbell Sandwich may be made with award-winning beef brisket, however, the meat along with the other no-so ideal ingredients—fried onions, horseradish sauce, and provolone, as well as sautéed peppers and onions on Texas toast—combine for a whopping total of 880 calories. You can also add sauce on the side which adds another 30 calories into the mix. That's not to mention the side and soda you would likely enjoy with the meal.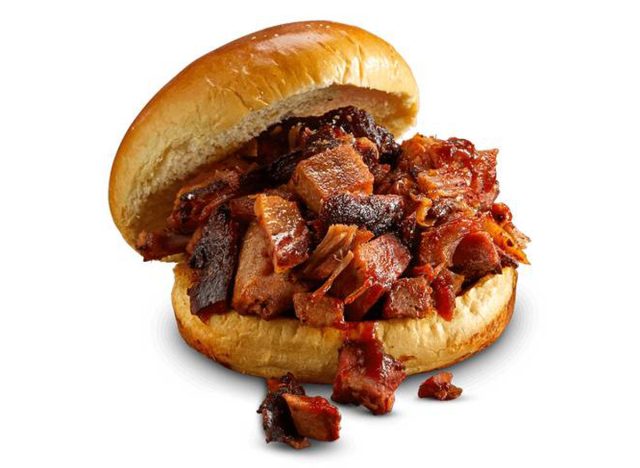 Per sandwich: 730 calories, 38 g fat (12 g saturated fat), 1,660 mg sodium, 47 g carbs (2 g fiber, 21 g sugar), 49 g protein
Famous Dave's Georgia Chopped Pork Sandwich, is an over-the-top choice that that's includes smoked pork that's drenched in their signature "Rich & Sassy Sauce." Although it's accompanied by your choice of side and a helping of "Hell-Fire Pickles," the sandwich alone reaches 730 calories with a whopping 1,660 milligrams of sodium. On top of that, the sugar levels are particularly high due to the sweet sauce which contains 21 grams of total sugar. When paired with your choice of side, this meal skyrockets when it comes to unhealthy caloric and fat levels.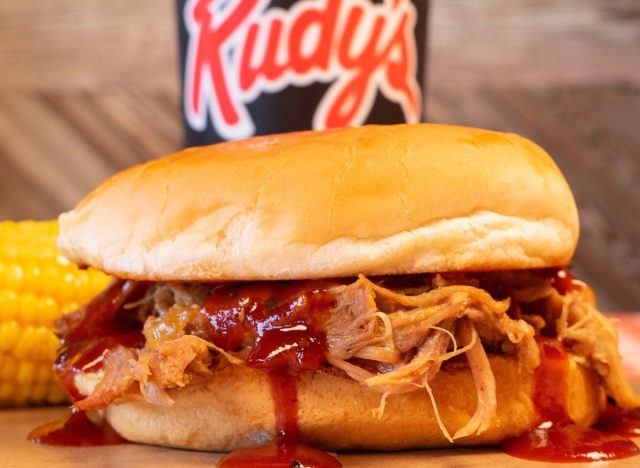 Per sandwich: 1206 calories, 59 g fat (21 g saturated fat), 3,087 mg sodium, 110 g carbs (4 g fiber, 24 g sugar), 56 g protein
Rudy's Real Texas Bar-B-Q claims that "Technically, our sandwiches are just meat in the middle of a bread hug. That's real love." To be a little more specific, their offerings include items like Rudy's Real Texas Bar-B-Q 2 Meat Sandwich in which love is apparently sausage along with "spicy chop." That's not to mention the 1,206 calories and 3,087 milligrams of sodium.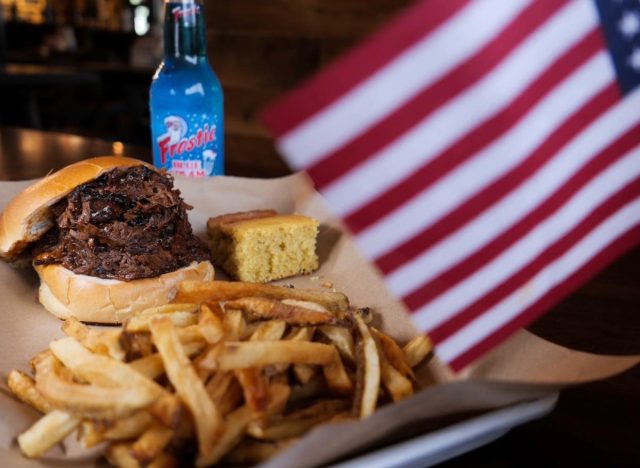 Per sandwich: 594.83 calories, 46.28 g fat (18.57 g saturated fat), 1,212 mg sodium, 2.71 g carbs (<1 g fiber, 0.06 g sugar), 39.38 g protein
There's surely no doubt that brisket can be a tasty treasure and layering it onto a sandwich can be a fabulous way to enjoy it. Unfortunately, when it comes to Mission BBQ's Brisket Sandwich, Sabat says that the "focus on a fatty meat like brisket, combined with sauces and toppings, can contribute to a high-calorie and high-fat meal."
Per sandwich: 610 calories, 55 g fat (24 g saturated fat), 930 mg sodium, <1 g carbs (<1 g fiber, 0 g sugar), 27 g protein
By now, you've likely noticed that you may want to be wary of the brisket sandwiches that pop up on barbecue restaurants' menus. That's certainly true when it comes to Jim 'N Nick's Bar-B-Q and its Beef Brisket Sandwich. Including a "rich, marbled brisket," that's "smoked for 12 hours," the sandwich contains 610 calories and 930 milligrams sodium as well as 24 grams of saturated fat.
Read Related Also: 5 Daily Workouts for Women to Sculpt a Lean Waist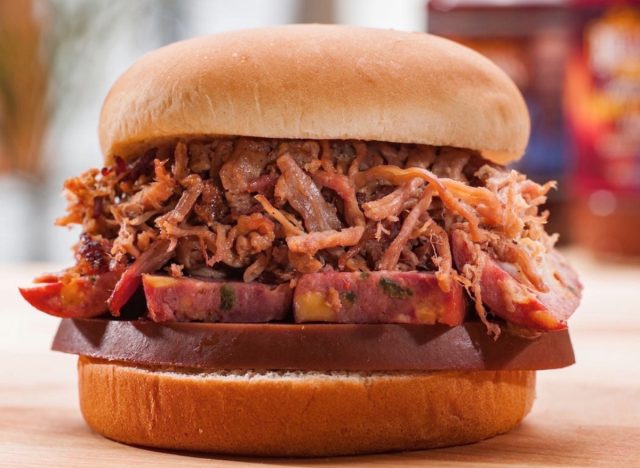 Per sandwich: 700 calories, 44 g fat (16 g saturated fat), 1,800 mg sodium, 33 g carbs (0 g fiber, 9 g sugar), 41 g protein
Billy Sims Barbeque claims that The Heisman Pulled Pork Sandwich is its "most celebrated sandwich." Diners apparently can't get enough of the bologna piled high with hot links that are paired with either pulled pork or chopped brisket depending on your preference. Although your choices will alter the exact nutritional info, you'll generally be consuming around 700 calories whenever you eat one of these over-the-top sandwiches.
Per sandwich: 690 calories, 41 g fat (15 g saturated fat), 3,220 mg sodium, 3 g carbs (0 g fiber, 0 g sugar), 83 g protein
Old Carolina's Barbecue Brisket Sandwich is served with a choice of sliced or chopped meat. Featuring a dry rub and Beef Au Jus, they may have minor differences but both versions of this sandwich pack in around 690 calories and 3,220 milligrams of sodium which means that you might not want to opt for either.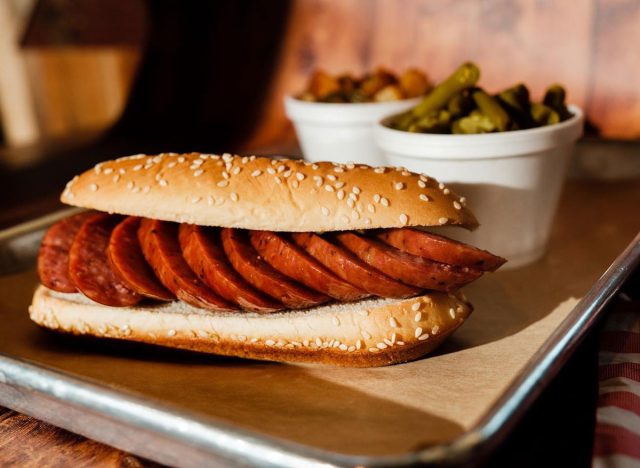 Per sandwich: 600 calories, 34 g fat (13 g saturated fat), 1,230 mg sodium, 42 g carbs (<1 g fiber, 6 g sugar), 21 g protein
The Soulwich Sandwich with Sausage is a large hoagie-style item chock-full of savory pork sausage slathered in BBQ sauce on a 6-inch white roll. However, all this barbecued brilliance comes with a fair share of sodium, carbs, and calories. The sodium content reaches 1,230 milligrams, followed by 42 grams of total carbs, and 600 calories. This is all for the sandwich alone. If you were to upgrade to the Sandwich Plate option which includes your choice of two sides, then you would be upping your caloric intake considerably. For instance, by adding fries and a side of baked mac & cheese, the calories would jump another 455 calories, not to mention sodium levels adding another 805 milligrams to your meal.
Per sandwich: 503 calories, 31 g fat (12 g saturated fat), 655 mg sodium, 380 g carbs (2.5 g fiber, 6 g sugar), 24 g protein
You may not think of L&L Hawai'i BBQ Cheeseburger as a sandwich, however, it is technically meat in between bread (and isn't that really all a sandwich is?). This burger is smothered in the restaurant's L&L House Special BBQ sauce, racking up 503 calories—and that's without the side of fries.6254a4d1642c605c54bf1cab17d50f1e
Per sandwich: 1,442 calories, additional information unavailable
Smokey Bones offers a menu item called the "Brisket 'Stuffed' Grilled Cheese," which has a staggering 1,442 calories; however, their nutritionals conveniently appear to leave out the rest of the nutritional information beyond calories. This grilled cheese, which is stuffed with chopped brisket, cheddar, jack, and American cheese, is most certainly the unhealthiest sandwich on the Smokey Bones menu, followed closely by the Crispy Buffalo Chicken Sandwich (which does actually have all the nutrition information). This buffalo sandwich comes in at 900 calories, 12 grams of sugar, and a staggering 3,300 milligrams of sodium.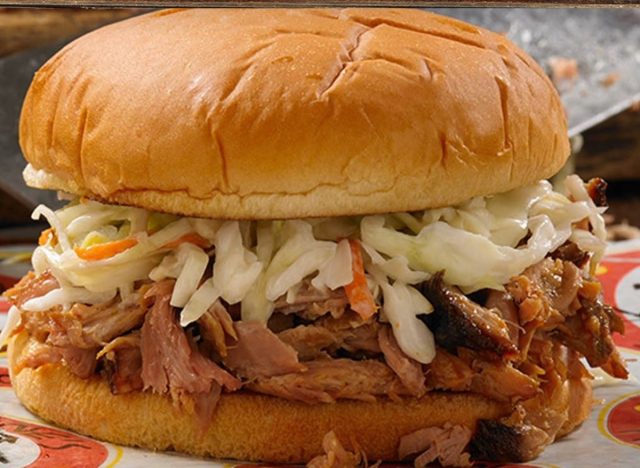 Per sandwich: 770 calories, 44 g fat (9 g saturated fat), 1,350 mg sodium, 79 g carbs (3 g fiber, 34 g sugar), 30 g protein
Pork butt is coated in "butt rub" (yes, that's actually what it's called) and BBQ sauce and then topped with coleslaw and liquid margarine to make up Shane's Rib Shack Smothered Pork Sandwich. All of these toppings bring the menu item to 770 calories and 1,350 milligrams of sodium. Of course, just like the other sandwiches found here, this is enough on its own without adding sides, a sugary beverage, and perhaps a sweet, calorie-packed dessert.
Share and Follow