Publisher's summary: Miles, a lead creative at a midsize virtual reality company known for its "original experiences," has engineered a new product called The Ghost Lover. Wildly popular from the outset, the "game" is simple: a user's simulated life is almost identical to their reality, except they're haunted by the ghost of an ex-lover.
However, when a shift in the company's strategic vision puts The Ghost Lover at the center of a platform-wide controversy, Miles becomes the target of user outrage, and starts receiving a series of anonymous death threats. Typed notes sealed in envelopes with no postage or return address, these persistent threats push Miles into a paranoid panic, blurring his own sense of reality, catalyzing the collapse of his career, his marriage, and his relationship with his children.
The once-promising road to success becomes a narrow set of choices for Miles, who, in a last ditch effort to save his job, pitches his masterpiece, a revolutionary device code-named the Egg, which will transform the company. The consequences for Miles seal him inside the walls of his life as what was once anxiety explodes into devastating absoluteness.
In a world rife with the unchecked power and ambition of tech, Users investigates—with both humor and creeping dread—how interpersonal experiences and private decisions influence the hasty developments that have the power to permanently alter the landscape of human experience.
Arch-Conspirator by Veronica Roth
Type: Novel
Publisher: Tor Books
Release date: February 21
Den of Geek says: YA hit Divergent author Veronica Roth's adult new novel has generated a lot of buzz. Like her more famous book, it's coming out at the forefront if not the beginning of a wave, with Greek myth retellings being all the rage. Roth's places the story on a familiar-sounding landscape that nevertheless really takes place on a post-apocalyptic Earth.
Publisher's summary: I'm cursed, haven't you heard?"
Outside the last city on Earth, the planet is a wasteland. Without the Archive, where the genes of the dead are stored, humanity will end.
Antigone's parents – Oedipus and Jocasta – are dead. Passing into the Archive should be cause for celebration, but with her militant uncle Kreon rising to claim her father's vacant throne, all Antigone feels is rage.
When he welcomes her and her siblings into his mansion, Antigone sees it for what it really is: a gilded cage, where she is a captive as well as a guest.
But her uncle will soon learn that no cage is unbreakable. And neither is he.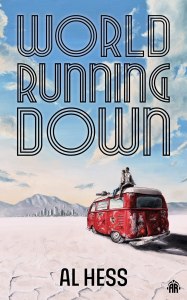 World Running Down by Al Hess 
Type: Novel
Publisher: Angry Robot
Release date: February 14
Den of Geek says: World Running Down is a Valentine's Day release in the vein of Becky Chambers' cozy, progressive science fiction.