Residents in a Birmingham suburb are fighting to stop an eighth betting shop opening on their high street, saying the shops are "changing the fabric of the local area".
There are already seven betting shops in Erdington, which is among the 10% of the most deprived areas in the country, and a consultation over the opening of an eighth ends on Thursday.
The application was initially blocked by Birmingham city council, but the government Planning Inspectorate is now considering an appeal by the betting firm BoyleSports.
Paulette Hamilton, the Labour MP for Birmingham Erdington, said the bookies were gradually turning the street "from a shopping centre into a betting centre".
She said: "The heart and soul has been taken out of our community with all these betting shops, and it is the biggest complaint I hear about on the doorstep.
"We are changing the fabric of a local area from a place where families and different communities were able to mix together, to a place where you're just getting a certain type of person coming to gamble."
She said she was particularly angry about the issue as last month the government rejected a £10m levelling-up bid to transform Erdington high street with "business incubation space, housing, cultural, leisure and social activities".
"Our high streets are dying. And it feels like the government just don't care about areas like Erdington," she said.
Basharat Dad, an Erdington resident and community campaigner, said many residents and local businesses had reached a point where "enough is enough".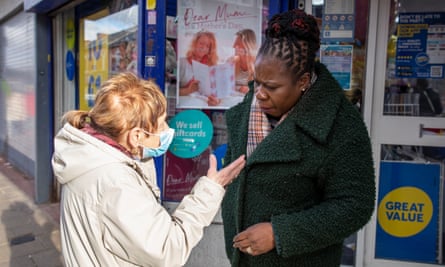 "Some do like a bet, but we don't need eight shops within one stretch of the high street," he said. "Unfortunately, a lot of crime and antisocial behaviour is associated with the betting shops, and we're getting to the stage where women and children are finding it difficult to go on to the high street because they don't feel safe."
He also said many residents were concerned that betting companies were targeting poorer areas where people are more likely to turn to gambling as a means of making money.
"It can be a vicious cycle, which has an impact on mental health, on domestic violence within the household, on people's income. All these things add up, and it can ruin whole families and whole communities," he said.
"How do we get out of this mess? It needs residents to take action."
He went door to door in the area with a petition gathering support to object to the application, and has been directing people to help them voice their concerns to the Planning Inspectorate.
"Even a small win like blocking another betting shop I think would give the community more confidence and self-belief to think: what else we can achieve collectively to improve the high street?"
Hamilton said she was concerned that the shops were becoming a magnet for vulnerable people living in nearby houses in multiple occupation (HMOs), which are accumulating in the area.
"I do have a lot of concerns because it's not helping people's mental and physical health," she said. "The high street is just descending into something only certain groups of people would go to."
BoyleSports has been contacted for comment.