Key events
45 min There will be one minute of added time.
45 min I'd love to know how many touches Richarlison and Mitrovic have had between them. It's not in triple figures, that's for sure.
43 min "Is it just me," writes Chris Barry, "or does the Brazil coach Tite remind anyone else of Harry Grout from Porridge?"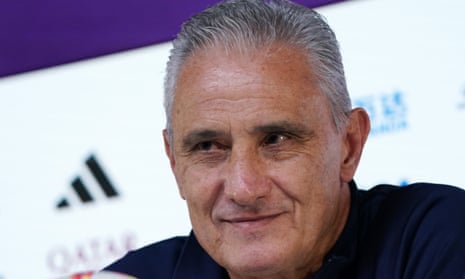 41 min Serbia almost pay the price for daring to attack. Brazil break, with someone (I DON'T KNOW OKAY) hammering a long pass downfield. Milenkovic tried to hook it over his shoulder, just inside the area, but kicked it against Vinicius Jr. He ran through on goal and was about to shoot when Milenkovic made a fine recovery tackle.
39 min Possession-watch: Brazil 60-40 Serbia. It feels closer to 70-30, but there you go. Either way, Serbia will be almost entirely chuffed with how the first half has gone.
37 min Tadic plays a return pass to the underlapping Zivkovic, whose very deep cross is headed wide by Mladenovic (I think). An eighth chance at best.
36 min "The days of the creative attacking Brazilian team are long gone," writes Jeff Sachs. "All that's left is the constant fouling … a hallmark of South American soccer today."
35 min: Chance for Raphinha! Brazil should be in front. Raphinha swaggers infield from the right, plays a gorgeous one-two with Paqueta but then sidefoots tamely at Milinkovic-Savic from about 15 yards.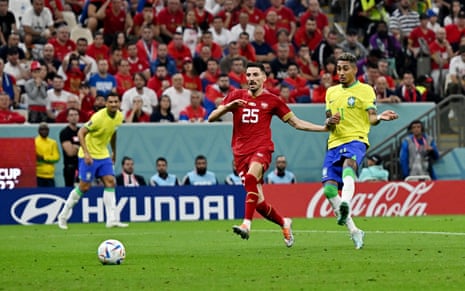 34 min Serbia's formation is theoretically 3-4-2-1, but at the moment it's more of a 5-4-0-1. Still, it's working.
31 min Raphinha takes a corner short to Paqueta, who returns it with a stylish backheel. Raphinha crosses low to the near post and Milinkovic-Savic grabs the ball in front of Thiago.
30 min Casemiro arrows a superb pass towards Raphinha on the right side of the area. He heads it across the area and Milenkovic heads behind. Casemiro's passing is a farce.
Football Weekly department
27 min: Terrific goalkeeping from Milinkovic-Savic! Thiago Silva, the old rogue, walks forward unchallenged and slices a forensic pass to put Vinicius through on goal, but Milinkovic-Savic is so quick off his line and dives bravely at Vinicius's feet.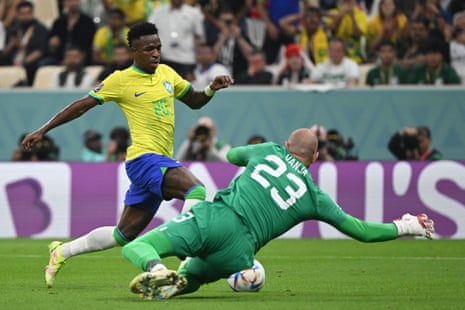 26 min "The most irritating aspect of the Brazilian national team for the last three decades or so is their constant tactical fouling," says Kári Tulinius. "For instance, it seems they take turns kicking whichever Serbian player has the ball near the halfway line, stopping attacks before they develop. It's effective, but deeply annoying, and why I've never warmed to them."
Yes, it's interesting that, in the last 30 years, Brazil have been the world's chief exporter of defensive midfielders. I don't think they even acknowledged their existence until the late 1980s.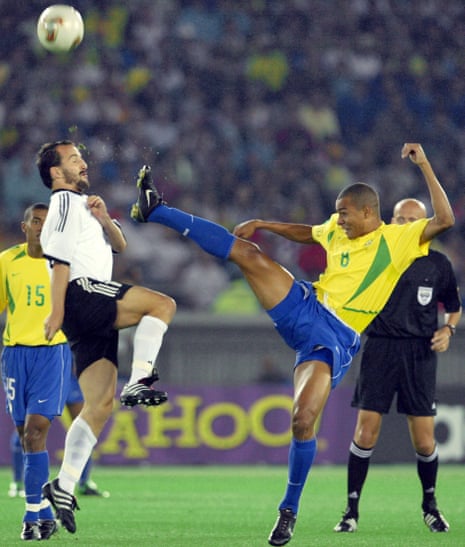 25 min That's a bit better from Serbia. Tadic moves down the right and angles a deep cross towards Mitrovic. Alisson comes from his line to claim with authority.
24 min Serbia look pretty comfortable defensively, but they haven't yet given Alexsandar Mitrovic anything to feast on. It's an intriguing game rather than an exciting one.
23 min "Hi Rob," says Kevin Dwyer. "As a young apprentice electrician in 1966 I was inspired, along with several on my fellow apprentices, by the England victory in the World Cup Final. Six of us decided to save up £4 per week out of our meagre wages to attend the 1970 World Cup. Two of us stuck with it despite the siren call of music, drink and women. As a 21-year-old I watched all of the England games plus the final in the Azteca stadium. I've seen the greats of that era in the flesh, and the laissez-faire attitude of the time saw us mingling with the players in their hotels.
"The years rolled on and the doctors told me that the last World Cup would almost certainly be my last one too. Here I am, still enjoying the Guardian's coverage of the game waiting for the updates to pop up in the timeline."
Well that's my favourite email of the World Cup so far.
21 min Casemiro hits a curler from distance that is comfortably saved by Milinkovic-Savic.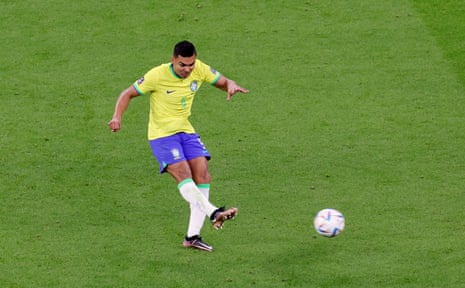 21 min Neymar hits a stinger from 30 yards that is blocked by Veljkovic. That was beautifully struck.
20 min Paqueta loses the ball to Sergej Milinkovic-Savic, who tries to launch a break but is instantly dispossessed by Casemiro.
19 min "As it is Thanksgiving here in the USA, I want to give thanks to Richarlison for more or less single-handedly keeping Everton up last season," says Matt Burtz. "And I want to thank Brazil for having some of the best uniforms in all of sports."
17 min Serbia enjoy their first extended spell of possession. They don't look overawed, even if they haven't yet bothered Alisson.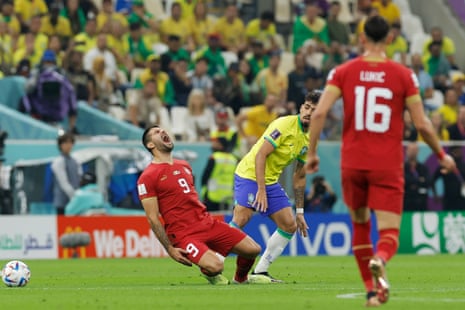 14 min: Neymar almost scores from the corner! And I'm pretty sure he meant it. He spotted Milinkovic-Savic wandering towards the six-yard line and curled a wicked inswinger under the crossbar. Milinkovic-Savic scampered backwards to tip it over.
13 min The first thrilling run from Vinicius Jr. He scorched past Zivkovic, who recovered well to concede a corner with the help of Veljkovic (I think).
12 min Danilo loses the ball near the halfway line, Casemiro wins it back with the minimum of fuss. He really is a majestic player.
10 min "Genuinely thankful for the Guardian MBM," says nobody, ever Rachel Clifton. "The Fox coverage here has been dreadful – awful analysis, complete grovelling to Qatar (surely nothing to with the national airline sponsoring the coverage / giving them free flights)… wishing my Spanish was better so I could watch Telemundo instead."
9 min Casemiro lends the ball to a few people in quick succession and then arrows a superb disguised pass to Neymar in the area. He controls it deftly but doesn't have time to get a shot away and then runs into trouble. That was a helluva pass from Casemiro.
8 min Sergey Milinkovic-Savic makes a beeline for the Brazil area and is stopped on the edge by Marquinhos.
8 min "Just wondering if it's true that we 'all love Brazil'?" says Ed Rostron. "They're still dining out on that jogo bonito reputation but there've been an awful lot of cynics, cloggers, cheats and clowns in their sides over the last 30 years. I don't know if they're the neutrals' favourites these days: remember how we all laughed when Germany, normally the pantomime villains, obliterated them in their own back yard?"
The greatest trick the devil ever pulled…
6 min Pavlovic is booked, maybe a little harshly, for a foul on Neymar.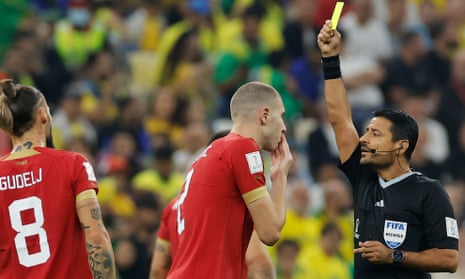 5 min "Dream World Cup final?" muses Simon McMahon. "Scotland v England, obvs. But that can't happen, not this time at least. So, USA v Iran. Failing that, India v Pakistan."
4 min The first bit of excitement. Raphinha loses Pavlovic on the right and drives a low cross that is kicked away at the near post.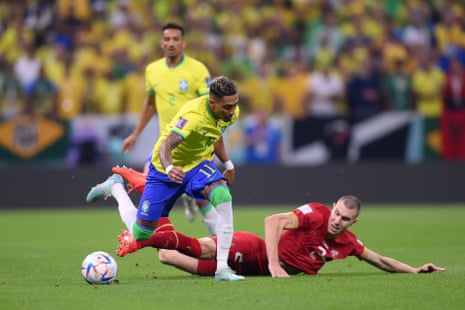 3 min A slow start, nothing much to report. Brazil look to be playing with a 6 (Casemiro), an 8 (Paqueta) and a 10 (Neymar) – an increasingly popular system used by, among others, Arsenal men and England women.
1 min Peeeeeeep peeeeeeep! Brazil kick off from left to right as we watch.
Apparently Filip Kostic is only fit enough for the bench, which explains what would have been a peculiar omission.
"We may all love Brazil," writes Richard Hirst, "but tonight there's a certain part of west London that will be forever Serbia: cos Mitro's on fire!"
And he'll be up against another hero of west London: Thiago Silva.
The players are on the field, ready for business. There are thousands of Brazil fans, most of them wearing the famous yellow shirt.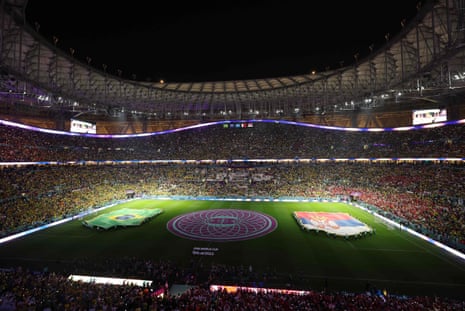 "What is your dream World Cup final?" asks Kurt Perleberg. "Mine is Brazil vs the USMNT."
Portugal v Argentina would be lively, for obvious reasons, but I'd really like to see Brazil v Spain.
Serbia's manager is Dragan Stojkovic, the man who produced one of the more delicious first touches in World Cup history. It's after 2m22s, but you might as well watch the whole video.
Twenty minutes to kick off
It's time for a reminder of why we all love Brazilian football
It's a decent team that can leave this chap on the bench
"Hail fellow and well met, Ringo!" writes Aaron Roston. "Do you know what the attendance at the games has been like? I've seen a fair number of empty seats. Of course there's the real attendance numbers and then there's Fifa numbers… And Brazil would've won in 66 if Pele hadn't been viciously fouled and knocked out of the tournament."
Hmm, I'm not sure about the last point – weren't they between great generations? Garrincha was sadly past it, Djamla Santos was 37, Jairzinho and Tostao were bairns.
As for the attendances, the empty seats are an optical illusion caused by your subconscious prejudice.
The first game in Group G was played earlier today. Switzerland, an awkward bunch whose presence makes this a tricky group to predict, beat Cameroon 1-0.
Jonathan Liew's preview
Tite has taken the attacking option, picking Vinicius Jr ahead of Fred. That means Neymar moves infield to play as a No10, and Lucas Paqueta drops back alongside Casemiro.
Dragan Stojkovic has left the Juventus pair of Filip Kostic and Dusan Vlahovic on the bench, with Aleksandar Mitrovic up front.
Brazil (4-2-3-1) Alisson; Danilo, Marquinhos, Thiago Silva, Alex Sandro; Casemiro, Lucas Paqueta; Raphinha, Neymar, Vinicius Jr; Richarlison.
Substitutes: Weverton, Ederson, Fred, Dani Alves, Eder Militao, Fabinho, Alex Telles, Bruno Guimaraes, Gabriel Jesus, Antony, Rodrygo, Everton Ribeiro, Bremer, Pedro, Martinelli.
Serbia (3-4-2-1) V Milinkovic-Savic; Veljkovic, Milenkovic, Pavlovic; Zivkovic, Lukic, Gudelj, Mladenovic; Tadic, S Milinkovic-Savic; A Mitrovic.
Substitutes: Dmitrovic, Rajkovic, Erakovic, Maksimovic, Radonjic, Jovic, S Mitrovic, Babic, Kostic, Vlahovic, Racic, Djuricic, Lazovic, Ilic, Grujic.
Referee Alireza Faghani (Iran).
What comes next in this sequence: 4, 8, 24, 8, ?
It's 4, right? No, of course it isn't. Roberto Carlos pulled his socks up at the wrong moment and Brazil didn't win the 2006 World Cup. We don't know what comes next, but all connected with the Seleção will hope it's 20. The sequence – as I'm sure you knew anyway, you heritage fan you – is the number of years between Brazilian World Cup wins since their first triumph in 1958.
They also won it in 1962, 1970, 1994 and 2002. Since then: nada. Zilch. Bugger all. Not even a final. They're overdue.
This the last chance for Thiago Silva to win a World Cup, probably Casemiro and Neymar too. Tite's side are favourites to win Qatar 2022 – but they were also favourites in 1982, 1986, 1994, 1998, 2006, 2010 and 2014, so I'm not sure what the moral of this particular story is.
Their attacking options are such that the magnificent Vinicius Jr is not a guaranteed starter. Tite needs to choose between him or Fred, which isn't the obvious duh-cision you might expect. If he picks Vinicius, Casemiro will be the only watercarrier in town, and Brazil have generally preferred pragmatism since Tele Santana's idealists failed to win the World Cup in 1982 and 1986.
Brazil have been banging in the goals of late, even with a relatively pragmatic system – but then so have Serbia, who tick most of the dark-horse boxes. This is a really awkward first game for Brazil. Serbia qualified ahead of Portugal and also have serious options in attack, including Dusan Vlahovic and Aleksandar Mitrovic. They won't fear Brazil; they don't fear anyone.
It's the last game of the first round of fixtures, and it could be a cracker.
Kick off 7pm GMT, 4pm in Rio de Janeiro, 8pm in Belgrade.