Key events
I've not a clue what's going to happen after the break. Both sides have shown enterprise in attack, intensity in midfield and fallibility at the back, so there's pretty much no outcome – result or winning margin, if indeed we get a winner – that would be surprising. I'm off to clear my head of sulphuric acid, but see you in 10 for more fun.
Half-time: Brighton 1-1 Aston Villa
That was a splendid half of Premier League FootballTM, Brighton taking the lead in the first minute and Villa doing really well to fight their way back into it.
45+4 min Kamara heads clear again, and that'll be enough to see Villa into the break at 1-1.
45+3 min Kamara heads away at the near post, and here comes another corner with time in the half up.
45+2 min Martinez keeps coming off his line and this time, the ball is whipped towards the far post, forcing him to tip away as Dunk hunts around the back of him. Corner again…
45+1 min Brighton are trying to hit Estupinan whenever they can and another big switch has McGinn sliding in to concede another corner.
45 min These teams are pretty well-matched and both are seeking to attack – neither has settled for half-time, and we learn there'll be three additional minutes prior to it.
43 min In co-comms, Jamie Carragher praises Martinez's kicking and it's only right we do too. Since his role in the concession of that first-minute goal, he's used the ball really well – I guess the question is whether the good passes are worth the bad, and the way football is going, it seems that those whose job it is to answer that question already have done. Ultimately, though, to play that way you need centre-backs who are happy on the ball, and I'm not certain Villa have that.
41 min Colwill slides out to Estupinan, but this time Villa get out to him well and build an attack of their own … until Caicedo extends a leg that nails Kamara.
40 min Digne robs March, who leaves one on him as punishment.
38 min "Perfecto-ly apt Ibiza track," emails Francis Lee. "This was the first track that occurred to me. It then seemed rather "perfecto", given my dread of Ings not getting much service – but now also when picturing him taking the pen."
37 min It's end-to-end stuff and Brighton win another corner down the right; this time they don't go short, Trossard curling in, and this time Martinez comes to claim.
36 min It's a decent one too, Douglas Luiz nearly getting on the end of it before Brighton clear.
35 min First bit of Villa for a bit, Buendia playing into Ings, who touches off adroitly for Ramsey, arriving onto it … and Dunk slides in really well to block the attempted sidefoot curler. Corner.
34 min Brighton have obviously practised the corner shot to Caicedo, and they're targeting the back post; they go again, but this time the ref blows up for a foul on Ings.
33 min Brighton are bang on top again and they're keeping the width down the left really well, another ball out to that flank allowing another cross, which earns another corner.
32 min …which goes to the near post, whipped, and again, Martinez wanders, having to scuttle back to turn it away!
31 min Again, Brighton attack down the left, Cash seeming to hurt and arm or shoulder sliding in to not block a cross from Estupinan. But someone else does the job, so it's another corner…
30 min This first half-hour has flown by. I really like what both managers are trying to do with these sides, and how quickly they seem to be making an imapct.
30 min Villa half-clear, then Cash blocks Estupinan's drive from distance.
28 min The home crowd are getting after Mings, who finds himself pressed by Welbeck. Pinned into the corner, he wins a throw, but Brighton will be wanting to get "in and around" him, because he's on a booking and looking shaky. Meantime, here comes another Brighton corner…
27 min Both sides have responded well to disappointment, and/or badly to, er …appointment. Villa improved after going behind and now Brighton are improving after losing their lead.
26 min Mings goes well to win possession only to switch off thereafter, allowing himself to be pickpocketed by Trossard. He decides to pull his man back, those danger isn't imminent, and this time he is booked.
25 min We didn't hear the managers before kick-off, so we can't be certain what's what, but Si Hall generously emails to let us know that Watkins is ill and Bailey was only well enough for the bench in midweek, so same rules probably apply now.
23 min Trossard goes short and Caicedo curls to the back post, but the whistle goes – whether for handball or offside I'm unsure.
23 min Brighton win a corner down the right…
21 min Dunk's challenge was really very silly – the ball was running away from McGinn, who must've been delighted to find himself assaulted in that manner.
GOAL! Brighton 1-1 Aston Villa (Ings pen 20)
Ings goes middle-left and Sanchez dives left-left, thrusting up a hand … but one that can only prang ball into net! This is shaping up!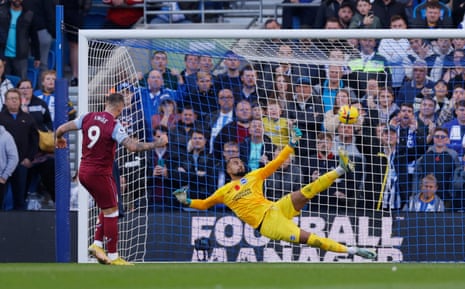 We could see Villa were coming and here they are! Buendia slides a fine pass in behind for the onrushing McGinn and though he's running away from goal, Dunk panics, sliding in ad taking none of the ball but plenty of the man! That's your 4-2-2-2s of this world for you, and here comes Ings….
17 min Yep, Villa have arrived into the game, Ramsey, looking fine – more than fine – striding down the left and sliding a lovely pass through a tiny gap and in behind for Ings, who takes a touch and squares … but McGinn, in the middle, has got himself a head of the ball, allowing Caicedo to hump away.
16 min ""Seeing that Sopranos clip," says Kristof Künssler-McIlwain, "I'm considering rewatching it and pretending Tony were actually a Premier League manager, and the back room of the Bing is his coaching office. Or can someone just make that show?"
Paulie as Rui Faria, Chrissy as Andre Villas-Boas.