Key events
32 min: Rodrygo dribbles at full pelt down the inside-left channel. Fai feels he has little option but to clip his ankle, and goes into the book. If Cameroon make it through, he'll not be playing in the last-16 tie.
30 min: Rodrygo bashes the free kick witlessly into the Cameroon wall. Fabinho makes a half-arsed claim for a handball and a penalty, but he surely can't believe it.
29 min: Serbia have equalised against Switzerland, Aleksandar Mitrović firing home a sensational header. It's 1-1 in Stadium 974, and now Group G looks like this:
28 min: Rodrygo hip-shakes in from the right and reaches the edge of the Cameroon D. He's clipped cynically by Kunde, who goes into the book. A free kick in a central position, 25 yards out.
27 min: … and when I typed that, I meant a Brazilian goal. But now Ngamaleu dribbles in adroitly from the left flank and prepares to shoot. Fabinho blocks before he can get a meaningful effort away.
25 min: Brazil are beginning to push Cameroon back. Martinelli skedaddles past Fai on the left but can't tee up a team-mate. Antony swings one in from the right to earn a corner that's taken short and wasted. An opening goal looks increasingly imminent.
23 min: In the other game in Group G, Xherdan Shaqiri has powercubed Switzerland into the lead against Serbia. As things stand, the group will finish like this:
22 min: Telles crosses from the left. Jesus cushions a header down for Fred, who attempts to hook spectacularly goalwards. His shot is deflected out for a corner. Rodrygo takes, and at the near post, Aboubakar launches the ball towards the border with Saudi Arabia. Some effort behind that clearance!
20 min: Choupo-Moting rolls a pass down the left for the overlapping Tolo, who looks much more comfortable in attack. He whips viciously into the Brazil box. Ederson is concerned enough to clear with a spectacular diving punch.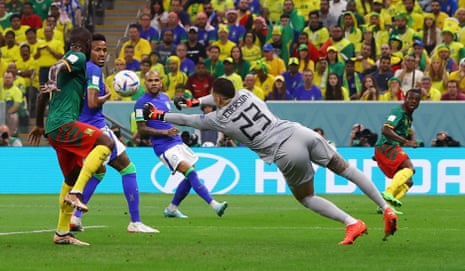 19 min: Ederson ventures outside his box and wanders around awhile with the ball at his feet. Rigobert Song would not approve.
17 min: Antony, who looks in the mood to perform a few tricks and flicks tonight, wins a corner off Tolo down the right. Tolo, already on a booking, wears the look of a flustered man. Nothing comes of the set piece.
16 min: Martinelli, from inside his own half, tears off down the left wing at warp speed, leaving a few green shirts floundering in his wake. Unfortunately for Brazil, his cross isn't up to much, and neither Jesus nor Antony can resurrect the attack at the far stick.
14 min: Fred crosses from a deep position on the right. Martinelli rises by the left-hand corner of the six-yard box, and tries to guide a header into the top right. It's a decent effort, but Epassy tips over the bar and nothing comes of the resulting corner.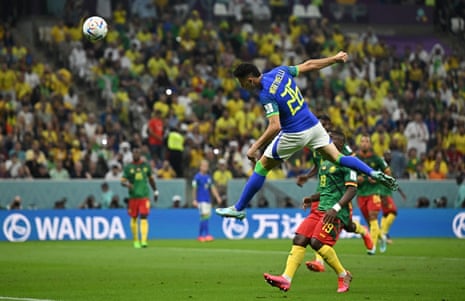 13 min: There's not much going on, so the punters in the stadium entertain themselves with a Mexican wave.
11 min: Epassy is nearly hunted down by Martinelli when the ball's at his feet. He labours over his clearance but eventually gets rid. A heart-in-mouth moment for coach Rigobert Song, who sent home first choice André Onana, a much more confident ball player, last week.
9 min: Cameroon are giving as good as they're getting right now. Brazil's second string haven't quite got used to each other yet.
7 min: Now Militao goes into the book for a pretty clumsy high-kick on Ngamaleu. The referee wags his finger and has the look of a man who means business.
6 min: Antony spins Tolo with an outrageous feint and makes off down the right flank. Tolo, no doubt feeling affronted, hacks Antony down from behind and goes into the book. It might be a long night for the Cameroon left-back.
4 min: Other than that, a quiet start as both teams allow their defence to get an early feel of the ball.
2 min: Telles passes the ball out of play. Then Anguissa ships possession far too easily, before Brazil collectively run down a cul-de-sac. All a bit scrappy during the early exchanges. Then suddenly a burst of quality from Brazil, as Antony romps down the right and slips a ball infield in the hope of finding Fred. Not quite. Cameroon clear their lines.
Brazil get the ball rolling. They stroke it around the back in the non-urgent style.
The teams are out! Cameroon are in their green, red and gold, while the other lot are giving off strong Cowdenbeath vibes tonight: it's blue Brazil! "I was curious where the Brazil-Cameroon game in the 1994 World Cup was played, and it turned out to be Stanford Stadium near San Francisco," begins Matt Burtz. "Cameroon didn't have much luck playing there, as they lost 6-1 to Russia four days later. The stadium's capacity has since been reduced by about 30,000. Being born in 1981 this was the first World Cup I was aware of (being held here in the US certainly helped; I honestly don't know if the US's games in 1990 were televised) and it's hard to believe that it was almost thirty years ago now." Time flies all right, and the game will begin in a couple of those all-too-fleeting moments.
PENNANT WATCH. It's a slightly farcical PENNANT WATCH today, because we don't have the rights to the photos that have been taken of them. But nothing can stop me. The MBM has previously talked of the leonine majesty of Brazil's yellow-maned effort, but I can report that Cameroon's official trinket is also an absolute cracker, dark-green with lush golden tassels. Not only that, they'll be presenting a small wooden shield bearing the federation crest in a blue velvet-lined box. That'd look lovely displayed on the mantlepiece, next to a banker's table lamp and crystal decanter containing a little something from Speyside. Ten out of ten for Brazil, but Cameroon's pennant-o-meter™ result goes all the way up to 11.
A couple of stats that sum up the size and scale of Cameroon's task tonight. They need to win, and while they might be playing Brazil's second string, that's one heck of a B-team. Brazil and Cameroon have met at the World Cup on two previous occasions, and the Seleção have won both games: 3-0 at USA 94, 4-1 at home in 2014. Brazil have played African sides five other times at World Cups, and they've won all of those as well: seven games in total, seven wins, 20 goals scored, just two conceded. Godspeed Indomitable Lions.
Both teams have been giving it plenty as they make their way to the ground. The ITV network hasn't sounded this good since the days of The Roxy.
Much as expected, Tite has made sweeping changes to the Brazil starting XI. He's made nine of them, with only defender Eder Militao and midfielder Fred keeping their places from the Switzerland game. Dani Alves, at 39, becomes Brazil's oldest player at a World Cup finals. The injured Neymar will be watching from the stands.
Cameroon have made four changes in the wake of the 3-3 draw against Serbia. Nicolas Nkoulou, Jean-Charles Castelletto, Martin Hongla and Karl Toko Ekambi make way for Christopher Wooh, Enzo Ebosse, Nicolas Ngamaleu and Vincent Aboubakar.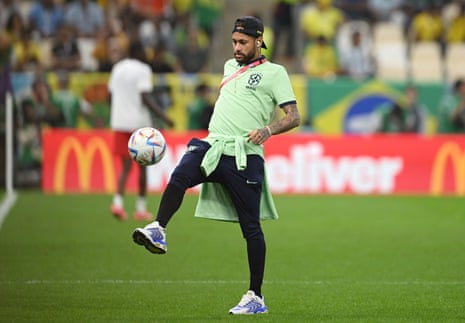 Cameroon: Epassy, Fai, Wooh, Ebosse, Tolo, Zambo Anguissa, Kunde, Mbeumo, Choupo-Moting, Ngamaleu, Aboubakar.
Subs: Ngapandouetnbu, Mbekeli, Ondoua, Nkoudou, Nsame, Bassogog, Toko Ekambi, Gouet, Mbaizo, Ntcham, Marou.
Brazil: Ederson, Dani Alves, Eder Militao, Bremer, Alex Telles, Fabinho, Fred, Antony, Rodrygo, Martinelli, Gabriel Jesus.
Subs: Alisson, Thiago Silva, Marquinhos, Casemiro, Lucas Paqueta, Richarlison, Raphinha, Weverton, Bruno Guimaraes, Vinicius Junior, Everton Ribeiro, Pedro.
Referee: Ismail Elfath (USA).
Brazil have already qualified for the knockouts, though there is some jeopardy for them tonight. If they lose against Cameroon, they could be denied top spot in Group G should Switzerland beat Serbia in the other game. In that scenario, top spot would be decided by goal difference.
Cameroon meanwhile need a win to progress, and only then if Switzerland fail to beat Serbia in the other game. A draw between Serbia and Switzerland would leave second place decided by goal difference between Cameroon and the Swiss; a Serbia win would leave second place decided by goal difference between Cameroon and the Serbs.
It could potentially get more complicated, should goal difference not decide everything. But let's not go down the route of goals scored, disciplinary points, or the drawing of lots. Not yet. Not while we don't have to. Kick off is at 7pm GMT, 10pm at the Iconic Stadium in Lusail. انه يحدث! It's on!