Share and Follow
Key events
Ruud 6-3, *5-4 Zverev (*denotes next server)
A huge smash as Zverev jumps slightly in the air, he is being forced to hold his serve here if he wants to remain in the second. He is great under these pressure moments, sending the ball wide of Ruud to go 30-0 up. An ace puts him a point away from holding and there it is, a great point. He will have to break Ruud now.
Ruud 6-3, 5-3* Zverev (*denotes next server)
Zverev speaks to his box ahead of this one, he will have to break Ruud at some point to remain in this set. And that is a good start to do it! Both players come to the net, Ruud plays a drop shot but Zverev puts in a great backhand to take it away from the Norwegian. A long rally ends in another unforced error from Zverev and he has more words with his box. Ruud reads the ball well and he patiently waits under the ball to play a great volley. There we go Zverev! He puts two powerful shots in that Ruud saves but he fools his opponent to put it where he wasn't expecting – 30-30 now. Zverev sends the ball out and Ruud is on the edge of holding an important game. And there it is!
Ruud breaks for the first time in second set"! Ruud 6-3, *4-3 Zverev (*denotes next server)
An error from Zverev starts this game, could we see the first break of this second set? We do! A long rally ends in another error from the German, his frustration clear at the moment. Another error from Zverev! He is the architect of his own demise! Ruud has break point and he doesn't blink.
Ruud 6-3, 3-3* Zverev (*denotes next server)
Ruud clinically wins the first point but Zverev hits back. These two are going toe-to-toe. A sublime volley puts him ahead again and Zverev just pushes a shot wide to put the Norwegian 40-15 up. Ruud tries a drop shot but it doesn't go over the net and a delightful angle from a tricky angle gives Ruud his serve hold.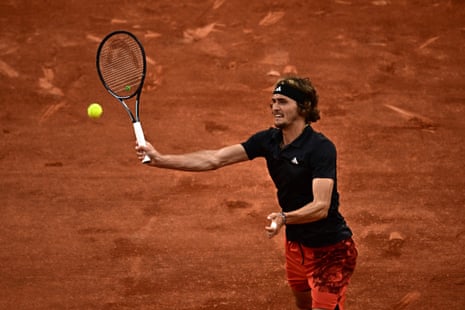 Ruud 6-3, *2-3 Zverev (*denotes next server)
A long rally sees Zverev's shot hitting the net – his sixth point loss in a row. A round of applause for the ball person who catches a high ball, I love it when the crowd gets in involved. Zverev mis-calculates a move forward to put Ruud 30-0 up. The Norwegian forces two errors there, rushing his shots to allow Zverev back in this game. The German was the weaker in the rally but that doesn't matter with Ruud sending another ball out. And an ace gives Zverev the game.
Ruud 6-3, 2-2* Zverev (*denotes next server)
Ruud smacks the net, the Norwegian has held his form in this one but the change at the moment is Zverev growing into this. Zverev has won 13 of the 18 rallies played, he will want these points to be long. And there is number 14 to go 30-0 up in Ruud's service. A millimetre between Ruud making a fantastic shot and it being out, unfortunately for him it is out. Zverev has break point but he can't take it on the first chance as he hits the net. An ace leaves Zverev with one last break point and he can't take it! He attempts a drop shot but it doesn't go over the net. A fabulous forehand shot to give Ruud the advantage – his forehands are averaging 85mph at the moment! And he holds his serve – a big moment.
Ruud 6-3, *1-2 Zverev (*denotes next server)
Zverev reads the play perfectly, makes it look as though he was going to a right hand shot but puts it left. Another unforced error from the German levels it 15-15. Zverev is really coming into form here as he expertly directs play to get himself in a strong position to hold serve. And he does!
Ruud 6-3, 1-1* Zverev (*denotes next server)
There's a pause at the start of this game, the umpire asking for a few moments – the LED boards are playing up. Ruud gets us underway but it is Zverev who gets the first point and with a delicious drop shot. He commits quite early to come forward and takes all the power out of the ball. An error from Zverev levels it 15-15 and Ruud directs the ball around the court – the German can't quite get to the wide shot. Commentators saying a lot about Zverev being tentative because of his injury last year, it would be interesting to ask him post-match if that impacted any shots. A beautiful ace from Ruud puts him 40-30 and Zverev sends the ball out.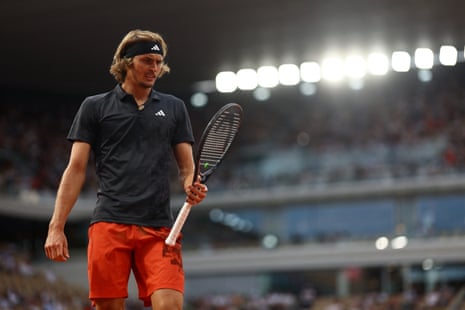 Ruud 6-3, *0-1 Zverev (*denotes next server)
"The unforced errors, a lot were made because he [Zverev] felt under siege from the barrage of the Norwegian's racquet," Eurosport commentator Miles Maclagan says. I have to agree, if he was a bit cleaner on some shots he wouldn't have been broken twice. The grounds staff water the court ahead of the start of the second set but we are back underway. Zverev is serving and starts the set with an impressive volley. Ruud makes two errors next to put the German 40-0 up and a long ball sees from Ruud gives Zverev the game.
Ruud takes first set 6-3*
Ruud is serving for the set here and gets the first point but Zverev is just starting to rev! A huge forehand sees Ruud give up on the chase. An ace from Ruud puts him 30-15 up but a powerful volley from Zverev puts him level. Ruud sends a backhand shot out and Zverev has break point – this is such an important moment now, the momentum could shift. A great rally ends in Zverev's forehand having too much on it and we are sent to deuce. Ruud gets the advantage with a good drop shot, you could hear how hard Zverev was trying to get to that one but he couldn't make it. Ruud's second set point and he takes it!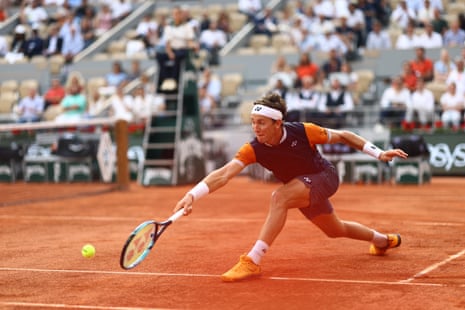 Ruud *5-3 Zverev (*denotes next server)
New balls for this game as Zverev attempts to remain in this first set. He pushes one too long but Ruud smacks the net to level it 15-15. A long rally sees Zverev hit the next but that was a great competition. What a terrific shot! the ball just skims the net and it's too wide for Ruud to get to, perfect shot for Zverev. A drop shot from Zverev forces Ruud to come forward but he does and expertly puts it past Zverev to give him set point. He can't see it out as Zverev sends the game to deuce. Oh my word! Each player sends a drop shot just over the net but it is Zverev who uses his feet perfectly and sends it in the opposite direction to Ruud! Advantage Zverev. And he wins! Zverev returns the ball perfectly. Ruud to serve for the set.
Ruud 5-2* Zverev (*denotes next server)
Two errors from Zverev begins this game and he has a word with his box. Zverev replies to a drop shot with a backhand winner! Points exchange and Ruud is doing enough for now to contain Zverev's resurgence. And there it is, a strong serve. He will need to break Zverev for the opening set in the next game.
Ruud *4-2 Zverev (*denotes next server)
Zverev gets his first ace of the match and has a powerful serve on the second with Ruud's return going out. Ruud can't return a great volley and Zverev looks the strongest he has all match. Fantastic shot down the left and he wraps up a fast game.
Ruud 4-1* Zverev (*denotes next server)
Ruud pops the ball in both corners and Zverev can't quite reach the ball to put Ruud 15-0 up. And he does it again! Wow, the forehand is alive and kicking today – it hadn't been the strongest earlier in the tournament but he has found it now. Zverev plays Ruud at his own game with his own impressive play but an ace gives Ruud a 40-15 lead. The Norwegian smacks the net but another ace gives him the first hold of serve since the first game of the match.
Ruud *3-1 Zverev (*denotes next server)
Jared Leto gets some airtime ahead of the start of this game, looking cool with his sunnies on and drink in hand! Two errors from Zverev gifts Ruud a 30-0 lead and a lovely shot from the Norwegian! He makes Zverev come toward the net and Ruud waits until he starts his run to push a shot long – stunning tennis. Ruud has break point but he makes two errors to give Zverev some light and he makes an impressive shot in the right corner to take it to deuce. Ruud gets the advantage and Zverev takes so long to serve for the next point. And when he does Ruud gets the break! Wow, what a start.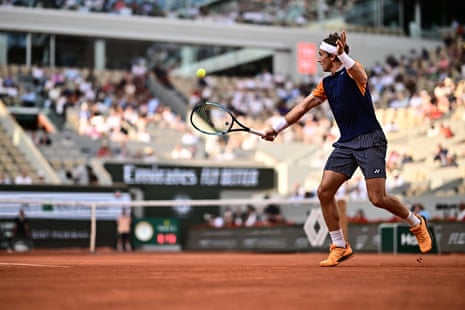 Zverev breaks back! Ruud 2-1* Zverev (*denotes next server)
Zverev smacks the net, he hasn't quite settled into this match yet. A double fault from Ruud now though puts it 15-15. Ruud's backhand has too much on it twice and now it is Zverev who has break point! He doesn't take the break on the first chance but he has another chance here – he can't put it to bed again! We head to deuce. Ruud pushes it long again, Zverev advantage but again Ruud manages to save break point. The German has yet another break point – his fourth of this game – but he sends his shot long! Ruud gets his first advantage of this deuce by popping a powerful serve in the left hand corner but he also can't be clinical enough to see this out with an unforced error. Zverev marshals Ruud around the court and it pays off as the Norwegian can't return a shot and he sends another long to give Zverev the perfect response to being broken!
Early break for Ruud! Ruud *2-0 Zverev (*denotes next server)
Ruud can't return Zverev's first serve but the German pushes his shot too far to see the game 15-15. The longest rally of the match so far ends with Ruud hitting the net and a double fault sees the game level once more. The Norwegian has an early break point as Zverev pushes another shot long and he gets it with a delicious forehand!
Ruud 1-0* Zverev (*denotes next server)
Zverev pushes his shot long to give Ruud the first point but it was a good return from the Ruud serve initially. The second return is straight out and so is the third to see Ruud 40-0 up. A short rally ends in Zverev having too much on his backhand.
And away we go! Who will join Djokovic? Can Ruud get to back-to-back French Open finals? Or can Zverev maintain his fight back from his heartbreaking injury last year in Paris? Will we find out in the next few hours…
Let's have some reaction to Alacaraz' cramps, Nick Kyrgios has tweeted:
The coin toss has happened, Zverev won and chose to receive first. This semi-final will be underway shortly after the players have warmed up!
Here come the players! Zverev is first out, the cheer is loud despite a lot of fans popping out in between these semis. Ruud then makes his way to court, looking in the zone!
Andy Murray is through to the Surbiton semi-finals but he had to comeback against Jason Kubler to win 3-6, 6-3, 6-4. Not half bad is he?
Ruud and Zverev will be out on the court imminently! Who do we think is going to win this one? It's tricky as both of the players are getting better with each game in this tournament.
Shot of the slam?
I want to hear from you! It can be anything about this match, the earlier semi-final or the setting in which you're reading the blog today. You can get in touch via Twitter or email.
Djokovic has now reached his seventh French Open final! He has two titles already under his belt, if he gets a third he will break the record for the most grand slams for a men's player. The win would take him to 23 – he would stand above Rafael Nadal who holds the same amount as Djokovic does at 22.
You can get some reaction from Djokovic v Alcaraz here, including details on Alcaraz' cramp which was a momentum shift:
Hello and welcome to the second French Open men's singles semi-final! Norwegian Casper Ruud and German Alexander Zverev will compete for a spot in the final where they will face Novak Djokovic. The 22-time slam winner defeated Carlos Alcaraz earlier today 6-3, 5-7, 6-1. 6-1.
Ruud dominated Holger Rune in the quarter-final but it was an equally impressive outing for Zverev in the last eight against Tomás Martin Etcheverry. It should be a close encounter between the pair so make sure you have your snacks and drinks at the ready – we could be in for a long one!
Zverev is looking for redemption from last year's Roland Garros after he was forced to withdraw to injury in his semi-final against Rafael Nadal. The German has said: "Roland-Garros was definitely a tournament that I marked on my calendar this year.
"I'm extremely happy with how things are going, but the tournament is not over yet. There are still potentially two very, very difficult matches ahead, and I'm looking forward to that."
The semi-final is going to get underway in 15 minutes or so, stay tuned!
Share and Follow