Share and Follow
Last Updated on June 8, 2023
Twitter is scrambling to censor video footage of a brutal terror attack that took place in France on Thursday, in which a Muslim "refugee" from Syria is seen marauding around a playground with a knife, butchering children and others in a broad daylight attack.
A Muslim of Syrian "refugee" extraction, armed with a knife, slashed and stabbed six people at a French park, including four pre-schoolers on a playground before fleeing the scene while being pursued by civilian bystanders. Shortly thereafter, he was apprehended by police.
The French are refusing to call the attack terrorism, in what is being slammed as yet another instance of groveling to radical Islam on behalf of European leftists.
According to French authorities, the 31-year-old Syrian man came to France by way of Sweden, where he'd previously been granted refugee status.
Authorities also say that the four children who were victims of the attack range in age from just 22 months to 3-years-old, and that all of them are faced with life-threatening injuries. They were evacuated to a hospital by emergency responders, where they are undergoing medical treatment.
In the wake of the attack, the caught-on-video actions of the Muslim migrant went viral online and were posted by countless Twitter users who expressed their horror.
Almost immediately, the videos were stricken from the platform, in what appeared to be a neatly organized effort to cover up the attack under Twitter's renewed censorship policies.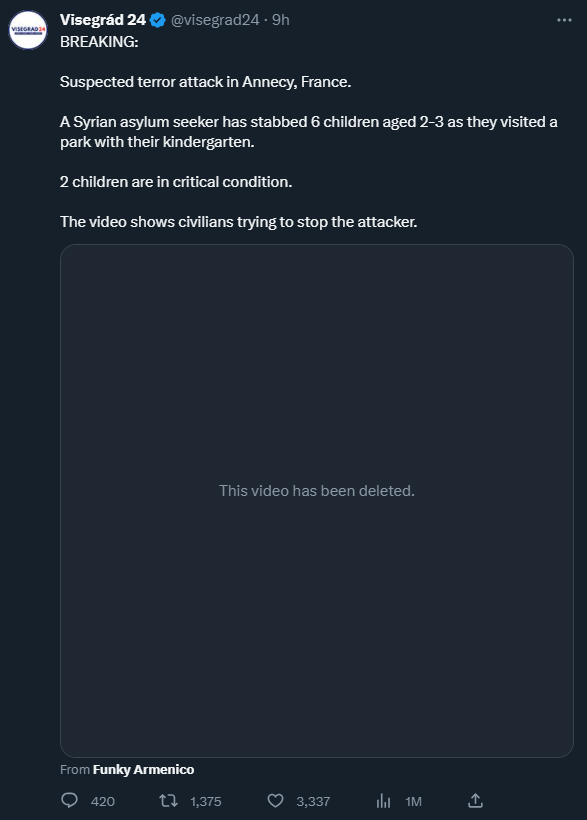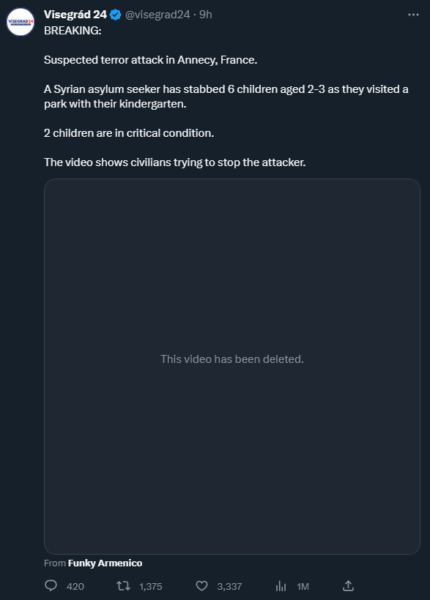 As the video footage was systematically censored by Twitter, @DC_Draino pointed out that the mass censorship and covering for the apparent Islamic terror attack coincided with the start of pro-censorship WEF executive Linda Yaccarino's reign as Twitter CEO.
"New CEO of Twitter started this week and we already had a mass deletion of a video showing a migrant terrorist attack in France," @DC_Draino tweeted.
"WEFF already pulling the strings?"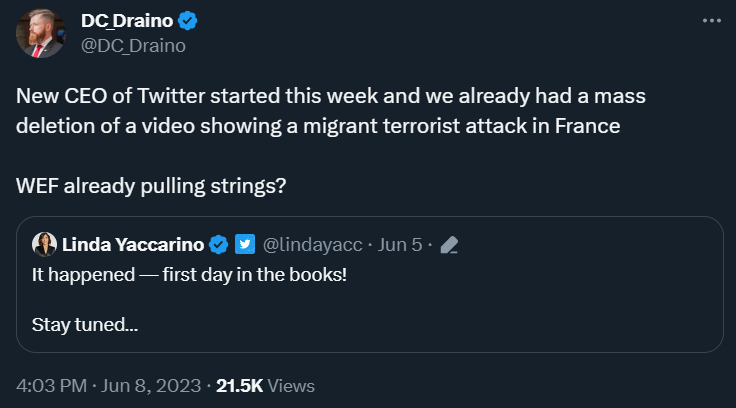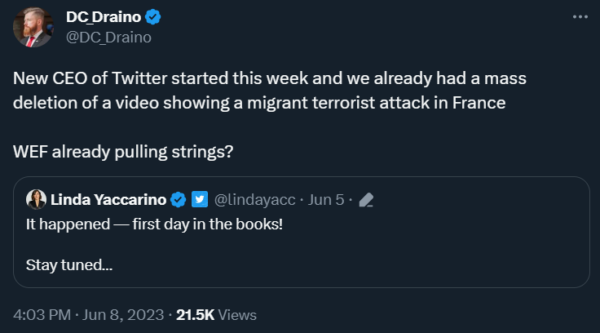 "When the George Floyd video came out, it was shown everywhere for months as violent riots destroyed our inner cities", @DC_Draino wrote in another tweet.
"But when a migrant goes on a terrorist stabbing spree in France, the video gets completely scrubbed from Twitter almost immediately".
Watch the video footage of the attack below. Viewer discretion is strongly advised. 
Share and Follow