Two brilliant performances by new champions of jump racing bookended this year's Cheltenham Festival, and both Constitution Hill, the Champion Hurdle winner, and Galopin Des Champs, who survived all manner of problems to run out an easy winner of the Gold Cup, promise to be fixtures at the meeting for several years to come.
The precise days on which they should be pulling in the crowds – and there's more on that to come – remain to be seen. Galopin Des Champs, clearly, is a huge new talent among staying chasers and, all being well, will line up for two more Gold Cups at least. Constitution Hill, though, is the potential wild card. He is already established as a generational talent over hurdles but could yet rise even further among the all-time greats if his immense talent can stretch to a switch to chasing.
The Arkle? The Champion Chase? Perhaps even the Gold Cup, and an attempt to emulate Dawn Run in a head-to-head with Galopin Des Champs? Anything is possible for Constitution Hill in theory, and his sporting owner, Michael Buckley, may yet roll the dice. If he sticks to two-mile hurdles, the limited Grade One programme could mean that he sees his horse race just three times a year: at Newcastle in November, at Kempton at Christmas and at Cheltenham in March.
Constitution Hill remains a possible runner in next month's Aintree Hurdle, over two and a half miles, which suggests that his connections are already toying with the idea of testing his boundaries sooner rather than later. And both Buckley and Nicky Henderson, Constitution Hill's trainer, are old enough to remember the famous meeting of Arkle and Mill House in the 1964 Gold Cup. A meeting between the two horses remains a remote possibility, but we can always dream.
At this stage of their careers, and in an entirely hypothetical match race, many punters might well opt for Constitution Hill, who is already close behind Night Nurse, the best hurdler of the last 60 years, on Timeform ratings without ever being asked a serious question.
But Galopin Des Champs too produced when it mattered, as the greatest champions always do. A minor quibble with Simon Holt's otherwise excellent commentary on Friday's race would be that he did not just go "through the top" of the third-last. He pretty much went through the middle of it, too, and yet half a furlong later he was once again ranging up alongside Bravemansgame, with Paul Townend motionless and able to choose his moment to strike.
It takes a special horse, with an exceptional engine and boundless strength and stamina, to not only survive such a mistake at a vital stage of a Grade One race, but to go on to win it comfortably.
We hoped to see one exceptional horse prove his class at Cheltenham, but in the end, we were spoiled with two.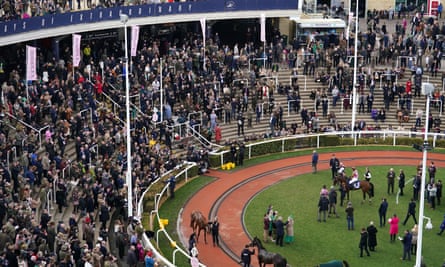 And yet with the exception of Gold Cup day, which sold out in January, attendances were well down on the first three days of the meeting. Strikes by teachers and train staff may well have had an impact, but around 25,000 racegoers went missing over the first three days, which must be a cause for concern.
As Ian Renton, Cheltenham's managing director, pointed out, last year was a bumper one as the fans returned post-Covid. But there must be a suspicion that for at least some of those racegoers, their Cheltenham experience was not what they had anticipated from an A-list sporting event.
The track acted on customer feedback after last year's Festival and decided to cap attendance at 68,500 per day. The crowd for the first three days of this year's meeting, though, was not even within touching distance of the limit.
Twenty-five thousand tickets at an average of £50 each works out as £1.25m in sales, and most racegoers drop a lot more than the ticket price once food, drink and betting is accounted for.
Cheltenham is a well-run track by any measure and will no doubt be working on this issue from first thing Monday. Does an inevitable parade of Irish-trained winners – there were 19 more this year – put some people off? Is the misery of getting from the station to the track and, above all, the return trip in the evening too much for some to bear?
But they do have two outstanding horses to lure the punters with – three, in fact, if you give Energumene, the Champion Chase winner, the credit he richly deserves. And better yet, they both won with such ease that there should be no need to airbrush out the whip on next year's promotional snaps.