Key events
Full-time: Derby County 0-2 West Ham
The Hammers have earned a trip to Manchester United in the fifth round. Two goals early in each half did for the League One side.
90 min: Three minutes added on. West Ham are sitting in, happy to let Derby have the ball.
88 min: Another change for the visitors: Manuel Lanzini on for Pablo Fornals. All the substitutions have broken up the game, which has suited West Ham.
86 min: Dobbin crashes a shot at Aréola after some fancy footwork, but the shot is well held by the Frenchman. Dobbin would have been better going across goal, and maybe Collins could have poked it home.
83 min: Interested to see Mubama. He's very popular with the West Ham fans, hailing from Silvertown in east London, and has been with the Hammers since he was eight years old, when he initially joined as a left back.
Here's what Moyes had to say about the England Under-19 international before this match.
I like him a lot because he's a boy who reacts like 'Wow! What a chance I've got here!'. He's grateful, he has great humility in him with the work he wants to do, and at Fulham we asked him to go on and just chase people down and he was unbelievable at it. He nearly got a standing ovation from the West Ham supporters because of his commitment and his effort."
79 min: The game is petering out. West Ham have done a good job of managing this through. Lewis Dobbin has threatened since coming on down this right wing, but Derby have otherwise looked a little toothless.
77 min: Double change for the Hammers: 18-year-old striker Divin Mubama comes on for Bowen, while Cresswell replaces Palmieri.
74 min: West Ham fans in excellent voice, belting out a Paolo Di Canio number. The sort of player you can imagine playing for Derby in those Carbone/Kinkladze/Eranio wonderyears, although of course he didn't.
72 min: Derby make a fifth change. Jake Rooney, no relation of Wayne of course, coming on for Hourihane.
70 min: Benrahma is looking so sharp since his introduction. He is cutting Derby to shreds with his passing and movement. The Algerian sends a beautiful ball to Johnson down the right, and the wing back stings the palms of Wildsmith with a fierce drive.
68 min: "Entirely disagree that it is more important to be fun than to be correct; any fan would be outraged if their team was defeated by an 'incorrect' goal," emails Richard Hirst. "The problem is that even with VAR there can be no certainty about correctness; there's still lots of interpretation about foul play, handball etc."
Yeah, but as anyone that has been in an away end can attest, waiting for a goal to be given/not given, VAR is a desperate business. Just accept there will be things that are going to go wrong. It's a game, which the vast majority of us watch for fun. Celebrate in the way end. Jump about a bit, without looking over your shoulder/at the big screen!
66 min: Benrahma straight into the action, turning a sneaky ball inside the box to Bowen, who fires straight at Wildsmith from 10 yards out. He should have scored, had a time to take a touch and steady himself. Credit to the Derby keeper for standing tall.
64 min: Some more admin to inform you about, this time from West Ham. Benrahma on for Antonio.
62 min: Four (!) changes for Derby, prompted by Bird's injury.
On come Eiran Cashin, Liam Thompson, Tony Springett and Lewis Dobbin. Off go Bird, Barkhuizen, Mendez-Laing and Davies.
60 min: Replays are showing a potential penalty shout for Derby, with Johnson colliding with Davies inside the West Ham box. It's a penalty with Johnson getting 0% of the ball and knocking Davies on his arse. But the referee missed it, and there's no VAR, so the Hammers get away with one. As we mentioned before, and with apologies to Derby fans, it's more important to be fun than correct.
58 min: Looks like Bird has actually injured himself taking that shot, so he's going to have to go off. A nightmare for Paul Warne, that.
56 min: Max Bird tries his luck from range, but it flies high and wide. The 22-year-old is a real talent but has been poor here tonight. He's got form from range, though. Check out this goal against Cheltenham earlier this month.
54 min: Mendez-Laing was nowhere near the 2013-14 Cardiff squad that Medel played in, by the way. He didn't join the club until 2017! Minus points for me.
52 min: Replays showed Moyes doing a double (!) fist pump at that second goal. He certainly wants that fifth-round tie at Manchester United.
GOAL! Derby 0-2 West Ham (Antonio 50)
Derby are caught cold. Fornals releases Bowen down the right. The England international's cross is deflected horribly off Forsyth straight to Antonio at the back post and the striker makes no mistake, nodding into an empty net. Forsyth slid in, trying to defend the front post, but got the worst possible touch on it. Had he not touched the ball, Davies behind Forsyth would surely have cleared it.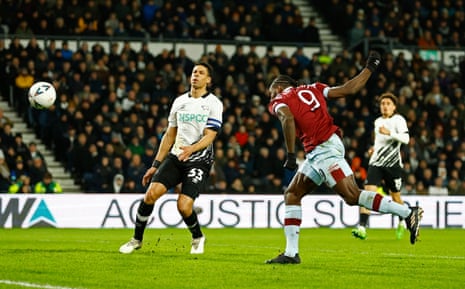 47 min: An email from Tim Smith to get the second half started. "Your description of Mendez-Laing as being a top-heavy footballer and the accompanying photographs of Bowen, making him look decidedly bottom-heavy (very much in the manner of Luke Shaw, Raheem Sterling , Andre Arshavin etc.) reminded me of a long debate once held among teammates about the "fattest" football player. There was no consensus, but it was a picture of Gary Medel wot started it."
I always think of Gary Medel, who I think played with Mendez-Laing at Cardiff – imagine the SCENES in the dressing room – as squat rather than fat, but maybe I'm mistaken.
Peeeeeep! We're back into the action in Derby.
Half-time reading:
Half-time: Derby 0-1 West Ham
The Premier League side are ahead at the break.
45 min: One minute added on here.
44 min: I'm struggling to think of a more top-heavy footballer than Mendez-Laing. Huge shoulders, slim legs. Still, he makes it work!
42 min: Mendez-Laing does brilliantly on the right wing, fooling Palmieri with a stepover to get to the byline, but his low cross is cleared. Derby looking dangerous all of a sudden.
39 min: West Ham showing a bit more control here and carve out a couple of corners. Bird does well to clear the second one away, after a moment of panic in the box when the ball dropped.
37 min: I could listen to Ally McCoist say "superb" all day. The Scot is on co-commentary duty for ITV today and was describing a touch from Antonio, which was admittedly rather lovely.
35 min: Derby have had 54% of the possession but no shots on target, which is a good synopsis for how this game has gone so far. West Ham are lurking dangerously, ready to spring on the counter-attack.
33 min: An extremely tough chance for Collins, but at the end of a flowing Derby move. Forsyth finds Barkhuizen down the left, and the winger loops a cross towards his centre forward. Collins has to fetch it high out of the sky with his left foot – think Zidane in the 2002 Champions League final – but the Irishman can only shin it into the stands. A shame.
30 min: A bit of a lull in play. Aguerd, who impressed with Morocco at the World Cup, and Kehrer, who made the German squad, are struggling with the physicality of Collins.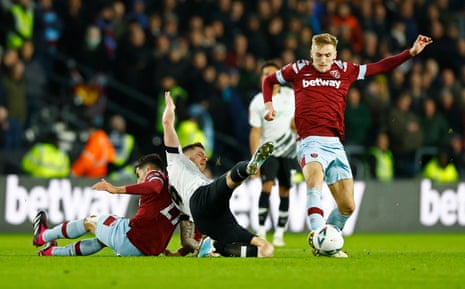 27 min: For balance, here's an email from Matthew Stephens in support of VAR.
"Don't we focus wholly on the adjudicative aspects of VAR, forgetting its preventive power? VAR might be a horrible fun-sucker, but it has reduced the regular mauling of attacking players in penalty boxes and also helped to cut back (a little) on simulation."
All of that may be true, but misses the very simple point that when playing football, it's more important to be fun than to be correct.
25 min: The game is getting a little bitty. Derby won't mind that. Both Barkhuizen and Collins win free-kicks for the home side in semi-dangerous areas, but Hourihane's delivery hasn't quite been on the money. Yet.
21 min: Korey Smith, who has been a real bright spark for Derby on the right, picks up a very questionable booking for a challenge on Palmieri, who made sure he got the referee's attention with a few roly polies. The Italian is, and you're gonna love this, fine to continue.
18 min: An email regarding VAR, which (I think we can all agree) can do one.
"Did anyone else notice Bowen's quick glance to the assistant referee after he'd put the ball in the net," emails David Wall. "How refreshing that, seeing they'd not raised their flag, he could celebrate safe in the knowledge that there wasn't going to be some interminable VAR check with Pride Park not set up for it. Contrast that with Brighton yesterday when Mitoma's wonderful winner and joyous celebrations were then held in suspends for the video refs to have a second look. I know it's not going to happen but as well as being ineffective (how is it that Konate's potential red card for denying a goal scoring opportunity couldn't be reviewed because of the position on the pitch, and Thiago's horrible foul wasn't upgraded from yellow to red?), VAR sucks so much fun from what should be the best part of the game, scoring a goal."
16 min: Hourihane, who is waaaaaaaaaaay too good for League One and still just 31, is beginning to get his foot on the ball for Derby in central midfield. West Ham have dropped slightly, with wing backs Johnson and Palmieri dropping in to make a back five. They seem content to sit back and counter-attack.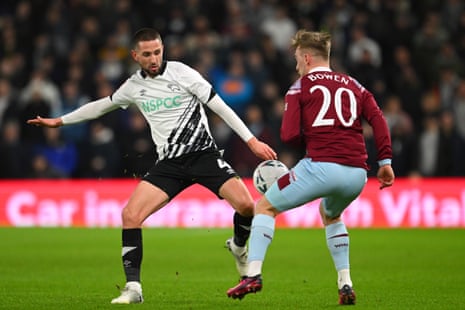 14 min: Collins is leading the line for Derby tonight and he got his first sniff of goal from a cross from the right. Smith whipped it in, and it was just too high for the Republic of Ireland international but had Ogbonna and Aréola scrambling. Replays show Collins was actually offside, but there are shoots of optimism there for Derby.
12 min: That was coming, to be honest. Derby look a little light in midfield, and had already been exposed on a couple of occasions before the goal.
GOAL! Derby 0-1 West Ham (Bowen 10)
Bowen doesn't make the same mistake! This is a really clever goal, with Soucek playing a nifty one-two with Antonio, and the Czech midfielder nods down to Bowen, who fires into the corner from close range!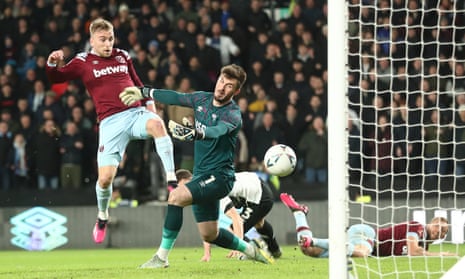 7 min: Another chance for West Ham! Derby again lose in midfield, and this time Bowen bears down on goal, but can only fire straight at Wildsmith. Derby sloppiness again goes unpunished.
5 min: Another email, this time from Bill Preston.
"I think this is going to be one of wild swings. West Ham are going to start strongly, and get a proper stomp on through the first half, but the Derby have decent strength, resolve, and a home tie. They'll put together wily plays, coupled with thrilling heroics and steal this one."
Remo Casale has also emailed to say that he fancies Derby. The home side have started well, hustling and bustling with a high press.
3 min: Bird is sloppy in midfield, losing out to Downes, and suddenly West Ham are on the counter-attack. Antonio carries the ball and has runners left and right but instead opts to shoot, firing disappointingly wide. A half-chance.
1 min: Derby so close to the opener. Barkhuizen latches onto a hopeful clearance, but beats the offside trap and sprints through on goal. The recovering pace of Johnson helps force him wide and the former Preston man chooses to cross rather than shoot. The ball pings around the area, before Soucek makes an important block on the edge of the D.
Peeeeeeep! And we're underway in the east Midlands.
The players are out! Derby are decked in their famous white shirts and black shorts, while West Ham are in their claret and blue.
Our attention returns to Pride Park, where kick-off is just five minutes away.
We have a first email, from David Hopkins. It's a good one.
"The very definition of a no lose game for the Rams tonight I think. It's a year to the day since the fans held a march to the ground to highlight the very real threat of liquidation and one fewer founder members in the Football League. One dalliance with a delusional 'crypto millionaire' followed before David Clowes (who I trust will never be buying his own drink in Derby again) stepped in and saved the club. Derby will likely lose tonight but they'll be playing again on Saturday and that's good enough for me."
The fifth-round draw is in!
A trip to Manchester United awaits for the winner of Derby and West Ham! Gulp …
The draw in full:
Southampton v Luton or Grimsby
Leicester City v Blackburn or Birmingham
Stoke City v Brighton
Wrexham or Sheffield United v Tottenham
Fulham or Sunderland v Leeds United
Bristol City v Manchester City
Manchester United v Derby or West Ham
Ipswich or Burnley v Sheffield Wednesday or Fleetwood Town
With the team news in, I'm temporarily hopping over to the liveblog for the FA Cup fifth-round draw. The balls are just about to be drawn. Join me here.
The hosts have plenty of Championship-standard players in their ranks but a real shame to lost McGoldrick to injury. He's a class act, and kickstarted Derby's comeback at Port Vale last week, scoring an 87th-minute equaliser, before Nathaniel Mendez-Laing grabbed the winner two minutes later.
West Ham are not quite at full-strength, with Rice and Pacqueta on the bench, but that's a very tasty XI.
Teetering one point above the Premier League drop zone and with a gruelling Europa Conference League campaign to see out this spring, West Ham might view an FA Cup run with a little trepidation.
But then, the Hammers haven't won a major trophy in over 40 years. With nine Premier League teams already out of the FA Cup (including Liverpool, Arsenal, Chelsea, Newcastle), and Declan Rice probably offski in the summer, there is a real opportunity here for a strong West Ham side (on paper at least) to go deep in the competition. And with the fifth-round draw taking place before kick-off, they will even know who their potential opponents could be in the sixth-round.
With plenty of time for his XI to recover before Saturday's league trip to Newcastle, there will be plenty of West Ham fans hoping that David Moyes fields a strong starting line-up tonight.
Third-tier Derby County might not seem like the stiffest task for Moyes and co, but the League One side have not lost since October (!) and have won their last six games on the bounce. Pride Park, under the lights, will be rocking tonight.
Join me!
Kick-off: 7.45pm GMT.