Share and Follow
Key events
2 min: The crowd are in full voice, the songs are in verse, Everton will want to keep this electric atmosphere which they can do if they can hold Bournemouth off from an early goal. A huge cheer comes in with a clinical tackle early on as Bournemouth start with dominant possession.
Kick-off! Everton 0-0 Bournemouth
Here we go then! Which two out of Everton, Leeds and Leicester will be joining Southampton is being relegated? We will soon find out! The atmosphere is electric, wow.
If you want an overview of all the matches across the Premier League today have a read of our clockwatch here:
I had a whole punnet of tomatoes ready to snack on throughout the game but I have nervously eaten them all in the build-up. I'm a neutral so I cannot imagine how Everton fans are feeling!
As the players ran in ahead of kick-off a guttural roar came from Everton's supporters. They are fully behind their squad today, can Everton give them the survival they desperately crave?
Karen Carney has written about the relegation battle and said: "On Sunday all three clubs are playing home games that are very winnable. Everton face Bournemouth, who have nothing to play for; Leicester play West Ham, whose minds may be on the Europa Conference League final; and an indifferent Spurs travel to Elland Road. There is no better place to play a match of this importance than in front of a raucous home crowd, desperately willing you on." Read the full piece:
We have put together a piece on how the clubs fighting to stay in the top flight have found themselves in the position. It's a good overview of the season, have a read of it here:
Many would regard Sergio Aguero's late goal for Manchester City the best moment of a final Premier League day, but what is yours? Let me know via Twitter or email.
"Everton will be direct and the atmosphere will be tough," Bournemouth manager Gary O'Neil said. "But what a great opportunity for the players to go and show what a good side we are, to see how well we can stand up to the questions that are undoubtedly going to be asked of us. So (it is) a real good marker for me, with last game of the season, going into a summer break and then pre-season to just see where we are against what will be a real good test."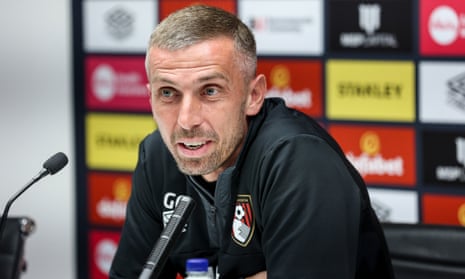 Everton manager Sean Dyche has said: "It's easy to forget. I came here and they were three points inside the relegation zone [it was two points]. Now we are two points out of it. Five points [four points] doesn't sound a lot but when you factor in all the injuries that we have had and what has gone on, you would have taken it. Many people were saying then that we were done. We have shifted considerably but the biggest measure is the end of the season." Read the full piece:
Everton's Dwight McNeil said ahead of the weekend: "I love watching football, I'll usually watch any game, but those two games I just couldn't watch," McNeil says of Leeds' defeat at West Ham and Leicester's draw, two results that kept Everton out of the bottom three and in control of their destiny. I didn't watch any of the Leeds game, I went out with my missus for the afternoon, and on Monday I decided to watch The Last Dance with Michael Jordan on Netflix and check the result afterwards. That was a relief. It's in our hands now and we're at home on Sunday with our fans behind us. We've got to take it like it's a normal game but we know what's at stake and the job that needs to be done." Read the full piece:
How are you doing Everton fans? Have you been chewing you nails ahead of kick-off with a lot on the line? And Bournemouth fans do you think you can get the win at Goodison Park? Let me know via email or Twitter.
Who will be replacing those who are relegated? Well last night Luton Town won promotion into the Premier League after beating Coventry City. They join Sheffield United and Burnley in making the top flight. Catch up with the action from Wembley here:
The team news is in! Everton have made three changes to the side who drew with Wolves. Coady, Gana and Gray come into the side fighting for survival.
Everton: Pickford, Tarkowski, Coady, Mina, McNeil, Iwobi, Doucoure, Gana, Garner, Onana, Gray
Bournemouth have also made three changes to the side who lost to Manchester United. Travers, Outtara and Billing come in.
Bournemouth: Travers, Kelly, Brooks, Lerma, Solanke, Christie, Ouattara, Smith, Senesi, Zabarnyi, Billing.
It all comes down to this. Welcome to the game that could decide Everton's future in the Premier League. I say could and not will as if Everton lose this match it does not necessarily mean they will go down – at that point their fate will be in the hands of Leicester City and Leeds United. Shall we take a look at the permutations?
If Everton win they will remain in the top flight no matter what happens in the other games taking place this afternoon. If Everton draw with Bournemouth and Leicester or Leeds win their respective games it will come down to goal difference. Everton currently have a goal difference of -24, Leicester have -18 and Leeds have -27. If Everton draw but Leeds and Leicester both don't win their matches Everton stay up. And if Everton lose they will need both Leeds and Leicester to either draw or lose their matches to stay in the Premier League.
With all of the games kicking off at the same time today I will make sure I bring you the news from the Leicester and Leeds games so you are aware of Everton's position.
From Bournemouth's perspective this is a game to finish off a season where they have managed to remain in the top flight. The team were promoted last season and have the potential to finish 14th if they win today.
The team news will be out shortly and so stay tuned ahead of kick-off at 4.30pm BST.
Share and Follow