Share and Follow
Key events
On which point Pella has broken early in set four to lead 3-1; if he can hang on, we'll have waselves a decider.
Tomás Martín Etcheverry beats Alex De Minaur [18] 6-3 7-6(2) 6-3!
Another seed falls, this time in the men's competition. Etcheverry meets Cachin or Pella next.
On Court 6, Parry and Andreeva are away and I'll be keeping an eye on that match because though I've not yet seen the latter play, I've heard great things about her. On Chatrier, meanwhile, we're on serve in set three, Ruud leading Zeppieri by two sets to love.
Sinner takes the breaker to love, which will aggravate the hell out of Altmaier who slogged through a physical set only to toss all his hard work in minutes. He's now got the trainer on for a finger injury but it's on his left hand so hopefully won't be too aggravating for him.
Altmaier nets a backhand to hand Sinner an immediate break and things don't improve thereafter. I was wondering, watching the end of set one, whether Sinner's extra class was beginning to tell, and he races to a 5-0 advantage.
Altmaier rebounds from 0-30 down, wearing Sinner's jump-backhands to outlast him in another punishing baseline rally, serves out from there, and we've got ourselves the breaker both players deserve.
Next on Mathieu: Parry v Andreeva. On Lenglen, Altmaier will shortly serve for a first-set breaker and these two are pretty well-matched.
Ahahaha, of course Day, who's endearingly overjoyed, is asked about the crowd, and says nahman, they're a joke. Not really, she loves them, loves the court and loves everything – as we all would if we were 23 and doing bits playing elite sport. Well done her, that's a great win.
Kayla Day beats Madison Keys [20] 6-2 4-6 6-4!
Not this time Maddy. She goes for everything, overhits, and Day, making her Roland-Garros debut progresses to meet Schmiedlova, who despatched Bolsova earlier.
Keys holds for 4-5 in set three, meaning Day will now serve for the match a second time. She'll be nervous, and knows her opponent can clobber winners from all parts of the court.
Ruud has been extremely competent so far this week and he breaks Zeppieri again then serves out for a 6-3 6-2 lead; Keys eventually secures one break back, but who'd be surprised to see her lose serve and match next up; Sinner breaks Altmaier back immediately for 4-4 in the first.
In classic style, Keys misses four chances to snaffle back a break; Etcheverry couldn't serve out for 2-0 against De Minaur but did win the eventuating breaker to two; Shnaider and Haddad Maia are 2-2 playing a decider; and Cachin now leads Coric 3-6 6-4 4-3, with a break
Altmaier isn't at all fazed by Sinner's power and when he raises break point he responds in kind to the groundstrokes belted at him so Sinner ups the power even more – some touch might help here! – drops long, and Altmaier leads 4-3!
Day breaks Keys again and will now serve for the match at 5-2 in the third.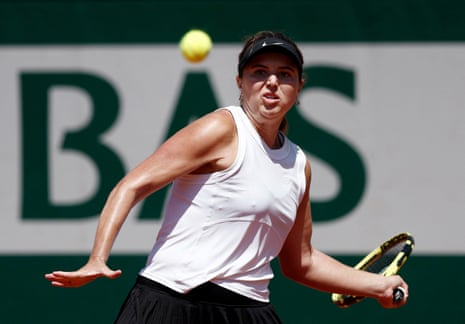 I like Jannik Sinner and the way he generates huge power with long levers. He's starting to make his presence felt at slams too, having made the quarters of all four, but he still struggles to beat the best players because he's a little one-dimensional – his hands aren't that good – and doesn't move that well. He and Altmaier at 3-3 in the first.
Keys makes room to whack a forehand from the backhand corner only to waft it over the sideline and, as the clock ticks over the two-hour mark, Day leads 3-2 in the decider. Zeppieri, meanwhile, is unable to convert a break point – he had a few in set one too – so Ruud leads 6-3 3-1.
Keys breaks back for 2-2, but a forehand winner down the line means Day has another chance to forge ahead at 30-40 … so Keys bangs an ace down the middle. She's forced to save another break point thereafter, does, then misses chances to close out while, on Chatrier, Ruud breaks Zeppieri for 6-3 2-1 and on Lenglen, Altmaier makes 2-2 against Sinner thanks to a booming forehand down the line. He's playing well, and this match is brewing.
Day is having a good day – I'm not just playing on the words I'm dancing on them – breaking Keys for 2-1 in the decider. Elsewhere, Sinner and Altmaier are under way, Cachin leads Coric by a break in set three, the first two having been shared, and Etcheverry is serving for a 2-0 lead over De Minaur.
Ruud holds easily enough for a 6-3 first set, and he's playing nicely.
Next on Lenglen: Jannick Sinner [8] v Daniel Altmaier.
On Chatrier, Ruud is serving for set one at 5-3 while on Court 6, Cachin has levelled his match with Coric at one set apiece.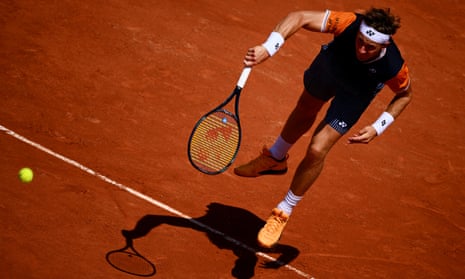 Sorribes Tormo beats Martic 6-4 6-1, and she's a dangerous opponent for Rybakina – if she can find her best tennis.
It really is incredible how many great young players there are knocking about at the moment – in both the men's and women's game. Just today, we've got Noskova, Zeppieri, Andreeva, Sinner, Swiatek, Gauff, Seyboth Wild and Andreescu, never mind your Muesttis, your Alcarazes, your Van Assches of this world and so on.
Rybakina says Noskova served well so it was a tough game, and she found it a bit slippy on court today. Her height is a weapon but it also makes it harder for her to move on clay, so she needs more time to prepare and also needs to be more patient during rallies.
And this is soooo Maddy too! She breaks again and levels the match with Day at 2-6 6-4.
Elena Rybakina [4] beats Linda Noskova 6-3 6-3!
Rybakina didn't play that well today but Noskova made it hard for her and she still moves on easily enough. She meets Sorribes Tormo or Martic next, Sorribes Tormo leading 6-4 4-1.
…but have a look! She ushers a forehand into the corner to make her second deuce while, on Chatrier, Ruud leads 4-1. Zeppieri has shots, but he's struggling to string together enough of them to seriously trouble his opponent.
Rybakina serves a double on match point; can Noskova capitalise? Er, not immediately, returning into the net to cede another…
Ohhhh Maddy, that was so you. After nearly nine minutes serving for the match, Day breaks her back, and will shortly serve with a 6-2 4-5 lead.
How often do we see this? After saving two break points, the champion shows her young opponent – Noskova is 18 – how the world works, getting to 15-40 and uncorking a booming forehand to secure the break. She'll now serve for the match at 6-3 5-3.
It mustn't be as warm as it has been, at least yet, as Rybakina is in long sleeves … in long sleeves saving break points, Noskova having earned a couple only to overhit in over-excitement. Rybakina duly punishes for a 6-3 4-3 lead.
As well as the Ruud and Rybakina matches, I'm also watching Day v Keys. I confess I've a soft spot for the latter – I enjoy the abandon with which she deploys her power – and she played really well in navigating a tricky first-round match against Kaia Kanepi. But you never know with Maddy, so I wasn't surprised she lost the first set today though, as I type, she breaks for 5-3 in the second and is now serving for a decider.
Zeppieri finds himself facing two break points, but having opened the angle for a forehand down the line, he overhits it and trails 0-2. Meantime, Noskova is giving a decent account of herself against Rybakina, trailing 3-6 2-2.
I've not seen Zeppieri play before, but he's a big lefty so a difficult opponent for anyone on a good day, and having progressed through qualifying before beating Bublik, he's in form. He forces Ruud through deuce too, playing some decent tennis in the process, but the number four seed holds eventually.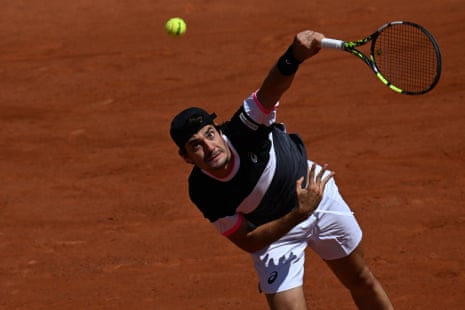 So far today: Rybakina leads Noskova 6-3 1-0; Day leads Keys 6-2 2-2; Etcheverry leads De Minaur 6-3; Hadad Maia leads Shnaider 6-2 2-1 with a break; Coric leads Cachin 6-3 1-0; Sorribes Tormo leads Martic 6-4 1-0 with a break; Schmiedlova leads Bolsova 6-3; and Rudd is playing the first game against Zeppieri
Elena Rybakina is a break up in the first set against the 18-year-old Czech, Linda Noskova. Elsewhere, Kayla Day – the world No 138 – has taken charge of the first set against her compatriot, No 20 seed Madison Keys. Here's a roundup of all Wednesday's news:
Salut! And welcome to Roland-Garros 2023 – day five!
Obviously there's an entire constellation of stars performing for our delectation as we complete round two. It's fair to say that, at first glance, they all have fairly straightforward matches, but the presence of Thiago Seyboth Wild, who meets Guido Pella this afternoon, reminds us that once they start hitting balls, we've not a clue what'll happen.
Early in the day, we get to enjoy Casper Ruud, Elena Rybakina and Madison Keys – not bad. Then, in the second tranche of matches, come Iga Swiatek, Jannik Sinner and the 16-year-old prodigy, Mirra Andreeva – making her Grand Slam debut and flying the family flag after her older sister Erika was eliminated yesterday. It will not be long before she's famous for something other than finding Andy Murray beautiful.
After that, Ons Jabeur, Coco Gauff and Francis Tiafoe – whose match with Aslan Karatsev could be a belter – sustain us, before Taylor Fritz closes the session against Arthur Rinderknech, who eliminated Richard Gasquet in a French derby earlier in the week. And if that wasn't enough, we've got Alex De Minaur, Griggzy Dimitrov, Tommy Paul and Bianca Andreescu knocking about, while Petra Martic v Sara Sorribes Tormo is my prediction for sleeper match of the day.
On y va!
Share and Follow