Share and Follow
Apples and oranges are the lowest hanging fruit during Australia's autumn and winter. But this time of year is also the short, sweet season for a far more obscure crop: feijoa. The fruit, native to South America, has a green skin, an oval shape and sweet-tangy flesh that is beloved by those in the know, including New Zealanders – feijoa season is highly anticipated across the Tasman.
Feijoa (pronounced fay-joh-uh) grows well in Victoria, Tasmania, New South Wales, and the Adelaide Hills in South Australia. There are approximately two weeks remaining for this year's season, with supply expected to come primarily from Western Australia.
Lately feijoa has enjoyed something of a cult status among Australian consumers – and this could be due to the harvesting method, says Pauline Haydock, team leader in Daleys Fruit Tree Nursery near Kyogle, northern New South Wales. "Feijoa falls from the tree when it is ripe. Farmers do not pluck it," she says. To catch the fruit and prevent it from bruising as it hits the ground, growers either place tarps under the tree or cover the tree with a net; from that point, the fruit generally stays at its best for three to five days.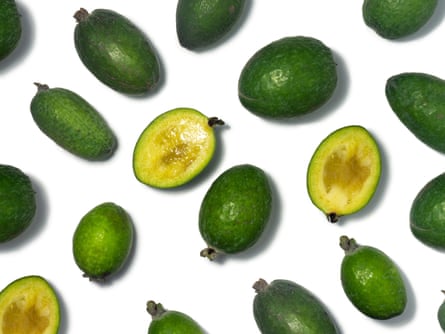 This relatively short shelf life is not conducive to mass consumer markets, compared to crops like bananas which are plucked early and ripened en route to the supermarket, or apples which stay good in cold storage for over a month. This is why feijoa has a blink-and-you-miss-it quality in local markets and specialty grocers: it is challenging to stock it without compromising on quality.
Like many cult products, it can be polarising. Mark Shenken, the Melbourne-based co-founder of the Feijoa Appreciation Group on Facebook, describes feijoas as "fruits of the gods" – cut it open and scoop out the flesh as you would a kiwifruit, and revel in its guava-like flavour and a strawberry-banana aroma. But it has a "gritty" texture, says Shenken, which may be off-putting for some.
Chef Analiese Gregory agrees. "My sister used to eat it a lot when we were growing up in New Zealand but I only developed an appreciation for it later in life," she says. Now based in Tasmania, Gregory prefers to gently poach the fruit in a light syrup with ginger, bake it into cakes, or stew it with apples for pies.
Since the grittiness is the biggest turn-off for the haters, does cooking feijoa change the texture? "No," Gregory says with a laugh. "The grainy texture stays the same."
In theory, feijoa is best as a back yard tree – similar to other folksy fruit like mulberries and achacha – where owners gather the fallen feijoas and share the bounty with neighbours. Community harvest sharing is common in New Zealand, but not yet in Australia.
But Shenken is trying to change this. "When I moved from New Zealand to Australia, I saw feijoa trees around the neighbourhood but people didn't know what it was. They were scared to eat it," he says.
This could explain why you might find bruised or rotting feijoa on the footpaths and nature strips at this time of the year.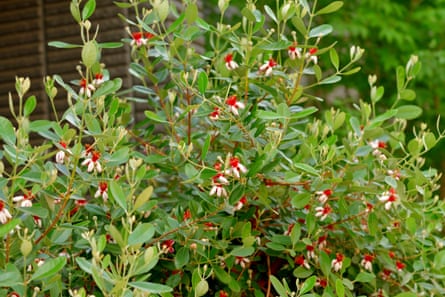 So, if Australians overlook the feijoa fruit, why did they plant the trees in the first place? One explanation is they are ornamental trees that thrive in various conditions."It is an evergreen tree. It can live in temperate to subtropical climates and tolerate temperatures up to -10C," says Haydock. "It makes a great hedge and can be pruned to keep the trees under three metres."
Haydock estimates her nursery has sold 10-20% more feijoa trees in recent years. "We have commercial growers from Stanthorpe in southern Queensland approaching us now, which is where they typically grow stone fruits and apples."
But perhaps the most telling metric of feijoa's creeping popularity in Australia is their place in the nursery aisle at Bunnings, where you can now pick up a tree for $12.98.
Share and Follow