Key events
45 min +1: The first of four added minutes. A refreshingly old-school chunk of bonus time.
45 min: Germany stroke the ball around patiently, and for the first time this afternoon, impressively. It's eventually worked to Musiala on the edge of the Japanese box. He spins and aims for the top left, but gets too much loft on the shot, which flies miles over the bar.
43 min: Some atmosphere in the stadium now, as a Mexican wave breaks out.
42 min: Muller's cute lay-off tees up Kimmich on the edge of the Japan D. Kimmich flays harmlessly over.
40 min: Kubo is sent scampering into acres down the left. He cuts back looking for Maeda. Not quite. Intercepted. Then the flag goes up for offside. Japan continue to look fresh in attack.
38 min: Musiala busies himself in the Japan box. Gonda punches clear, but without too much authority. The ball drops to Kimmich, who should surely pearl a first-time shot goalwards from the edge of the box, but attempts a cushioned pass that doesn't come off. An odd decision.
37 min: More on that German protest, courtesy of the team's official Twitter account.
36 min: Japan try to respond quickly, Ito winning a corner down the right. Germany clear, but Japan come straight back, Kubo tearing down the same flank with options in the middle. Germany are all over the shop, but Kubo's final ball is hopeless and it's easily intercepted and cleared.
35 min: That was a completely ludicrous challenge by Gonda. Raum had turned tail and was in the process of falling over. But he went in again, and here we all are.
GOAL! Germany 1-0 Japan (Gundogan 33 pen)
There's the usual wait as VAR looks for trouble. But the decision stands. Gundogan sends Gonda to the right, and slots just to the left of centre. Germany haven't been particularly good, but they lead!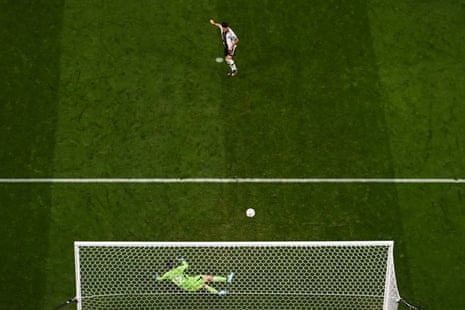 31 min: Sakai goes walkabout, allowing Kimmich to release Raum into the box down the left. Raum reaches the edge of the six-yard box and checks back. Gonda scrambles around at his feet. He doesn't make contact with his first lunge, but then makes a totally pointless second move and brings down his man. The referee points to the spot.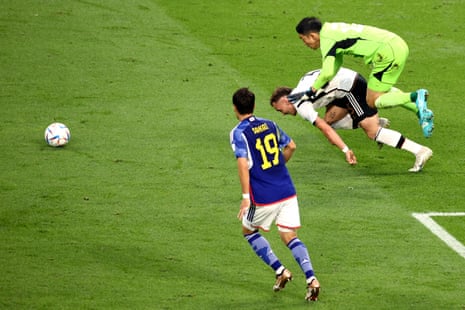 30 min: "Presumably Fifa will praise the Germans for so carefully observing Covid protocols during their team photo, or some such ludicrous spin," quips Justin Kavanagh. "'I am a German today,' Herr Infantino will no doubt be telling us shortly."
29 min: Gundogan finds Raum down the left this time. Raum shoots from a tight angle. Gonda parries. The ball breaks back to Gundogan, whose low drive is blocked by Yoshida. A couple of big chances for Gundogan in short order.
28 min: Gnabry cuts in from the right and tees up Gundogan on the edge of the Japan D. Gundogan sends his shot straight down Gonda's throat. He had Raum in acres of space on the overlap down the left. That pass might have been the better bet.
26 min: Havertz hooks back from the byline to the left of goal. The ball sails in the general environs of Endo's arm and so VAR takes a long look. But there's nothing doing. We play on.
24 min: There's not much by way of lively atmosphere at the Khalifa International Stadium this afternoon. "I think this may be the quietest World Cup match I've ever seen," opines Matthew Richman. "Is that a fan making that whistling noise throughout or is a singing bird the loudest presence in the grounds?"
22 min: Raum and Rudiger faff around, allowing Ito to make good down the right and win a corner off Schlotterbeck. Nothing comes of the set piece, Itakura and Sakai getting in each other's way at the far stick.
20 min: Kimmich pearls a shot from the edge of the Japan D. Gonda parries. Gundogan slashes the rebound well over the bar.
19 min: Germany are beginning to make their presence felt up the pitch. Gnabry hooks back a long ball from the byline, but there's nobody in the Japan box to take advantage. Germany have enjoyed 78 percent possession so far, albeit to little effect.
18 min: Kimmich just about gets enough purchase on a backpass to Neuer. He slightly scuffs it, with Maeda lurking, and is pleased to see the ball bobble back to his keeper.
16 min: Havertz wins Germany's first corner of the game down the left. Kimmich takes, but only after the referee bollocks Endo and Schlotterbeck for wrestling. Rudiger meets it at the far post, and sends a weak downward header past the right-hand post. Gonda had it covered anyway.
14 min: Germany may have started slowly on the pitch, but they were quick to make a statement before kick-off. This doesn't need too much unpacking, does it.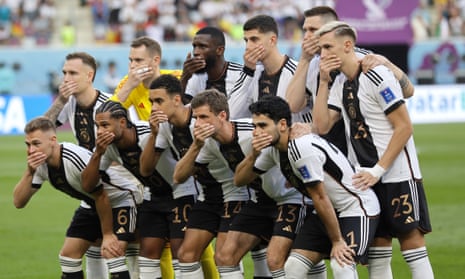 12 min: Ito skitters down the right again, and tries to thread a defence-splitter towards Maeda, but Rudiger reads the danger and intercepts. "Over the last four seasons Wataru Endo has been absolutely crucial for Stuttgart, who he captains, and has earned the love and respect of us fans," writes Kári Tulinius. "The last time I saw him play in the Bundesliga he was knocked unconscious and initial reports were very worrying, so seeing him back in fine form is heartening."
10 min: That was one hell of a counter, Japan swarming around Gundogan and zipping upfield with great pace. Maeda holds his head in his hands. Despair. He knows he didn't need to go as early as he did. Patience, patience. Germany – and Gundogan – got away with one there.
8 min: Kamada strips Gundogan in the centre circle, and Japan tear upfield on the counter. Kamada sends Ito into acres down the right. Ito curls a low cross into the German box for Maeda, who slams into the bottom left from six yards. What a move! But Maeda has gone too early, and the flag goes up for offside.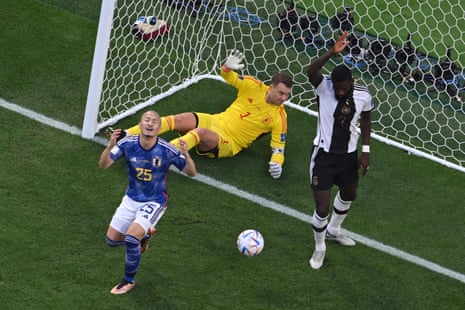 6 min: Kubo presses and puts Rudiger and Neuer under a bit of pressure. The German pair combine to blooter clear just in time. Kubo nearly closed the keeper down.
5 min: Ito wins the first corner of the game down the right. Kamada's delivery is no good, but Japan are looking lively during these early exchanges.
4 min: Japan go long again, Maeda hassling Rudiger as the pair chase the ball down the right wing. Rudiger gets the better of the Japan striker this time, but this could become an interesting battle. Maeda briefly threatened to get past the defender there.
2 min: Tanaka takes his turn to launch it long, forcing Neuer to come out of his box to head clear. Germany counter, Gnabry dribbling with purpose down the inside-left channel. He can't bust through Japan's blue line. Meanwhile here's Francis Lee reporting from Berlin: "The German TV interviewer has done her level best to give Hansi Flick a thorough pumping in the pre-match on-pitch debriefing zone etc., but all she could squeeze out of him was that Havertz will be playing striker, with Müller the no. 10."
Germany get the party started. They launch long, then a brief game of head tennis breaks out. Soon enough the ball's back at the feet of Neuer, after which the four-time winners pass it around the back awhile.
Incidentally, this match is being broadcast in the UK on Independent Television. On that subject, our media editor Jim Waterson reports …
ITV will continue to take Saudi Arabian money to promote the country as an exciting tourist destination, despite highlighting the Gulf nation's poor human rights record during the World Cup.

ITV broadcast a special report on Saudi Arabia during the country's unexpected 2-1 victory over Argentina on Tuesday. The report featured the case of Loujain Al-Hathloul, who led a successful campaign in 2018 to lift the ban on a woman's right to drive in Saudi Arabia but was later found guilty of crimes against the Saudi state.

The ITV report also told football fans the killing of the Saudi journalist Jamal Khashoggi at the country's Istanbul embassy and reported claims that the purchase of Newcastle United by the Saudi Public Investment Fund's is intended to distract from such incidents.

Yet following the bold broadcast viewers were shown upbeat adverts during the same programme, paid for by Visit Saudi Arabia – an arm of the Saudi government – promoting the country as an exciting new tourist destination.

An ITV spokesperson said that "as an ad-funded channel, we take our responsibility to our viewers very seriously" and all ITV advertising is approved pre-transmission to meet both legal and industry requirements.

But while legal, the decision of ITV – and other European broadcasters showing the advert – to take the Saudi money highlights the challenges of scrutinising sportswashing and human rights abuses while still trying to make money as a commercial broadcaster.
The teams are out! Germany wear their famous white shirt – with a huge black stripe running down the middle of it – while Japan are in first-choice blue. We'll be off soon, just after the anthems. "I know that Rewe, it's near the Natural History Museum," writes Tim Woods. "It really is a top-notch supermarket. Up there with the Waitrose in Twickenham, and that's not an honour I toss about lightly."
Up in armbands. The One Love debate rumbles on, with German vice chancellor Robert Habeck telling ZDF: "I am not the media advisor of the DFB (German FA) and I am not Manuel Neuer but the opportunity is there. I'm a politician trying to do my job properly, but what would happen if it happened now? I would like to know and I would take my chances."
Meanwhile Germany's interior minister Nancy Faeser, on a visit to a DFB event in Doha, has called Fifa's stance on the issue "a grave mistake", adding: "This is not alright, how federations are being put under pressure. These were not the security guarantees I had received from [Qatar's] interior minister. In today's times it is incomprehensible that Fifa does not want people to openly stand for tolerance and against discrimination. It does not fit in our times and it is not appropriate towards people."
Like the English FA, the DFB decided to u-turn on its decision to wear the rainbow armband under pressure from Fifa. As a result, Rewe, one of Germany's biggest supermarkets, has ditched its advertising campaign with the DFB.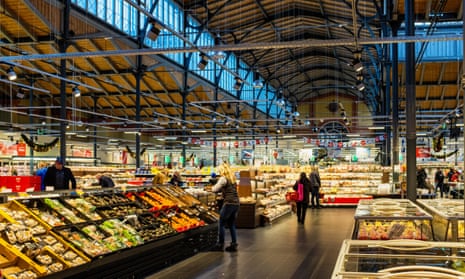 Yuki Kobayashi isn't in the Japan squad. But the 22-year-old centre-back is nevertheless in the news today. He's agreed to leave J-League club Vissel Kobe for Celtic. He'll join the Scottish champions at the start of December, and will be eligible to play once the registration window opens in January.
Manuel Neuer becomes the first goalkeeper to play in four consecutive World Cup finals for Germany. Thomas Muller, who has not played a full 90 minutes since September, starts up front. Celtic striker Daizen Maeda leads the line for Japan.
Germany: Neuer, Sule, Rudiger, Schlotterbeck, Raum, Kimmich, Gundogan, Gnabry, Muller, Musiala, Havertz.
Subs: Ginter, Kehrer, Goretzka, Fullkrug, Gotze, Trapp, Klostermann, Brandt, Hofmann, Sane, Gunter, ter Stegen, Adeyemi, Kotchap, Moukoko.
Japan: Gonda, Sakai, Itakura, Yoshida, Nagatomo, Tanaka, Endo, Junya Ito, Kamada, Kubo, Maeda.
Subs: Kawashima, Yamane, Taniguchi, Shibasaki, Doan, Mitoma, Minamino, Morita, Tomiyasu, Asano, Machino, Ueda, Schmidt, Soma, Hiroki Ito.
Which Germany are going to turn up this time, then? The one that spanked Brazil 7-1 en route to winning the 2014 World Cup? Or the rabble beaten by Mexico and South Korea four years later, in their worst showing at a finals for eight decades? That 3-3 draw with England a couple of months ago doesn't really answer the question, does it.
Hansi Flick's men haven't been firing on all cylinders recently. They shipped that two-goal lead at Wembley, lost at home to Hungary, and only beat Oman 1-0 last week. But they do have plenty of in-form Bayern Munich players to call on – Joshua Kimmich, Leon Goretzka, Jamal Musiala, Serge Gnabry – and four players (Thomas Müller, Mario Götze, Matthias Ginter and captain Manuel Neuer) who were around in 2014 and know exactly how it's done.
They're still sixth-favourites to lift the trophy next month, behind Brazil, England, France, Argentina (yes, still) and Spain. And as the 11th-best side in the world according to the Fifa rankings, they should have enough to deal with Japan, ranked 24 and priced at 475-1 to become champions. But then the same was said about the Koreans four years ago. In any case, the Samurai Blue have plenty Bundesliga quality of their own, including Eintracht Frankfurt midfielder Daichi Kamada, Wataru Endo of Stuttgart and defender Maya Yoshida, once of Southampton but now at Schalke, so Die Mannschaft will know they'll be given a game this afternoon. Kick off is at 1pm GMT, 4pm at the Khalifa International Stadium in Doha. انه يحدث! It's on!