Share and Follow
It is safe to assume that Jack Grealish got involved and helped to drink "all the alcohol in Manchester", as Pep Guardiola had it, after City's latest Premier League title coronation last month. Of course, he did. Grealish is not, to borrow one of his good-natured jibes, Erling Haaland "sitting in his ice bath". He loves a night out and is happy to say so. It is a part of his Jack the lad appeal.
With Grealish, there is the sense that he is never more than a few beers from a major PR incident. He is a danger man on and off the pitch and, again, it seems to be why people see him and smile – even when, at times, they know they should not.
Rewind to May 2022, to City's previous title triumph, the open-top bus parade and Grealish getting carried away with one of his own jokes. What was the secret to the team's dramatic final-day comeback win over Aston Villa, Grealish was asked in a video shared on social media? To substitute Riyad Mahrez, he answered, because he "played like Almirón".
For a long time, particularly when Miguel Almirón was banging them in for Newcastle in the early months of this season, Grealish was reminded of those comments. Why on earth had he singled him out? Grealish does not know. It was just something that popped into his head as the beer bubbles rose. By his own admission, he has done a lot of "stupid stuff".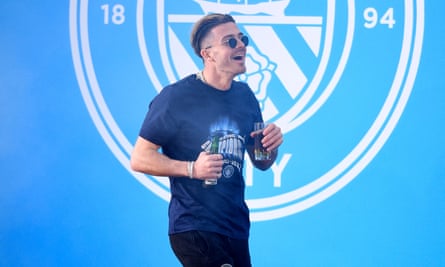 There was nothing from him this time as he revelled in the buzz of winning the league for the second time in his two seasons at City, after his British record £100m transfer from Villa. But there was a much more significant difference.
That day against his home-town club, Grealish had been an unused substitute, which seemed to sum up his debut campaign in City colours. When the big games were played, he could be peripheral – not least in the Champions League. He did not start any of City's six knockout ties and came on in only two of them.
This season, he has been front and centre, driving in from the left, tearing back, too, and it is easy to imagine that he feels like a truer champion. As Grealish looks forward to Saturday night's Champions League final against Internazionale in Istanbul, him and his teammates on the verge of treble-winning immortality, there is no discussion about whether he will start.
Again, the Champions League stands as the barometer. He has started all six of City's knockout games, playing the entire 90 minutes in all bar one – the 7-0 drubbing of RB Leipzig in the last 16 second leg when he was taken off in the 55th minute as they led 5-0.
The most striking point of comparison has involved the second legs of the semi-finals against Real Madrid. On as a substitute last season at the Bernabéu, Grealish had a shot miraculously hacked off the line by Ferland Mendy in the 87th minute and then watched Thibaut Courtois stick out a toe to divert a shot from him just past the far post.
Had either gone in, City would have been in the final. Grealish did not do an awful lot wrong and yet he did not do enough right. Shortly after, he also made a sloppy attempt to close down a Dani Carvajal cross, Rodrygo burgled a second stoppage-time goal to force extra time and Madrid would advance.
This season at the Etihad, Grealish appeared to be a man on a mission, terrorising Madrid with the ball at his feet. And yet one of his standout moments came at the other end, highlighting his evolution into a player Guardiola can trust. Just after the hour, when a Madrid goal could have changed the mood, Grealish tracked back to regain possession and then buy a foul from Luka Modric. The crowd went wild.
"Jack has played properly, I would say, in this period … against Madrid with and without the ball," Gareth Southgate, his England manager, said. "That wasn't the case two-and-a-half years ago, if I'm honest. There's been a lot of progress."
When City make a big signing, the director of football, Txiki Begiristain, has a message for the player's agent. "Make sure he walks in with his chest pumped out, like he is part of it here," Begiristain says.
It feels out of step to suggest that nerves were an issue for the swaggering Grealish, especially as he genuinely loved and embraced the size of his fee. But it was easier for him to hear Begiristain's words than to live them. Inwardly, Grealish did not feel part of it, an equal to City's superstars – particularly Kevin De Bruyne, with whom he had dreamed of playing.
Grealish was blown away by De Bruyne and the level of many other City players – João Cancelo, for example, who was loaned to Bayern Munich in January. The reality was that he was not comfortable yelling at De Bruyne for the ball, or even having a pop at him. He was in awe of him. It took him time to realise that he did have the skills to share the same field.
Any analysis, though, of Grealish's second-season blossoming comes back to another man – the man – and what is virtually a truism. There are exceptions, Haaland being the most obvious, but so many players need a full season to adapt to the demands of Guardiola; the freakishly deep detail of them, the volume, too.
Grealish was Villa's crown prince, the feted academy product and creative hub, encouraged to play off the cuff, essentially to do what he wanted on the ball. And if he lost it, no problem. Or, at least, it was not his problem, it was someone else's.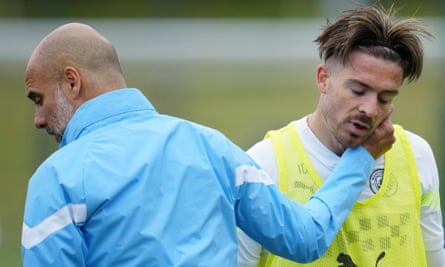 At City, there is much more structure, more information imparted in many more meetings. Grealish is on record as saying that in every game Guardiola has a different way to set up. Some of his orders might even feel counterintuitive but they are there for a reason. Repeat and repeat until they become intuitive, precise, clinical.
City players are not meant to lose possession. When they do, it is a mark against them, a shake of the head from Guardiola, which especially hurts new players. Grealish has seen less of the ball than he did at Villa and has to be more aggressive without it. There is also the wider scrutiny, away from Guardiola, which is a factor. Villa were hardly ever on TV. City are never not on. The pressure is remorseless.
Grealish has 11 assists this season, up from four last time out – a big increase. As an aside, De Bruyne has 31. But the curious thing is that, according to Opta, most of Grealish's other key metrics are pretty similar per 90 minutes played when compared with last season.
Apart from two. He has been fouled 32% more and his statistic for what Opta calls possession won has rocketed by 42%. This does not include tackles or interceptions, rather when Grealish recovers the ball in a situation where neither team has it or where it is played directly to him by an opponent. It points to a greater positional awareness out of possession.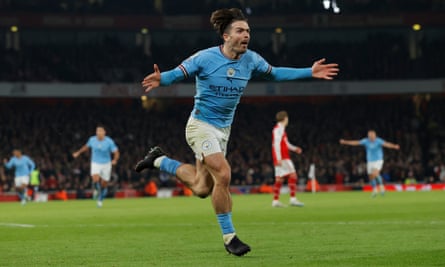 More than the numbers, it is what the eyes have seen with Grealish this season. He has been more direct and positive with the ball, sharper with his actions and decision-making. His passing has been more dangerous and the defensive application has made him more complete.
For Grealish, it has come down to feeling fit and confident, more comfortable in his working environment and, above all, in the relationship with his manager. He remains unapologetically the same person – Jack from Solihull who loves the Villa, as he would put it – living life to the full, except when he goes a little too far and does have to apologise.
Grealish's mea culpa to Almirón last December was so heartfelt that even the most indignant Newcastle fans might have been disarmed. Grealish does this to you. What he wants now is to find a way past Inter and on to the mother and father of all parties.
Share and Follow