Key events
5 min "Growing up in NYC in the mid-60s," says Barry Ragin, "friends and I had a game called Green Pig. To put it in family friendly terms, if anyone passed gas in the room, everyone had to put their fist to their chin and say 'Green Pig.' Last one got a pummelling. Imagine my surprise meeting someone nearly two decades younger than me who had grown up in rural North Carolina who played the same game."
Art transcends geographical differences.
4 min Croatia, though, are like a boa constrictor, gradually strangling opponents until they can't breathe. They won't be fazed by any of this; six of their last seven tournament knockout games have gone to extra time.
3 min Croatia try to play out and Maeda slides in on Livakovic, almost robbing him! This is a really good and intense start from Japan.
2 min …and Doan's ball in is a belter, flying flat across the box and missing a decent touch from everyone. Someone, though, sticks it behind and Japan go short with the corner, Ito swishing in another tremendous ball … that Taniguchi heads wide of the far post! He should've done better, but Japan are into this!
1 min Maeda advances down the left and Juranovic fouls him, so Japan have an early chance to stick a ball into the box…
1 min And away we go!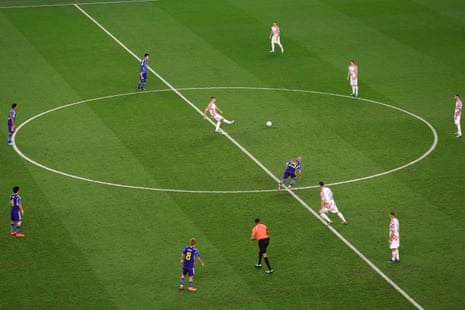 Tiesto's Lets Get Down to Business pumps. It's actually the tune my wife plays when doing the Passover cleaning; I'm not sure what that tells us.
"Yellow car?" says Casiano Martinez. "We played a variation of it called Punch Buggie, where instead of yellow cars we went by Volkswagen Beetles. You just yelled the color of the car along with the phrase punch buggie. All of the mentioned rules apply. Incidentally, this didn't have a name but I've wondered if others played it, when I was in middle school the boys used to come behind each other when one of us was at the urinals and either pull you out or push you in (mid-stream of course), and to this day I don't know what was worse."
If you stand with one foot in front of the other, you prevent the push in. I realise this tip comes too late to be of much use.
Anthem time…
Question, perhaps the most Guardian question of all-time: does Croatia have the best beaches and the best ice cream in Europe? If there are and is better, I've not experienced them and it.
Here come the teams!
BBC telly have also done a little Gvardiol spot, prompting Alan Shearer to quip that he'd look good in black and white – based on the below, I guess he's dropping Sven Botman. Gary Lineker points out that he's said that every time a player's done well in Qatar; "makes a change," replies Shearer, without taking a second to wonder why.
Feel free to send in your other childhood – or not – games. Another I recall is a group standing in a circle with arms around shoulders and tripping each other until only one person was left standing. I went home, told my dad about it, and turned out he'd played it at primary school too, so it's at least 65 years old.
"There is no way a taxi on tv should count!" says Joe Pearson. "If media were allowed, one could simply keep a picture of a yellow car on their phone and pull it up whenever they wanted to give their competitor a smack. Fine margins, you know."
I can't lie, the other day I did ask my daughter to step outside, so I could yellow car her using a strange van-type thing that parks down our road and never moves.
Email! "Yellow Car was officially banned in a small Scottish enclave in North Northants," says Jack Roe, "because my mate James McCallum refused to stop belting me whenever he saw any vehicle even slightly jaundiced. For the record, I'm a purist: cars only, in person, one dig, above the waist. Anything else is just violence."
Funny you say that, my nine-year-old has recently been grousing because I've started giving her a few little shots as she's clocking me as hard as she can. Tangentially, I've just remembered a similar game of my youth which we knew as Not Kosher. The bed was kosher, everywhere else was not kosher, and the last one left remained kosher so was therefore the winner. Er, and I've just consulted with Wikipedia, learnt that the first Royal Rumble was in 1988, and have instructed my lawyers to sue Vince McMahon.
I think it took five minutes for BBC to start talking about England. What kept them?
Here's today's World Cup Football Daily:
Breaking news: I think Gary Lineker has new glasses – and surprisingly, they've got a crossbar. I absolutely did not see that one coming.
On 5 live, Harry Redknapp's Niko Kranjcar is talking about Josko Gvardiol, who looks a very serious player. His best attribute, says Kranjcar, is his decision-making, but he also reads the game really well and is good on the ball whether passing or carrying. I mentioned that Croatia have only scored on one game, but they've also only conceded once, and he's a big part of the reason why.
Yellow car rule verification: does the game apply solely to cars, or are other vehicles, such as lorries, buses and ambulances allowed? And do the cars have to be seen in person?
Yours, someone who got whacked when a New York taxi appeared on television yesterday.
Croatia might also fancy themselves out wide – as any team playing an opponent fielding three at the back should, but I also reckon they'll expect Japan to leave gaps there when they fly forward. They've struggled to score in this competition – both Belgium and Morocco have shut them out – so have rearranged their front three once again in a bid to find some edge.
Thinking about how the game might go, my guess is that Japan will look to get at Croatia down the sides. They'll know they've no chance of dominating possession so I doubt they'll even try – in picking two central-midfielders against Croatia's three, they're effectively ceding control of the game. Which makes a lot of sense, because even if they had a third man in there, they'd still be struggling to dictate, so may as well try and create overloads out wide.
As for Croatia, Borna Sosa is ill, so Borna Barisic, of Rangers, replaces him while, in attack, Marko Livaja loses out to Bruno Petkovic.
So what does it all mean? Well, Japan are without the suspended Kou Itakura, who is replaced by Takehiro Tomiyasu on the right side of the back three. Ao Tanaka, meanwhile, is on the bench, with Wataru Endo coming in, and Ritsu Doan, the supersub who scored against both Germany and Spain, replaces Takefusa Kubo, who I think is injured.
Japan (3-4-3): Gonda; Tomiyasu, Yoshida, Taniguchi; Ito, Morita, Junya, Nagatomo; Doan, Maeda, Kamada. Subs: Kawashima, Mitoma, Saai, Hato, Schmidt, Minamino, Machino, Yamane, Tanaka, Ueda, Shibasaki, Asano, Soma.
Croatia (4-3-3): Livakovic; Juranovic, Lovren, Gvardiol, Barisic; Brozovic, Kovacic, Modric; Petkovic, Kramaric, Perisic. Subs: Grbic, Ivusic, Erlic, Majer, Vlasic, Livaja, Pasalic, Budimir, Orsic, Vida, Sutalo, Sucic, Jakic.
Referee: Ismail Elfath (USA)
So who had this one on their predictor? Er, not me. But what a match is in prospect – let's be real, it's the only one of the eight ties in which the outcome seems in doubt at the outset – and feels by far the most likely to give us extra-time and the lottery of successfully executing a precision-skill under intense pressure.
Japan have been an absolute rush and one of the most affirming joys of this World Cup. Beating Germany and Spain is one thing – well, two things – but beating Germany and Spain from behind is one of the – well, two of the – most reeeediculous feats in recent times. And that's only part of it: what's been just as wondrous is the inspirational invention and screeching intensity of their play; if they can find similar this afternoon, we're in for a treat.
However, if anyone has the antidote for that, it's Croatia and, in particular, Luka Modric. He may be 37-years-old, but his ageless genius allows the last of the great schemers to somehow orchestrate proceedings involving 21 other, younger players. I say somehow because, like all the most gifted exponents of any art, quite how he does it is shrouded in mystery. But he is also abetted by the all-round efficiency of Mateo Kovacic and Marcelo Brozovic, a midfield trio accomplished enough to decide which of these teams progresses.
This is going to be really, really good.
Kick-off: 6pm local, 3pm GMT