Share and Follow
Last Updated on June 1, 2023
Kanye West, also known simply as Ye, has won his legal battle over Adidas and will regain access to his Yeezy shoe and apparel company bank accounts, which are worth approximately $75,000,000 – all money that Adidas was demanding the court system seize and send to Adidas coffers.
Rap and fashion mogul turned political candidate and cultural pundit Kanye West has defeated the international corporation of Adidas in court.
A judge has refused to order bank accounts belonging to West's Yeezy brand and holding over $75,000,000 to be seized and given to Adidas, the parent company that has historically backed West's Yeezy brand, but no longer does, after breaking with West over disagreements on free speech.
The accounts had been frozen for months before the freeze was ordered lifted by a Manhattan judge just days ago. Adidas immediately filed a motion in court to request that the money be frozen once more by way of a temporary restraining order, but the judge denied that motion.
While the Yeezy brand and Kanye West himself are not completely out of the woods in regard to the legal battle with Adidas, the return of the money to Yeezy is a major step forward both for West and for free speech as a whole.
At the heart of the court case is the question of whether or not a parent corporation can invest money in a business and then take it back if and when they decide that the business or its owner doesn't mesh with their personal or political views.
Adidas, a globalist corporation with deep ties to Nazi Germany, broke off its relationship with Kanye West after he'd produced wildly popular apparel with them for roughly a decade, because of a number of "antisemitic" statements that West had made.
Far from the only corporation to break off ties with or target West for censorship as he embraced populism and questioned why people worldwide are forbidden from criticizing only certain ethnoreligious groups, the wider corporate world, including the corporate media, has pounced on West and made him one of the most canceled men on earth.
Even as news broke that West had defeated Adidas in court, search engine results were changing in real time to bury the Adidas court case story and instead fill news searches with negative stories about Kanye West, mostly relating to his personal life, as you can see below.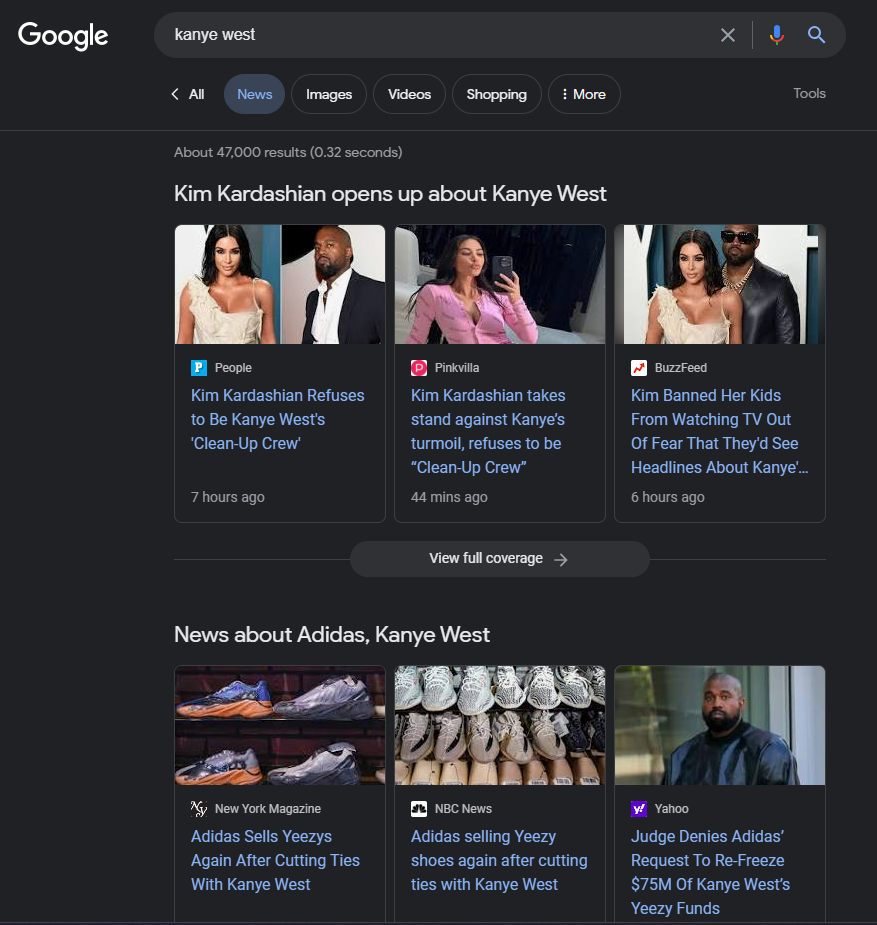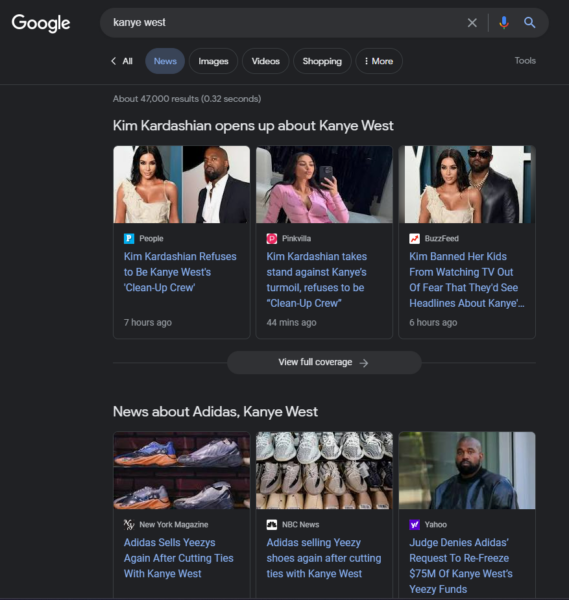 Share and Follow