The Federal Court has just adjourned a short hearing in which parties for both Novak Djokovic and Immigration Minister Alex Hawke discussed procedural matters about how the challenge to the visa cancellation will go ahead this weekend.
All parties agreed to the hearing going ahead tomorrow at 9.30am (Australian Eastern Daylight Time).
The hearing was fairly administrative, with the only dispute between the parties being whether Djokovic's case would be heard by a single judge or the full court of three judges.
If the case is heard by the full court, Mr Hawke will have no avenue to appeal any decision made.
Justice David O'Callaghan has advised he will make a decision on that matter today.
When Djokovic's case landed on the desk of immigration minister Alex Hawke, he considered two main grounds in the law on which he could intervene – whether Djokovic had provided false information on his visa or passenger card, or whether he might pose a risk to the public health, safety or good order of Australia.
In a surprise to many legal minds watching the case, he chose the latter.
Djokovic had already apologised for a mistake on his travel declaration form, filled in by his agent, which failed to disclose he had recently been in Spain.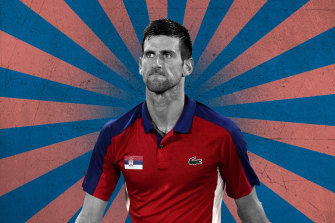 But, while this paperwork is now treated as a statutory declaration, it itself is a new pandemic-era policy and law experts said on Friday the question of whether it counted as a "visa or passenger card" may have caused headaches for the government in court.
Instead, the minister chose health and good order grounds – grounds which have loosened by the Morrison government in recent years to include anyone who might pose a risk, not just those who are considered to. That, immigration lawyers say, gives the government a lot of room to move, including some precedent for sending a deterrence message.
Read more in our explainer on Djokovic's possible legal options here.
Australian Open fourth seed Stefanos Tsitsipas said it was a shame that the first grand slam of the year was being overshadowed by the Novak Djokovic visa controversy.
It has been pretty much on every news outlet the last couple of weeks.

It has received a lot of attention. A lot of people are obviously talking about it.

Not enough tennis has been talked about in the last couple of weeks, which is a shame.
But as for his own prospects at the tournament, despite recent fears that an elbow injury would force him out of the Australian Open, Tsitsipas said he has recovered "close to 100 per cent" from surgery.
Feeling good with my arm, which is very nice to see. My preparation is going well. I have been practicing with plenty of good players the last couple of days.

The weather has been very nice, which helps a lot heading into the Australian Open. I have faith that it's good enough for me to compete at best-of-five sets.
The world's eyes have been on Australia and Novak Djokovic's fight to remain in the country to challenge for his 10th Open title.
Overnight news networks across the globe, from the US and UK to Spain and Djokovic's native serbia, reported the dramatic events as Immigration Minister Alex Hawke cancelled the tennis star's visa for a second time.
See the best of the world's reactions as reported on television networks abroad.
And for more on the coverage across the globe, read our story here.
The argument that Immigration Minister Alex Hawke is relying on to prove Novak Djokovic poses a risk to the public for his "anti-vaccine" views has been laid out in documents just released publicly.
Mr Hawke has claimed that Djokovic's presence in Australia "may lead to an increase in anti-vaccine sentiment generated in the Australian community".
"[This] potentially leading to an increase in civil unrest of the kind previously experienced in Australia with rallies and protests, which may themselves be a source of community transmission," Mr Hawke states.
It comes as an anti-vaccine rally is underway on the streets of Melbourne.
Mr Hawke further posits, that Djokovic remaining in Australia may lead to "one or more" of the following:
"An increase in anti vaccination sentiment being generated in the Australian community, leading to others refusing to become vaccinated or refusing to receive a booster vaccine."
"Reinforcing the views of a minority in the Australian community who remain unvaccinated against COVID-19 and who are at risk of contracting COVID 19."
"An increased number of people deciding not to receive a booster vaccine and or unvaccinated persons becoming very unwell and or transmitting it to others and or increased pressure placed on the Australian Health System, a significant contributing factor being the number of unvaccinated persons contracting COVID-19 and requiring medical attention or assistance".
As reported earlier, Mr Hawke has moved away from the argument that Djokovic poses a risk to the community for not being vaccinated for COVID-19 and now states that he will "proceed on the assumption in his favour that he poses a negligible risk".
Whether by accident or design Novak Djokovic has transformed himself into the global poster boy for vaccine hesitancy.
So the Australian government's decision to cancel his visa has triggered a wave of support from a COVID-weary global public – as well as fresh condemnation from the player's dedicated fans.
US columnist Max Boot wrote: "He needs to decide if he is going to be the No. 1 men's tennis player in the world or the No.1 anti-vaxxer. He can't be both."
Even among Djokovic's fellow Serbians some have sided with Australia.
"Their country, their rules," Jovo Tadic said in Belgrade, Serbia's capital. "If Australia tells you to get vaccinated to enter, do it – or face problems.
Defending Australian Open women's champion Naomi Osaka said it would be sad for Novak Djokovic to be remembered for the visa fiasco he's currently embroiled in.
Djokovic, the reigning men's champion, and record nine-time winner of the tournament, had his visa cancelled for a second time on Friday on health and good order grounds by Australia's immigration minister Alex Hawke.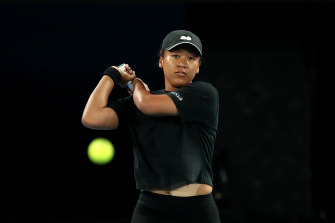 I think it's an unfortunate situation.

Like, he's such a great player and it's kind of sad that some people might remember him in this way.

But I also think it's up to not tennis players, it's up to the government how Australia is deciding to handle it.

I know what it's like to kind of be in his situation in a place that you're getting asked about that person, to just see comments from other players, it's not the greatest thing.
The affidavit prepared by Novak Djokovic's lawyers have been made public – and the 268-page document gives an idea of how the player's legal team plans to fight the key claim that his anti-vax views are fair grounds for a visa cancellation.
Amongst a number of arguments set out in the document relating to the 'public interest' argument the Minister for Immigration is relying on is the claim Djokovic has widespread support in the Australian community.
"There is vocal support in Australia and abroad for Mr Djokovic to remain in Australia and play in the Australian Open 2022," the documents prepared by Hall & Willcox states, referring to an online poll published by The Age and Sydney Morning Herald this week which showed 60 per cent of readers agreed he should be able to play.
The letter also references ​​an online petition for with over 83,000 signatures showing support for Djokovic.
"There are several matters that would go against the public interest if the Australian government were to make a second attempt to cancel Mr Djokovic's visa," the document continues.
"First, that action would be likely to (further) adversely affect Australia's global reputation, and call into question Australia's border security principles and policies – and indeed the rule of law in Australia generally.
"Secondly, that action would prejudice Australian economic interests, and jeopardise the viability of Australia continuing to host this prestigious, international sporting event.
"Thirdly, that action would create the appearance of politically motivated decision-making.
"Cancelling Mr Djokovic's visa and deporting him would plainly be adverse to the public interest, and respectfully, could only serve political interests. The Minister for Immigration cannot be satisfied that there is any public interest in cancelling Mr Djokovic's visa."
Read the affadavit in full below.
Australia's top ranked men's player Alex de Minaur says he and other players want to get on with their Australian Open campaigns as the Novak Djokovic visa saga continues to overshadow the first major of 2022.
De Minaur said: "This whole situation has taken a lot of spotlight away from us competitors. We're here to play the Australian Open.
"We're here on our own terms ready to compete, hopefully have a very good couple weeks.
It feels like it's taking away from us competitors who just want to start. We're just eager to go out and compete.
"To be honest, I'm just ready to put all of this behind me and focus on playing my tennis matches, kind of let my tennis do the talking."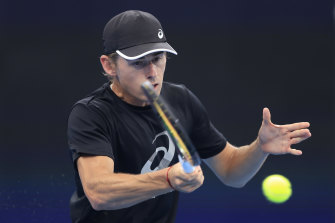 De Minaur said the playing cohort were continuing to find out developments like everyone else.
"At the end of the day we don't know barely anything about what's happening," de Minaur said.
"Every day it feels like there's new information. As the rest of the public, we don't know what's happening. He's been doing what he's been doing. Hopefully soon enough we'll have a decision either one way or the other."
Tomorrow's court date is set for 9.30am (AEDT) but there's plenty more to come today.
Players are lining up to speak to media, so we'll bring you the best updates from our sports team out at Melbourne Park.
The deadline for Djokovic's team to file written submissions is 12pm today, while the government has until 10pm.
We'll also bring you the key points from documents submitted to the Federal Court. You can read the full thing below.
Lawyers for both sides agreed to the timetable for any written submissions ahead of Sunday's hearing and decision on the visa cancellation.
Mr Djokovic's lawyers will have submitted all their submissions by midday today, with lawyers for the Immigration Minister to respond and serve theirs by 10pm tonight.
Paul Holdenson QC, appearing on behalf of Djokovic, said his client had no problem with his affidavit being released to the public today.
Source: SMH