Key events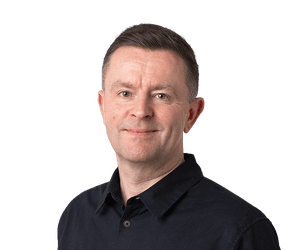 Andy Hunter
Sean Dyche appealed to disgruntled Evertonians to park their grievances with the club and lift his relegation-threatened team, as he denied receiving promises over transfers before taking the job.
The new Everton manager witnessed the fracture between fans and board on his second day in charge when protests were held outside Finch Farm training ground over the failure to make a January signing. Demonstrations against the board are planned for before and after Saturday's home match against the league leaders Arsenal, with organisers pledging their support to Dyche and his players during the game.
This is next-level from Chelsea's record signing:
Enzo Fernández says he wants to take Chelsea 'to the next level':
"So even Duncan Ferguson is willing to speak of being on a journey – not something you'd have imagined that he'd be willing to burble when he was in his hard-tackling pomp," emails Charles. "1970s therapy-speak has truly embedded itself in our consciousness, for good or ill. During the pandemic lockdown of recent memory, I had to have an interview with HR, and their first question was to ask me to tell them all about my "Covid journey". I could have pointed out that, like everybody else, I was obliged to stay in and not actually go anywhere, but I felt that that might go down on the negative side of the ledger."
Travelling without moving. Or not? Like it, Charles.
Graham Potter appears to be drowning in new squad acquisitions at Chelsea. The early signs are not great for him in his new-ish job, it must be said. But as stated, they are early signs. Time will tell.
What do you think of Chelsea's prospects under Potter? You can email me or even send a message via Twitter with your thoughts …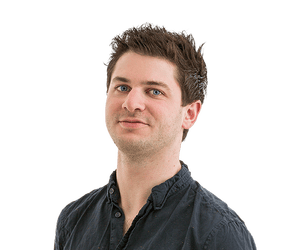 Jacob Steinberg
Graham Potter has admitted it will be challenging to maintain dressing-room harmony after Chelsea increased the size of their squad with their frantic January transfer business.
The club took their spending to more than £500m under the Todd Boehly-Clearlake Capital ownership when they broke the British transfer record by buying Enzo Fernández from Benfica for £106.8m on deadline day.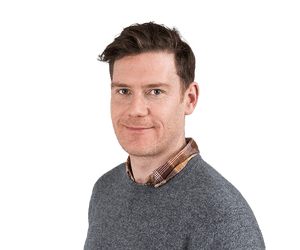 Paul MacInnes
The Labour party has called for renewed focus on securing a financial settlement between the Premier League and EFL, after leaked proposals suggested the task could end up being settled by a regulator.
Football authorities have been in deadlock for more than a year on how to create a more sustainable distribution of revenue across the men's football pyramid, after they were forced into talks by the government. A white paper on reforming football governance is expected to say that an independent regulator would be granted "backstop" powers to impose an agreement should football authorities be unable to reach one.
Will Unwin has interviewed Duncan Ferguson, the new manager at League One Forest Green:
"When I first met the owner and saw his passion and enthusiasm for the club and what he was doing that certainly went a long way to making my mind up," Ferguson said … "On top of that it was a start for me on my managerial journey. Feeling wanted was a big one for me. And I thought: 'Why not take this challenge?'"
On the subject of the club's laudable commitment to sustainability, Ferguson said: "The vegan food is quite nice. Chips are vegan, I didn't know that."
The Newcastle manager, Eddie Howe, has been having a chat with the media soon after seeing his team progress to the Carabao Cup final by defeating Southampton earlier this week. The Magpies host West Ham in the 5.30pm Premier League kick-off tomorrow.
"We've tried to refocus the players [after Tuesday]," Howe said, quoted on the club's Twitter. "It is a very difficult game. If we're off it in any way it'll be even harder. There's been a big push from me & the staff to make sure we're ready for this game."
On Alexander Isak, who took a James Ward-Prowse free-kick in the face on Tuesday: "Alex made a vital contribution in that moment. He was able to jump and block the free-kick but took a blow to the side of the head and had very slight signs of concussion. We've followed all the protocols but whether he'll be available, I'm not sure."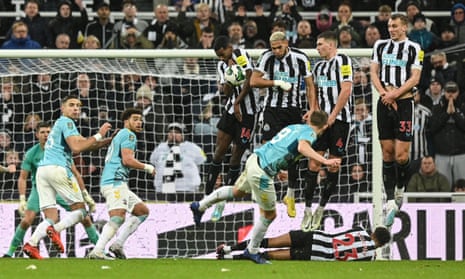 On the suspended Bruno Guimarães: "When you lose one player you have to readjust & there will be an opportunity for the team to regroup and find another way. The good thing for Bruno is that he'll be available for the final, but we have three huge Premier League games he'll miss."
Speaking of Arsenal, they top the bill in this week's 10 things to look out for in the Premier League.
Tomorrow lunchtime, Arteta returns to Goodison Park with his accomplished team to face crisis club Everton, who will naturally be hoping to become considerably less crisis-y under the newly installed manager Sean Dyche.
Martinelli signs new Arsenal contract
Premier League-leading Arsenal have announced the news that Brazil forward Gabriel Martinelli has signed a new long-term contract.
On the official club website, the head coach Mikel Arteta is quoted as follows: "We're delighted Gabi has signed a new long-term contract. Our supporters see his quality and energy every single time he puts on the shirt and he's the same every day in training, with his hard work and positive values.
"Gabi is still very young, so we know there's still much more to come from him and it's great that we'll be on this journey together. We're now excited to continue to develop his huge talent and look forward to seeing him perform with Arsenal in the years to come."
As Jean-Paul Sartre once said: "50% of football is 90% mental." Or was it Franny Jeffers? Can't remember now, but the point stands.
There is lots of football on this weekend, of course there is, so we must prepare ourselves for the physical and mental challenges that lie ahead.
We'll be tuning into plenty of manager press conferences on this Friday blog, updating you on team news, and sprinkling it all with some (in theory) delightful banter. Allez!