Key events
45 min: Bree strides down the right and slips a ball infield for Armstrong, who tries to round Burn with his first touch. Too heavy, and the ball flies through to Pope. Saints are back in this, though, no question.
44 min: Adams goes down in agony, having fallen slap bang on his coccyx. Ooyah, oof, that's gotta hurt. The Saints striker is good to continue after catching his breath.
42 min: The restoration of their three-goal cushion would do the trick. Almiron and Schar nearly oblige with a cute combination down the right, only for Schar to wildly flash a shot-cum-cross deep into the stand behind.
41 min: Lyanco creams a long pass down the inside-right channel towards Armstrong. Pope comes to the edge of his box to claim easily enough, but once again, with the ball sailing towards their box, the sudden anxiety of the Newcastle fans is palpable. Adams' goal has momentarily paused the party.
39 min: Corner for Newcastle. Trippier takes. Bazunu gathers, and sends Adams tearing off down the left. Adams reaches the edge of the Newcastle box but can't work space to shoot, eventually losing possession and falling over. But during his run the home fans betrayed their nerves for the first time this evening. A realisation that a second Saints goal would really set off the Newcastle jitters. No trophy since 1969 tends to do this sort of thing to a fanbase.
37 min: As for that penalty shout … you've seen them given for less, you know. Lyanco had a hand on Wilson's shoulder just before the striker went down. It would have been soft as hell, but Newcastle certainly had a case. Nothing clear or obvious, I guess. And all you can do these days is guess.
36 min: Walker-Peters goes down. It looks like he's pulled something. On comes the physio, who quickly performs the substitution hand-jive. Walker-Peters hobbles off sadly. Edozie comes on in his stead.
34 min: Salisu crosses from the left. Bree nearly brings the ball down to the right of the D, but Burn does enough to put him off. Goal kick.
33 min: Trippier crosses from the right. Wilson, racing in from the right, hopes to head home from ten yards. He goes over in the environs of Lyanco. Newcastle scream for a penalty kick, but neither referee nor VAR shows any interest.
31 min: Is the comeback on, then? Saints still face one hell of a task, but at least now there's a little hope. That strike momentarily sucked the air out of the stadium, though the home fans soon got going again.
GOAL! Newcastle United 2-1 Southampton (Adams 29); agg 3-1
Now then! Burn and Willock over-complicate matters when attempting to pass out from the back. Willock's loose pass is intercepted by Adams, who strides towards the Newcastle box down the inside-right channel and thrashes a low drive across Pope and into the bottom left!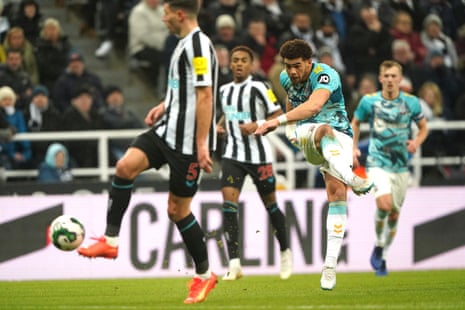 28 min: Lyanco has been given the runaround by Joelinton tonight. So there's perhaps a little frustration as he clatters into his opponent. On come the physio, but Joelinton will be good to continue.
27 min: Southampton must know the jig is up, unless something as psychedelic as the pattern on their shirt pans out. Newcastle haven't let in a goal since Romain Perraud scored a late consolation for Saints in the 4-1 rout at St Mary's in early November.
25 min: It's a proper carnival atmosphere at St James' Park now. Thousands waving their scarves in the air. As colourful as black and white can get.
23 min: … and to think, Longstaff should have a hat-trick now, just over 20 minutes in, having missed a glorious chance earlier on from six yards! Like he, or anyone else involved with Newcastle, cares right now!
GOAL! Newcastle United 2-0 Southampton (Longstaff 21); agg 3-0
This is such a good team goal. Willock and Joelinton combine on the left flank, tiptoeing down the touchline at speed. Willock cuts into the box, past Lyanco with ease. He cuts back up the channel for Almiron, who fizzes a first-time low cross into the path of the in-rushing Longstaff. Presented with a free hit from the penalty spot, Longstaff slams a shot into the bottom right. No messing! What a move! Saints ripped apart with such elan!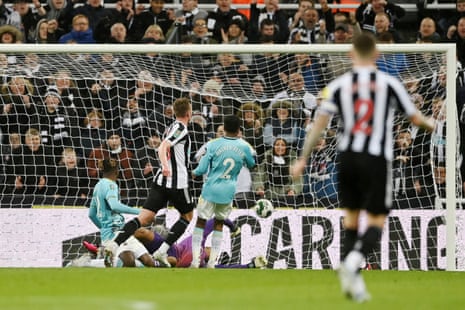 19 min: Guimaraes looks to set Newcastle off on another attack, only to be crudely shoved in the chest by Diallo, who is slightly fortunate not to go into the book.
18 min: Wilson closes down Bazunu as the Saints keeper attempts to play out from the back. Bazunu is forced to lash a clearance into the stand. Having been given no other option, Bazunu gives his team-mates the what-for.
16 min: Trippier strokes a pass down the inside-right channel for Almiron. Bazunu reads the danger well, racing all the way to the edge of his box to smother at Amiron's feet before the Newcastle man can get a shot away. This is all Toon.
14 min: Salisu prepares to send a long ball clear. He's chased down by Almiron, the ball pinging out for a goal kick. Newcastle aren't letting the visitors settle at all. No quarter given.
13 min: Trippier's corner is flicked on by Schar. The ball's heading in, but Bazunu manages to get something on it, deflecting the ball out for another corner. Nothing comes of the second set piece, but this is some start by Newcastle. Saints are hanging on by their fingernails here.
12 min: Joelinton spins away from Lyanco with absurd ease, tearing down the left wing. He powers into the box but, with two team-mates waiting in the middle, opts to shoot himself. His effort is deflected over the bar for another corner on the left.
11 min: Trippier plays it short, receives the ball back immediately … and hoicks it dismally over everyone in the box and out for a goal kick. That's not in character, and he laughs accordingly.
10 min: Willock strides down the left and wins the first corner of the match. Trippier to take.
9 min: Saints try to hit back quickly. A long pass down the inside-right channel is chased by Adams. The ball breaks to the right for Armstrong, who hits a first-time bobbler goalwards from the edge of the box. Easy for Pope, who is on a ten-game run of clean sheets.
8 min: It should be two. Almiron makes his way down the right, and nearly reaches the corner flag. He cuts back for Guimaraes, who draws two Saints defenders before slipping a pass down the right channel for Longstaff. The local lad takes a touch inside to tee himself up … but lashes wide right from six yards. Had that been on target, Bazunu would have had no chance.
7 min: That was such a lovely team goal from Newcastle's perspective, though Walker-Peters was beaten far too easily by Trippier, while Armstrong failed to track the run of Longstaff. Saints have it all to do now. Already.
GOAL! Newcastle United 1-0 Southampton (Longstaff 5); agg 2-0
Guimaraes dribbles infield from the left flank. The ball stuck to his foot as he swerves past a couple of players. The ball's switched by Longstaff to Trippier on the right., Trippier dances past Walker-Peters with ease and enters the box before teeing up Longstaff, who had kept going down the channel. Longstaff whips a low shot across Bazunu and into the bottom left. St James' Park erupts!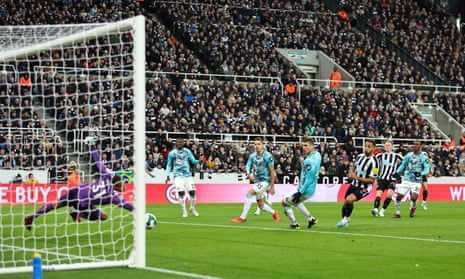 3 min: Saints allow Schar an awful lot of room to romp forward into. He slips Longstaff into some space down the inside-right channel. Longstaff looks for Wilson at the near post. Wilson pokes harmlessly wide.
2 min: It's quiet on the pitch, though, during the opening exchanges. Football can be funny like that.
Both teams get in a huddle, the last words of inspiration delivered … then Newcastle get the second leg underway. "The atmosphere here is fantastic," says Sky co-commentator Ally McCoist. No small compliment coming from a former Sunderland star.
The teams are out! Newcastle wear their famous black and white stripes, while Southampton sport a swirling psychedelic aquamarine number that even the heads of Haight-Ashbury '67 would have thought twice about wearing out. With the Toon on the verge of reaching their first cup final of the 21st century, the atmosphere at St James' Park was electric enough already, but it's been taken up a notch with an on-pitch welcome for new signings Anthony Gordon and Harrison Ashby. Gordon in particular looks thrilled to be there; in terms of sheer buzz and positivity, St James' is an awfully long way from Goodison Park right now. We'll be off in a couple of minutes!
Nathan Jones talks to Sky Sports. "We gotta believe we can do it … we have to put in a proper performance because they don't lose many games, so we have to be at our very best … if we are, we can make a real good game of it … they are in the driving seat, a goal up and at home, but anything can happen in a one-off game and that's how we're treating it … we've had three games in a week … we've had to make sure we are at full energy … today is the strongest side I could put out … James Bree is a good athlete who understands how I want to play … if Che Adams adds a clinical edge he'll be a top striker … if we start well the atmosphere can be a positive … what a great opportunity, a semi-final at one of the cathedrals of English football … we're looking forward to the challenge."
It's worth remembering that the first leg got a little fractious towards the end. Duje Caleta-Car was sent packing on 87 minutes for his second yellow-card offence, a cynical check on the in-flight Allan Saint-Maximin. His first yellow of the evening could conceivably have been a straight red, too, an equally poor late scythe on Miguel Almiron, who depending on your point of view (cover was close) would otherwise have been clean through on goal. Caleta-Car served his suspension at the weekend as Saints squeaked past Blackpool in the FA Cup, so tonight takes up a place on the bench. In the opposite dugout sits Jacob Murphy, who sarcastically waved goodbye to the Saints defender as he was sent packing last week. By way of response, Caleta-Car briefly thought about throwing his own hands around in a slightly more direct manner, but perhaps wisely opted to depart without further incident. Still, you have to wonder whether Murphy had rashly assumed Caleta-Car wouldn't be available this week, and what might happen this evening in terms of retribution should both players come off the bench late on with Saints four goals adrift. To be clear, nobody wants to see this game degenerate into a comic-strip dust cloud with fists and boots poking out of it. Won't somebody think of the children? But it'd be a fascinating scenario nonetheless.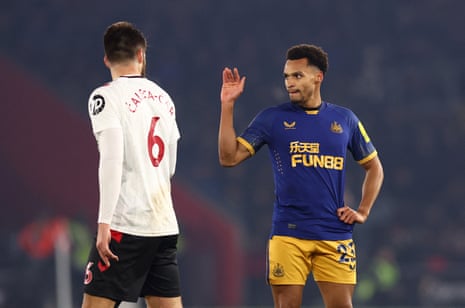 Eddie Howe speaks to Sky. "We're just very keen to try to perform to our maximum level … there's a lot of buzz about the team and where we are in the competition … I hope that shows in a positive way today … we want to try to win the game today, and not think about a lead or a cushion, we'll approach it as though it was a league game."
He also salutes the £45m signing of Anthony Gordon from Everton. "I'm really pleased to get him, he's a player of huge potential. He really fits our way of playing. He'll bring a lot of excitement, he's really athletic, he's very much in our mould."
Newcastle United's starting XI is unchanged from the first leg. If it ain't broke, right?
Southampton make four changes to the team sent out last week at St Mary's. Adam Armstrong, Che Adams, Jan Bednarek and new signing James Bree are in. Sekou Mara, Mislav Orsic and Duje Caleta-Car drop to the bench, while Moussa Djenepo misses out altogether.
Newcastle United: Pope, Trippier, Botman, Schar, Burn, Guimaraes, Longstaff, Willock, Almiron, Joelinton, Wilson.
Subs: Darlow, Dummett, Lascelles, Saint-Maximin, Ritchie, Lewis, Isak, Murphy, Anderson.
Southampton: Bazunu, Bree, Lyanco, Bednarek, Salisu, Walker-Peters, Diallo, Alcaraz, Ward-Prowse, Armstrong, Adams.
Subs: Caballero, Perraud, Caleta-Car, Lavia, Elyounoussi, Orsic, Aribo, Edozie, Mara.
This time last week this happened …
… and now Newcastle United are 90 minutes away from their first appearance in a League Cup final since 1976. Can Southampton, finalists in 1979 and 2017, haul themselves back into contention? If they can, and the aggregate score is level at the end of the match, it'll extra time and possibly penalties. A world of possibility stretches out in front of both teams. Kick off is at 8pm GMT. It's on!