Key events
Two first legs have now been played with two more to go! Tomorrow Chelsea take on Lyon with Paris Saint-Germain competing against Wolfsburg. We have a preview for the Chelsea game which you can read:
And this is how close Roma came to equalising:
Have a look at that first half goal and first leg winner!
Here are some statistics from the game. Barcelona has 63% possession, Roma had four attempts on target to Barcelona's 10. In total, Barcelona had 34 attempts at goal! The visitors also made 604 passes to Roma's 297. Barcelona the dominant side but Roma have kept themselves in the knock-out match.
39,454 fans were at the Stadio Olimpico to watch this thrilling encounter. I may be wrong but I think that has set a new record for an attendance for a women's football match in Italy.
Full-time: Roma 0-1 Barcelona
Despite a heroic second half from Roma it is Barcelona who come away with the win in the first leg of this tie. Roma defended extremely well to keep themselves in this quarter-final but Barcelona's keeper Panos also made sure her team held onto the lead. This sets up an exciting second leg at Camp Nou next week.
90 + 4 min: Giacinti almost scored with a clever free kick, Panos conceded a corner with the save. Roma pelt the Barcelona line but their time could have ran out now.
90 + 3 min: Losada got the ball away but Giacinti runs into a Barcelona player and can't get to it. Barcelona made changes Vilamala was on for Graham Hansen and and Torrejon on for Bronze. There was an injury to Andressa, it seemed to be cramp. The player received some treatment but she was okay to continue.
90 + 1 min: It was booted but Paredes headed away. Crnogorcevic fouled and Roma have a free kick in a great position! Can they get a goal here? Not yet! Haavi got the ball but it was defended well. Losada got it in the box but Panos collected. What exciting scenes to see out this clash! There will be three added minutes.
89 min: Geyse did really well in her box but Haavi won it. Her clearance kick went as far as Leon and the visitors were just passing the ball for some composure to this match. Roma won a free kick in their own half, they will have to boot this to create a chance in the dying moments.
87 min: The crowd thought they saw a handball as the boos rain down but play has gone on. VAR are looking for a potential penalty check for Bronze's handball but it is ruled out, her arms were by her side.
85 min: Rolfo tried to piece something together but it was deflected out of play for a corner. Graham Hansen took the corner, their 11th of the game, and Engen got a head to it but it went out for a goal kick. Andressa got the ball into a good position and Giugliano rocketed it in, Panos did well to punch away! The corner is taken by Losada and it pinballed around but Walsh got it away. Roma smell blood.
83 min: Leon received a yellow card for a foul on a player without the ball. Roma have a free kick and it into the box, Andressa rifled it off but it went wide. Barcelona look more open in these closing stages.
81 min: The space in the box is still being squeezed by the hosts, suffocating most chances that are sent in. Leon got a shot away but slipped and it went wide.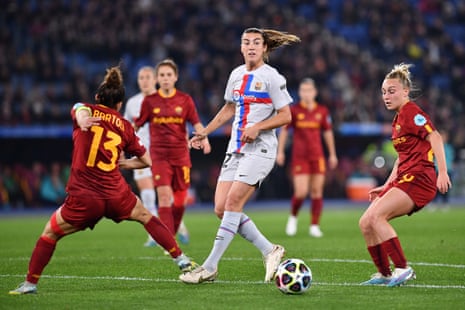 79 min: Barcelona were patient in their latest build-up but Linari intercepted well. The visitors made changes with Paralluelo off for Crnogorcevic and Guijarro was off for Engen.
77 min: The game's tempo has simmered slightly but the visitors remain in the driver's seat. Roma had a throw in but wasted it as it went straight out of play.
75 min: Roma conceded another corner as Minami denied Graham Hansen a cross into the box. Leon crossed in but Bronze can't jump for it this time.
73 min: Giacinti created one of their best chances of the game but Losada's shot is an easy one for Panos to save.
71 min: Leon looked to have fouled a Roma player, the crowd put their boos in but play went on. Losada created a great chance but Glionna shot straight at Panos.
69 min: Roma complained to the referee for a handball but the official played on. Barcelona worked the ball well to get back into the box but Minami did well to run it out of play up against Graham Hansen, she did concede a corner though and the Norway international took the set piece. Bronze jumped the highest but it sailed over the bar.
67 min: Graham Hansen took the shot but it went straight into the wall. Roma immediately lose the ball in their own half as they try and create something to level the scores. Oshoala found herself in front of goal but she tried something too clever and the ball went over the bar. Barcelona made their first change with Geyse on for Oshoala and Roma also made a change with Di Guglielmo on for Bartoli.
64 min: Panos caught a ball mid-air with a Giacinti cross coming in. Roma have done so well to keep Barcelona from doubling their lead, it feels as though if another goes it that will be that. A free kick for Barcelona now after Losada fouled, right on the edge of the box!
62 min: Bronze took a log rage shot but it was wide. Roma take the chance to make some changes with Losada on for Greggi and Glionna is on for Serturini.
60 min: Ceasar with another good save! She has most definitely kept her side in this game. Barcelona again on the attack, Oshoala got the ball away and Guijarro had a shot with the keeper punching away. And now it is off the line! Linari has amazing reflexes to get it away. Jeez, I can't keep up!
58 min: Roma was so close! Haavi received a long ball and passed into the box, Giacinti's shot went just over the bar for a corner! The crowd are buzzed! took The corner was taken but the resulting shot went over the bar. Wow, Roma are alive and are testing Barca!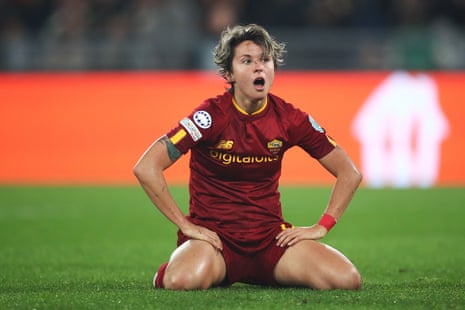 56 min: Giacinti had their best chance of the game but she couldn't get a good touch on the ball. The game has sparked into life, like it needed anymore drama! Quality sides battling.
54 min: Bonmati took a soft touch where she should have hit it more powerfully. It took a deflection and so Barcelona have a corner. Graham Hansen took the set piece short, passes between players saw Graham Hansen get it into the box to give Oshoala a good chance but Ceasar made a great save! She conceded another corner but the keeper does amazingly again to keep them out. The keeper is having a great game.
52 min: Paralluelo made a fantastic break and got it away to a teammate but they could not get enough space. Bonmati managed to smash it into the box but Oshoala fouled the keeper and so Roma had a reprieve from the pressure.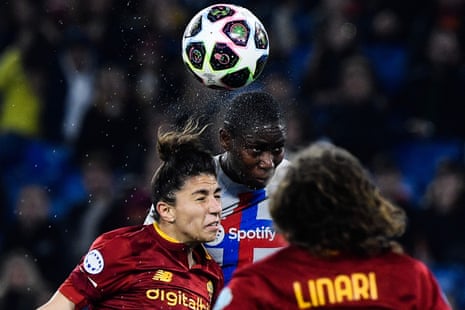 50 min: The visitors patient on the ball as they look to kill this first leg. Ceasar was in action again as Oshoala got in a great position but could not get it in the back of the net. They won a corner, took it quickly but the ball went wide. Barcelona have had a lot of chances in this but have not been clinical.
47 min: Quite a positive start to the half from Roma, a confident pinballing of the ball. Giacinti ran the ball up but was offside and Barcelona had their first bit of possession in this second half.
Back underway! Roma 0-1 Barcelona
There was a performance by Noemi at half-time which wrapped up as the players came out onto the pitch. Can Roma get back into this? Or will Barcelona run away with it? We will find out over the next 45 minutes.
And if that reading isn't enough for you, have another one! Chelsea will face Lyon tomorrow evening:
While we wait for this one to get back underway, have a read of the Arsenal report from earlier today. Bayern Munich are in control of their tie with a 1-0 win in Germany.
Half-time: Roma 0-1 Barcelona
Well it has been quite the half of football with tempers flaring but it is Barcelona who are the happier after a special Paralluelo goal. They will be wanting more of the same in the second half but Roma will need to get an attacking foot in this.
45 + 1 min: There will be one minute added on.
45 min: Barcelona have kept their bombardment on the Roma attack and it is keeping the hosts completely out of this contest. They are doing well to defend but they do not have any threat in attack so far. Roma were attempting to get the ball upfield but it immediately fell to Graham Hansen. The visitors run it through the team and Bonmati got a shot off, going wide.
43 min: Graham Hansen got another chance into the box but Ceasar saved well. Paralluelo was almost in for her second but again the keeper pounced upon the ball.
41 min: Bonmati rifled a shot from outside the box but it was blocked for a corner. The ball came in but it initially can't be taken but Minami got it away to thwart another chance.