Key events
There was no immediate response from Moscow to suggestions its forces in Bakhmut were losing momentum, but Wagner boss Yevgeny Prigozhin issued statements in recent days, warning of a Ukrainian counterassault.
On Monday, Prigozhin published a letter to Russian Defence Minister Sergei Shoigu, saying Ukraine aimed to cut off Wagner's forces from Russia's regular troops.
Reuters journalists near the front line north of Bakhmut saw signs consistent with the suggestion that the Russian offensive in the area could be waning. At a Ukrainian-held village west of Soledar, on Bakhmut's northern outskirts, the intensity of the Russian bombardment noticeably lessened from two days earlier.
"It was really hot here a week ago, but in the last three days it has been more quiet," said a Ukrainian soldier who used the call sign "Kamin", or "Stone".
"We can see this in the enemy's air strikes. If before there were five-six air raids in a day, today we had only one helicopter attack," said the soldier.
Counteroffensive starts soon, says Ukrainian ground forces commander
Ukraine's top ground forces commander Oleksandr Syrskyi said his forces would soon begin a counter offensive after withstanding Russia's brutal winter campaign.
He said Russia's Wagner mercenaries, who have been at the front line of Moscow's assault on eastern and southern Ukraine, "are losing considerable strength and are running out of steam".
"Very soon, we will take advantage of this opportunity, as we did in the past near Kyiv, Kharkiv, Balakliya and Kupiansk," he said, listing Ukrainian counteroffensives last year that recaptured swathes of land.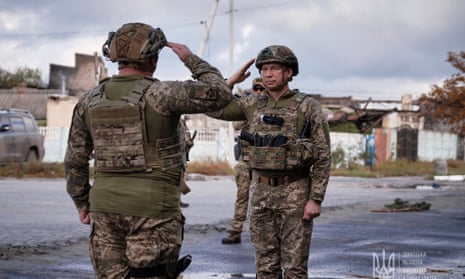 Welcome to the Guardian's live coverage of the war in Ukraine with me, Helen Sullivan.
Our top story this morning: Ukrainian troops, on the defensive for four months, will soon launch a counterassault, Ukraine's top ground forces commander has said, as Russia's winter offensive weakens without capturing the eastern city of Bakhmut.
We'll have more on this shortly. In the meantime here are the key recent developments:
Volodymyr Zelenskiy has renewed his call for more long-range weapons from western allies on Thursday. Speaking to an EU summit via video link, the Ukrainian president recounted the "devastating" scenes he had witnessed close to the frontlines, where fighting has been fiercest. The EU leaders endorsed a plan – agreed by foreign ministers on Monday – to send a million artillery shells to Ukraine over the next year.

Zelenskiy visited the southern region of Kherson, where he toured infrastructure and promised to rebuild following Russia's invasion. Ukraine's military said Russian forces had left the Kherson town of Nova Kakhovka but a Russian-installed official there denied it.

The EU leaders held talks on Thursday with the UN secretary general, António Guterres, focused on global food security and sanctions imposed on Russia. Guterres' participation came after the renewal of a deal brokered by the UN and Turkey on the safe export of Ukrainian grain via the Black Sea – seen as crucial to overcoming a global food crisis.

The EU Commission president, Ursula von der Leyen, said the EU would work to find 16,200 Ukrainian children deported to Russia. Calling it a reminder of "the darkest times in our history", she said only 300 had been returned so far.

Dmitry Medvedev, the deputy secretary of Russia's security council, said Moscow's relations with the west had hit an all-time low. Asked whether the threat of a nuclear conflict had eased, he said: "No, it hasn't decreased, it has grown. Every day when they provide Ukraine with foreign weapons brings the nuclear apocalypse closer." Medvedev said any attempt to arrest Vladimir Putin a would amount to a declaration of war against Russia.

Hungary would not arrest Putin if he entered the country, said prime minister Viktor Orbán's chief of staff said.

Finland's president, Sauli Niinistö, signed legislation to make his country part of the Nato. Last year, Finland applied to join in response to Russia's war in Ukraine. Legislation incorporating Nato's founding treaties was passed in parliament in Helsinki on 1 March.

The UN nuclear agency's chief has said the situation at Ukraine's Zaporizhzhia power plant "remains perilous" after a Russian missile strike disconnected it from the grid. Europe's largest nuclear power plant needs a reliable electricity supply to operate pumps that circulate water to cool reactors and pools holding nuclear fuel.

Ukraine's state emergency service said on Thursday that it had ended rescue attempts in Rzhyshchiv, Kyiv region, where nine people died in a Russian drone attack in the early hours of Wednesday morning.

Suspilne, Ukraine's state broadcaster, reported that on Wednesday shelling in the Donetsk region killed two people and injured four others, while one person was killed and two were wounded in Kherson.

British military intelligence said Russia had partially regained control over the approaches to the eastern Ukrainian town of Kreminna after its troops were pushed back earlier this year.

Spain's prime minister, Pedro Sánchez, has said he will discuss a peace plan for Ukraine with the Chinese president, Xi Jinping, during an official visit to China next week.

The governor of Florida, Ron DeSantis, has reversed his position on Ukraine after facing widespread criticism for calling the Russian invasion a "territorial dispute". The likely contender for the Republican presidential nomination said his remark had been "mischaracterised".