Wall Street Journal 'vehemently denies' allegations of espionage against its reporter Evan Gershkovich
The Wall Street Journal "vehemently denies" allegations of espionage against its reporter, Evan Gershkovich, who has been arrested by Russia's federal security service (FSB), the newspaper said in a statement.
The statement reads:
The Wall Street Journal vehemently denies the allegations from the FSB and seeks the immediate release of our trusted and dedicated reporter, Evan Gershkovich.

We stand in solidarity with Evan and his family.
Key events
The Guardian's Dan Sabbagh is travelling through Donbas today.
European Agriculture Commissioner Janusz Wojciechowski would support curbs on trading with Ukraine if Poland proposed such a solution, he said on Thursday, amid anger from farmers over the effect of Ukrainian imports on grain prices.
"If the Polish government requests trading curbs with Ukraine obviously I will support that proposal," Reuters reports he told the media in Brussels.
Several European countries have expressed concerns that the market could be flooded with cheap Ukrainian grain that it has been unable to export due to the limited volume of produce that can leave Ukraine's ports.
IOC chief describes Ukraine's criticism of return of Russian athletes as 'deplorable'
Criticism by some European governments – including Ukraine's – of a plan for a full return of Russian and Belarusian athletes to international sport is deplorable and cuts into the autonomy of sport, the International Olympic Committee (IOC) president, Thomas Bach, said on Thursday.
The IOC on Wednesday issued a set of recommendations for international sports federations that will allow Russian and Belarusian athletes to return since their ban last year following Moscow's invasion of Ukraine. Governments in Ukraine, Poland and the Czech Republic among others have been angered by the plan, arguing that Russian and Belarusian athletes have no place in world sport with the war still ongoing. Reuters quotes Back saying:
It is deplorable to see that some governments do not want to respect the majority within the Olympic movement and all stakeholders, nor the autonomy of sport. It is deplorable that these governments do not address the question of double standards. We have not seen a single comment on their attitude on the participation of athletes from countries of the other 70 wars and armed conflict around the world.
"Government interventions have strengthened the unity of the Olympic movement," Bach continued. "It cannot be up to the governments to decide which athletes can participate in which competition.
"This would be the end of world sport as we know it today."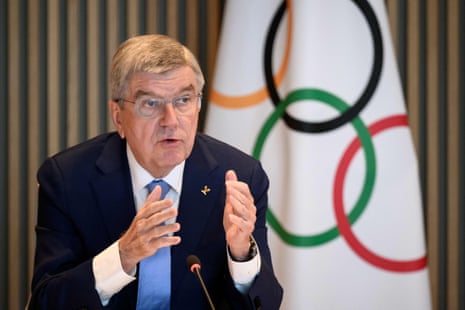 The return plan does not include the 2024 Olympics in Paris, but the IOC's latest guidelines allow for the return of Russian and Belarusian athletes citing human rights concerns for Russian athletes, and the current participation of Russians and Belarusians in some sports as reasons for the decision.
The US secretary of state, Antony Blinken, plans to attend the Nato foreign ministers meeting in Brussels on 3 April to 5 April, where he will emphasise continued US support for Ukraine and transatlantic security, the state department said.
While there he will meet the top EU diplomat Josep Borrell, the Nato secretary general, Jens Stoltenberg, and the Ukrainian foreign minister, Dymtro Kuleba, Reuters reports it said in a statement on Thursday.
King Charles says UK and Germany have both shown 'vital leadership' over Ukraine
In a bilingual speech in the Bundestag, King Charles III lauded the current unity between the UK and Germany in the face of Russia's invasion of Ukraine, saying "the scourge of war is back in Europe".
The king, on the second day of a three-day trip to Germany, alternated between German and English for the half hour speech, during which he said:
Since I last spoke in this building the scourge of war is back in Europe. The world has watched in horror – but we have not stood by. Even as we abhor the appalling scenes of destruction, we can take heart from our unity – in defence of Ukraine, of peace and freedom.
Reuters reports the king said both the UK and Germany had shown "vital leadership", Charles said, praising Berlin's decision to provide large military support to Ukraine as "remarkably courageous, important and appreciated".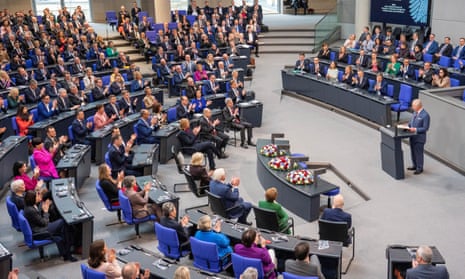 The 74-year-old monarch, who has German ancestry, and who last spoke in Germany's lower house of parliament as part of a remembrance ceremony in 2020, added: "I can hardly begin to express the pride I feel in the strength of the partnership between our two countries."
Later on Thursday, Charles is set to view a demonstration of amphibious vehicles of a joint German-British military unit
Moscow court orders Wall Street Journal reporter Evan Gershkovich to be held in pre-trial detention until 29 May
A Moscow court has formally arrested the Wall Street Journal reporter Evan Gershkovich in relation to espionage allegations, according to Russian law enforcement agencies.
Gershkovich told the court he was not guilty of espionage, the state-run news agency Tass is reporting.
The court has ordered Gershkovich should be held in pre-trial custody for almost two months, until 29 May, according to a court document.
A lawyer representing Gershkovich was not allowed to attend the hearing, Tass reported.
"They told me they already have an assigned lawyer," the lawyer said, according to CNN's Natasha Bertrand.
Asked how he would address those countries – many of them in the global south – that have chosen not to align themselves with either Ukraine or Russia, Kuleba says the war is physically taking place in Europe but its repercussions are felt all over the world.
People all across the world, in Asia, Africa and Latin America have all felt the impact of Russia's aggression in Ukraine, "be it with food security or energy and food prices", he says.
Russia is pursuing a "cynical" policy of arguing that they defend the voices of the global south but "simultaneously put the issue of food security at higher risk by using the [Black Sea] grain initiative as a leverage against Ukraine", he says.
He says Ukraine has to speak to those countries and identify what the reasons are for their arguments, and to take every opportunity to reach out to them and get a better understanding of how to help them resolve their problems.
Ukraine's foreign minister, Dmtryo Kuleba, is speaking at a Chatham House event titled "Russia's aggression and a crisis for multilateralism", where he begins by criticising the fact that Russia will take over chairing the UN security council on 1 April.
Russia's upcoming UN security council presidency is "the worst joke ever for April Fools' Day", he says, and a "stark reminder that something is wrong with the way international security architecture is functioning".
Moscow has "systematically violated all fundamental rules of international security" and will attempt to change the balance of the council during its presidency, he says.
Kuleba says he expects other UN security council members to "corner" Russia and not allow it to "abuse" the council's rules and push its own narratives about the war it started in Ukraine.
You can watch the event live here:
Russian authorities request formal arrest of Wall Street Journal reporter accused of espionage – state media
Russia's FSB security service (FSB) have requested the formal arrest of Evan Gershkovich, a US reporter from the Wall Street Journal, detained on suspicion of espionage, Russian state media are reporting.
The Wall Street Journal has vehemently denied allegations of espionage against Gershkovich, who the FSB said was detained during a reporting trip to the Urals city of Ekaterinburg.
The FSB said Gershkovich, a well-respected journalist who has lived in Moscow for six years, "was collecting classified information about the activities of one of the enterprises of the Russian military industrial complex".
Russian deputy foreign minister, Sergei Ryabkov, has said it was too early to talk about a possible prisoner swap involving Gershkovich, state-run Ria news agency reported.
Ryabkov was quoted by Interfax news agency as saying that such exchanges had previously taken place for those already convicted, and that it was necessary to wait to see how the story with Gershkovich developed.
As the BBC's Sarah Rainsford points out, Gershkovich's arrest may also be intended to scare the foreign press.
At noon GMT today (1pm BST), there will be an event hosted by Chatham House called "Russia's aggression and a crisis for multilateralism" which will feature Ukraine's foreign minister Dmytro Kuleba with a debrief after by a panel of experts.
We will have a live stream of the event on this blog – you may need to refresh the page in order for the play button to appear. You can find out more details here.
Finland's intelligence agency (SUPO) has said that Russia's intelligence operations in the country have been "squeezed" in the past year because of expulsions of Russian intelligence officers and visa refusals.
The Russian intelligence station in Finland shrank to about half of its former size last year, AP reports, citing the SUPO director, Antti Pelttari.
The falling number of Russian intelligence officers and restrictions on travel across the border amid Russia's war in Ukraine have significantly undermined operating conditions for Russian spies in Finland, SUPO said.
Operations under diplomatic cover have traditionally been the main instrument of Russian intelligence abroad, it said, adding that Moscow was attempting to use cyber espionage to make up for the shortfall in human intelligence.
The agency earlier said that Finland's future membership in the Nato western alliance will make it a more interesting target for Russian intelligence and influencing operations.
Russia's deputy foreign minister Sergei Ryabkov has said Moscow will continue to give the US advance notice about its missile tests despite suspending participation in the New Start nuclear arms treaty, reversing a statement he made just yesterday.
Ryabkov on Wednesday said Moscow had stopped all information exchanges with Washington about its nuclear activities, including missile test launches, under the 2011 agreement.
But the senior diplomat said today that Russia intends to stick by its pledge last month to keep notifying the US about missile tests in line with a 1988 US-Soviet agreement.
The 2010 New Start treaty, the last remaining nuclear arms treaty between the US and Russia, limits the number of strategic nuclear warheads each side can deploy. The US and Russia hold nearly 90% of the world's nuclear warheads between them.
Vladimir Putin announced last month that Russia was suspending participation in the treaty, accusing Washington of trying to inflict a "strategic defeat" on Russia in Ukraine.
The White House on Tuesday said the US had told Russia it would cease exchanging some data on its nuclear forces after Moscow's refusal to do so.
The Kremlin spokesperson, Dmitry Peskov, has said the arrest of the Wall Street Journal reporter Evan Gershkovich by Russia's FSB security service on espionage charges was "a matter for the FSB", but that he understood Gershkovich had been "caught red-handed".
From my colleague Shaun Walker:
Russia has not published any evidence to support its allegations against Gershkovich, who the FSB claimed "was collecting classified information about the activities of one of the enterprises of the Russian military industrial complex". The Wall Street Journal has vehemently denied the allegation.
The southern city of Kherson was liberated from Russian occupation in November 2022 by Ukrainian forces, sparking ecstatic scenes in the main square.
But with Russian troops retreating just over the Dnipro River, joy has quickly turned to nightmare, with the city suffering daily bombardment by mortars, missiles and even tank shells. Simply surviving each day has become a matter of luck and many civilians have fled.
The Guardian's Luke Harding and Christopher Cherry speak to remaining residents to find out what life is like among the awful booms of artillery fire, and why they have chosen to stay.