Key events
Russia keeping open option of another round of call-ups: UK MoD
Russian authorities are likely keeping open the option of another round of call-ups under the 'partial mobilisation' initiative, according to British intelligence.
In its latest daily report, the UK Ministry of Defence said that the Russian leadership "highly likely continues to search for ways to meet the high number of personnel required to resource any future major offensive in Ukraine, while minimising domestic dissent".
China's foreign affairs minister is set to visit Moscow in February, according to a Reuters report citing Russia's Vedomosti newspaper.
Senior Chinese diplomat Wang Yi may visit Russian President Vladimir Putin, the newspaper cited one source as saying.
The Guardian was not able to immediately verify the report.
Delays in the provision to Ukraine of western long-range fires systems, advanced air defence systems, and tanks have limited Ukraine's ability to seize opportunities for larger counter-offensive operations presented by Russian military failures, according to a Washington-based thinktank.
Western delays in providing necessary military aid exacerbated 'stalemate' conditions and the ability to regain significant portions of territory, the Institute for the Study of War said.
Nato chief urges South Korea to step up military support
Nato secretary general Jens Stoltenberg has urged South Korea to increase military support to Ukraine, suggesting it reconsider its policy of not exporting weapons to countries in conflict.
Speaking at the Chey Institute for Advanced Studies in Seoul on Monday, Stoltenberg thanked South Korea for its non-lethal aid to Ukraine, but urged it to do more, adding there is an "urgent need" for ammunition.
I urge the Republic of Korea to continue and to step up on the specific issue of military support," he said. "At the end of the day, it's a decision for you to make, but I'll say that several Nato allies who have had as a policy to never export weapons to countries in a conflict have changed that policy now."
In meetings with senior South Korean officials, Stoltenberg argued that events in Europe and North America are interconnected with other regions, and that the alliance wants to help manage global threats by increasing partnerships in Asia.
South Korea has signed major deals providing hundreds of tanks, aircraft and other weapons to Nato member Poland since the war began, but the South Korean president, Yoon Suk-yeol, has said that his country's law against providing arms to countries in conflicts makes providing weapons to Ukraine difficult.
Stoltenberg noted that countries such as Germany, Sweden, and Norway had similar policies but changed them.
"If we don't want autocracy and tyranny to win, then they need weapons, that's the reality," he said, referring to Ukraine.
Russia's deputy foreign minister has ruled out talks with Ukraine or its western allies, according to local media reports.
With the US having decided to supply tanks to Ukraine, it makes no sense for Russia to talk to Kyiv or its western "puppet masters", the Russian state Ria news agency quoted Russian deputy foreign minister Sergei Ryabkov as saying on Monday.
Ryabkov said no one in the west has come up with any serious initiatives on resolving the Ukrainian crisis.
The Russian official added that "small steps" would be needed for Moscow and the US to come closer to agreement on bilateral issues.
"We hope that the tactics of small steps will allow us to come to mutually acceptable solutions on the most important issues of the bilateral agenda," Ryabkov told Ria.
Erdoğan says Turkey may accept Finland into Nato without Sweden
Turkish president Recep Tayyip Erdoğan has said for the first time that Ankara could accept Finland into Nato without its Nordic neighbour Sweden.
Erdoğan's televised comments came days after Ankara suspended Nato accession talks with the two countries.
Finland and Sweden dropped decades of military non-alignment and applied to join the defence alliance in response to Russia's invasion of Ukraine. Turkey and Hungary remain the only members to have failed to ratify the two bids by votes in parliament.
If necessary, we can give a different response concerning Finland. Sweden will be shocked when we give a different response for Finland," Erdoğan said.
He also repeated his demand for Sweden to hand over suspects sought by Ankara.
If you absolutely want to join Nato you will return these terrorists to us," Erdoğan said.
Sweden has a bigger Kurdish diaspora than Finland and a more serious dispute with Ankara.
Both countries have been trying to break down Erdoğan's resistance through months of delicate talks.
Russian missile strikes kill three in Kherson
Russian missile strikes killed three people in the southern Ukrainian city of Kherson, Ukrainian officials said.
"Today, the Russian army has been shelling Kherson atrociously all day," Volodymyr Zelenskiy said in his Sunday evening address. "Two women, nurses, were wounded in the hospital. As of now, there are reports of six wounded and three dead."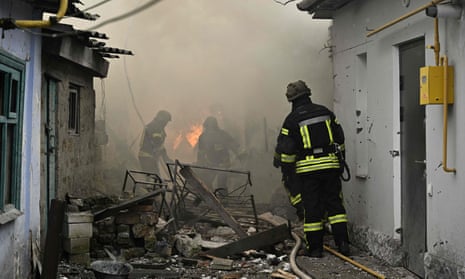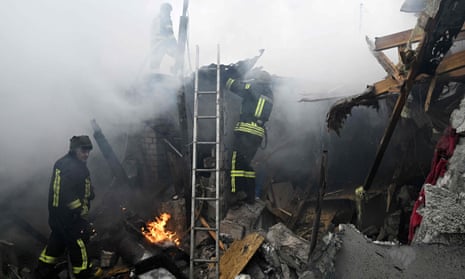 Ukraine calls for faster weapons supplies
Volodymyr Zelenskiy has called on Ukraine's allies to speed up the supply of new weaponry to help his forces overcome Russia's invasion.
The Ukrainian president said time should be used as a weapon in his Sunday night address.
The speed of supply has been and will be one of the key factors in this war.

Russia hopes to drag out the war, to exhaust our forces. So we have to make time our weapon.

We must speed up the events, speed up the supply and opening of new necessary weaponry options for Ukraine."
Zelenskiy also noted the "significant defence results" in military aid support in the past week from the United States, Germany, Poland, Canada, Belgium, Norway and Italy.
"We have to make the next week no less powerful for our defence," he added.
Addressing the situation on the battlefield, Zelenskiy described the situation as "very tough".
"Bakhmut, Vuhledar and other areas in the Donetsk region are under constant Russian attacks. There are constant attempts to break through our defence," he said.
"The enemy … maintains a high intensity of attacks."
Hello and welcome back to the Guardian's live coverage of the war in Ukraine. I'm Samantha Lock and I'll be bringing you all the latest developments as they unfold over the next few hours.
Volodymyr Zelenskiy has called on Ukraine's allies to speed up the supply of new weaponry to help his forces overcome Russia's invasion.
"The speed of supply has been and will be one of the key factors in this war … We have to make time our weapon," the Ukrainian president said in his Sunday night address.
Addressing the situation on the battlefield, Zelenskiy described it as "very tough".
"Bakhmut, Vuhledar and other areas in the Donetsk region are under constant Russian attacks. There are constant attempts to break through our defence," he said.
If you have just joined us, here are all the latest developments:
Russian shelling of residential areas in Ukraine's southern city of Kherson left at least three people dead and five injured, local authorities said. The Kherson regional military administration said on its Telegram channel that Russian forces targeted a hospital, school, bus station, post office, bank and residential buildings in a strike on Sunday.

A missile hit an apartment building in Kharkiv, Ukraine's second largest city, killing one person and injuring others, according to the regional governor. Oleh Synehubov said the missile struck the city centre on Sunday.

Ukraine's military and Russia's Wagner private military group are both claiming to have control in the area of Blahodatne, eastern Donetsk region. "Units of Ukraine's defence forces repelled the attacks of the occupiers in the areas of … Blahodatne … in the Donetsk region," Ukraine's military reported, adding its forces also repelled attacks in 13 other settlements in the Donetsk region. Wagner, designated by the US as a transnational criminal organisation, said on the Telegram messaging app on Saturday that its units had taken control of Blahodatne.

President Tayyip Erdoğan signalled that Turkey may agree to Finland joining Nato without Sweden, amid growing tensions with Stockholm. "We may deliver Finland a different message [on their Nato application] and Sweden would be shocked when they see our message. But Finland should not make the same mistake Sweden did," Erdoğan said in a televised speech aired on Sunday. Sweden and Finland applied last year to join Nato and need all member countries' approval to join. Turkey and Hungary are holding out.

Vladimir Putin was open to contacts with Germany's chancellor, Olaf Scholz, though no phone call was scheduled, a Kremlin spokesperson told the state Ria Novosti news agency. Scholz told the Berlin daily Tagesspiegel: "I will also speak to Putin again – because it is necessary to speak."

Kyiv and its western allies are engaged in "fast-track" talks on the possibility of equipping Ukraine with long-range missiles and military aircraft, a top aide to Ukraine's president said. Mykhailo Podolyak said Ukraine's supporters in the west "understand how the war is developing" and the need to supply planes capable of providing cover for armoured vehicles the US and Germany have pledged.

US military officials are reportedly urging the Pentagon to supply F-16 jets to Ukraine so it is better able to defend itself from Russian missiles and drones.
For any updates or feedback you wish to share, please feel free to get in touch via email or Twitter.